Whether you are living in a house or an apartment, home security is a responsibility that should never be put on the backburner. That's why having something like the IMILAB EC2 Wireless Camera Set will give you the ultimate peace of mind, letting you know that your home is protected, and your family and belongings are safe, whether you are home or not.
If you are thinking about getting a brand-new home security camera system, or even upgrading from your old one, keep in mind that not all home security systems offer you the exact same deal. Some pack more features than others, some just have better camera quality and camera features but lack on security functionalities, and some might be so bad that they can be easily exploited.
While Home Security and Smart Home Company Ring, LLC. (owned by Amazon) is known for their decent security systems, that recently changed. During the past few month's Amazon's Ring Doorbell Pro were continuously reported to be affected by a flaw that leaked customers' Wi-Fi username and password.
But contrarily to this unfortunate event, that's not what you get with the IMILAB EC2 Wireless Camera Set. The company, IMILAB, is leading the field of smart home security, looking to provide its customers with trustworthy products that simply do not fail. IMILAB is a smart home products manufacturer that's part of the XIAOMI Ecosystem, aiming to provide you with long-lasting and stylish-looking smart gadgets that make your life safer and easier.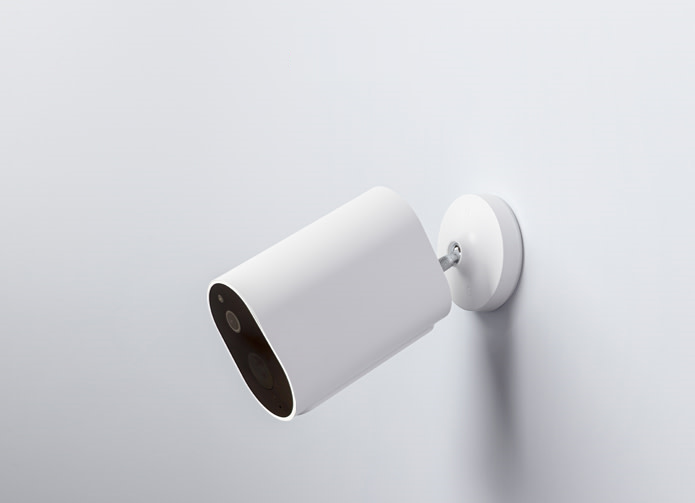 The IMILAB EC2 camera systems are small, really easy to use and install by yourself, are wireless (meaning no cords attached) and do not come with associated monthly fees, meaning you pay once and that's it, it's yours forever.
So, let's have a detailed look at the IMILAB EC2 Wireless Camera Set and learn about everything it has to offer.
CAMERA DESIGN & SPECS
The IMILAB  EC2 Wireless Camera Set comes with an extreme-weatherproof and weather resistant 1080p wireless security camera that's rated IP66 waterproof, designed to withstand any extreme weather of rain, snow, and temperatures of -4° to 122° F (-20° to 50° C).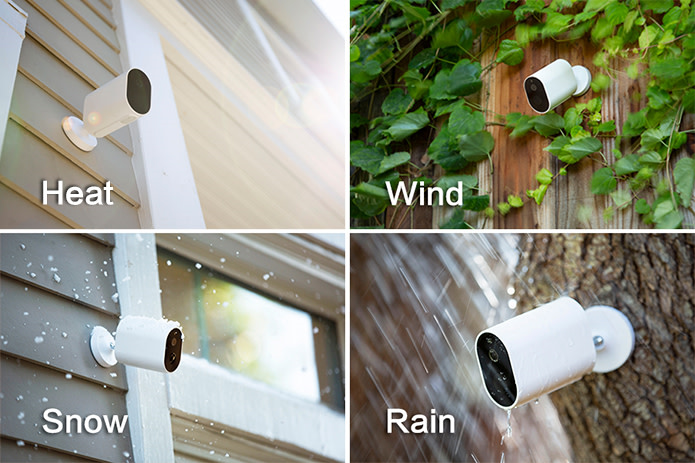 The camera features a power input of 5V-2A, working flawlessly in any circumstance, offering you flexibility and stability in your home security monitoring. It records in H.264 video encoding and its 1080P resolution is equivalent to Blu-ray quality. The IMILAB EC2 wireless security camera is equipped with a 120° ultra-wide-angle lens, allowing it to cover more areas and effectively reduce blind spots.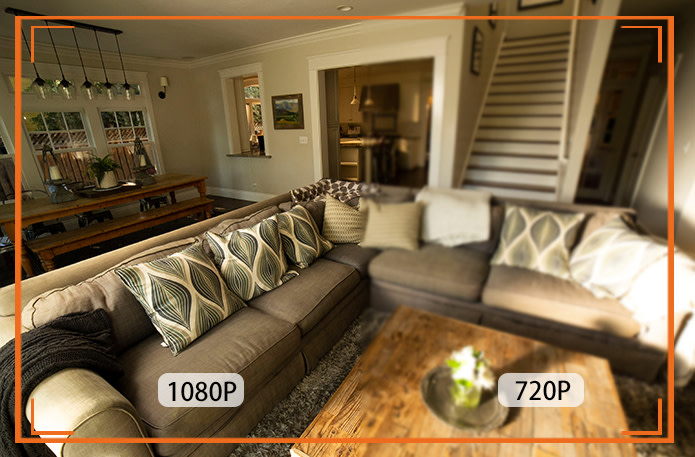 But it doesn't stop there. The IMILAB EC2 also features high-quality night vision, meaning it's equipped with high-performance self-driven infrared light which will turn on automatically in low light. This will offer you effective night vision up to 100 m (330 feet), allowing you to see clearly in the darkest of nights.
The camera is made by the manufacturer of the Xiaomi Smartphone, meaning that not only it features the latest technology found in the home security market, but that it's also made of high-quality materials, proving that it is built to last you a lifetime.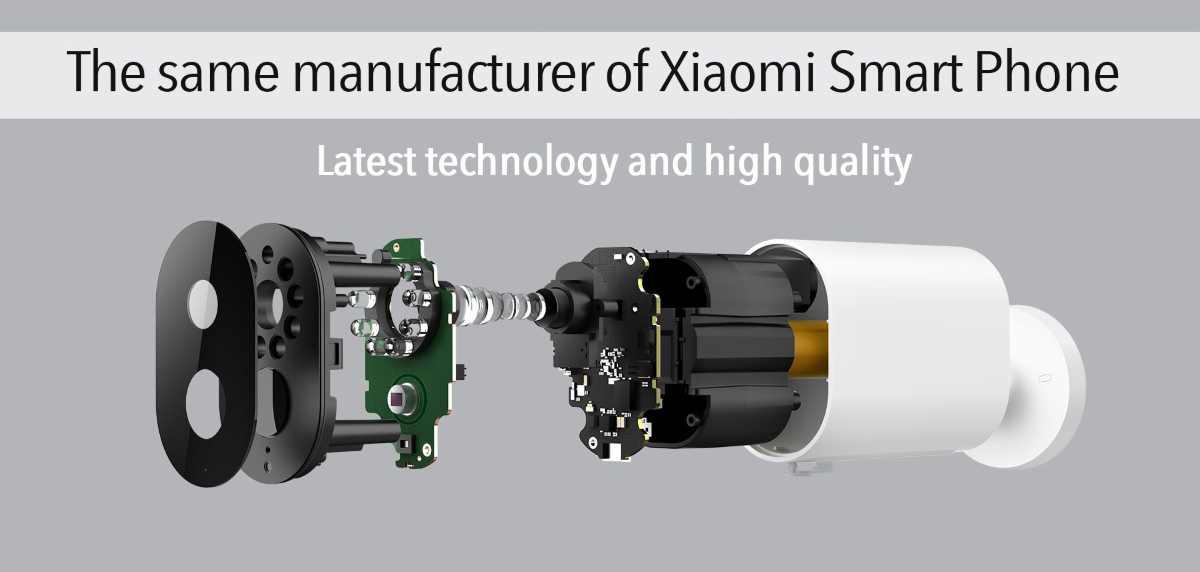 The camera also comes with a IMILAB  Wire-Free Camera GateWay that'll be wired to your home's internet connection, and will then connect to your IMILAB EC2 camera wirelessly. The IMILAB GateWay also features a Power Input of 5V-2A, just like the camera, and features Expandable Memory, meaning it supports MicroSD cards (up to 64 GB), offering you a bigger memory/storage space.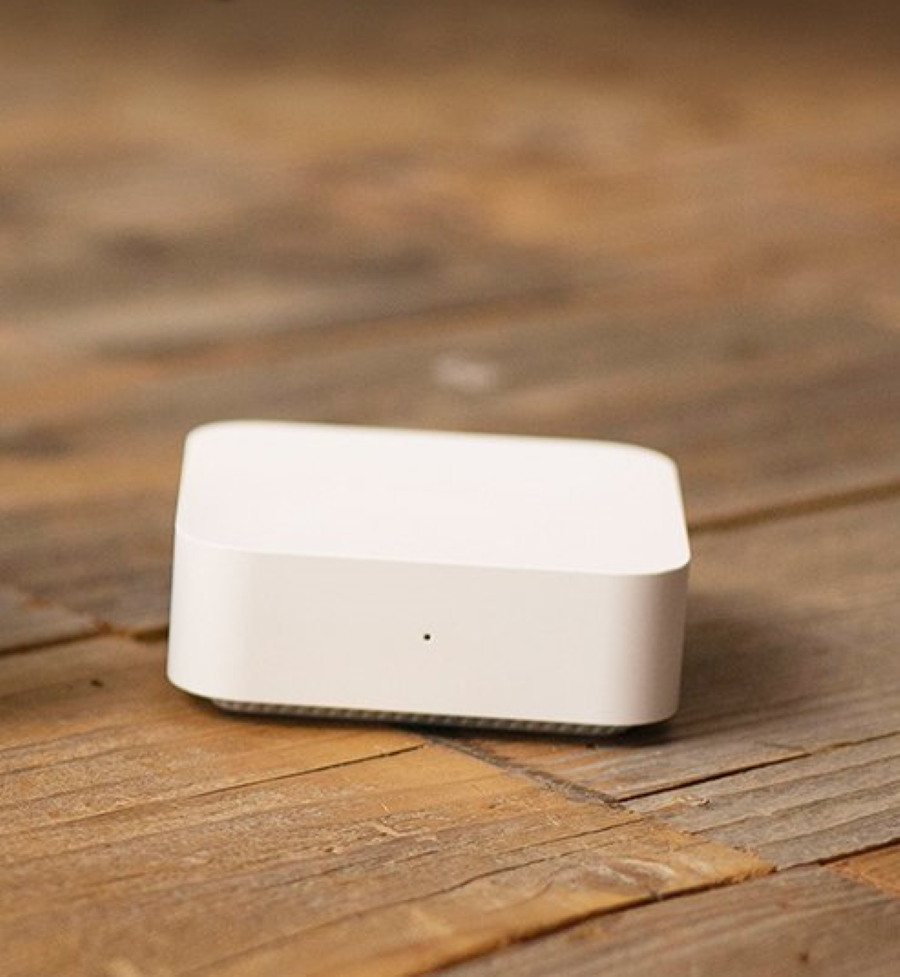 BATTERY AND BATTERY LIFE
The IMILAB EC2 comes equipped with a built-in 5100 mAh lithium rechargeable battery and does not need to be plugged in to power, or even constantly recharged. The battery stores enough power to support the security camera to operate continuously (24/7) for 120 days (4 months) on a single charge, so you only need to recharge it 3 times per year.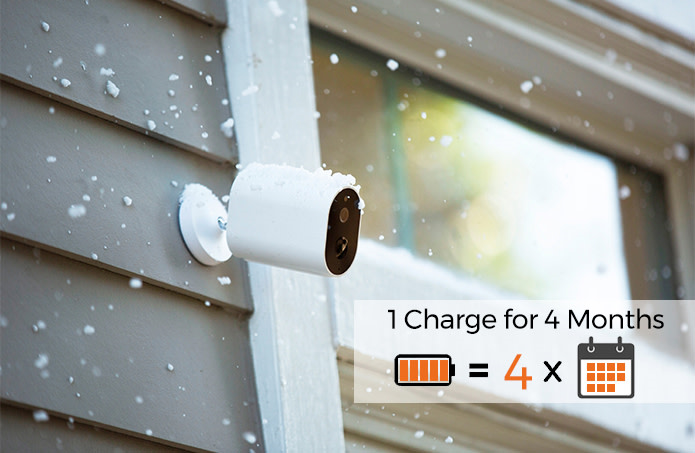 Since its installation is extremely easy (more on that in the features section), the camera can be easily unfixed to be recharged, but you can also charge it directly with unfixing it by using a power bank.
WHAT'S IN THE BOX?
Within each package users will find: one IMILAB EC2 wireless security camera, the IMILAB GateWay, one screw set, the included battery charger, a gateway charging cable, a wall bracket (for the camera), a LAN cable (for the gateway connection), a Quick Start guide, and a 3M tape.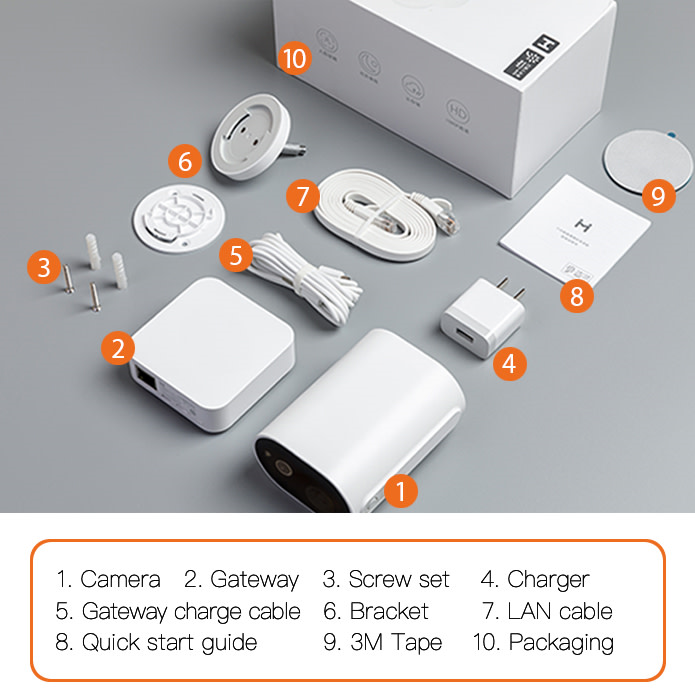 FEATURES
Super-Easy Installation
The IMILAB EC2 Wireless Camera Set is super easy to install. Since this is a wireless camera, it means that no cables are required, with no drilling or hidden wires involved, making it better than all traditional CCTV security systems.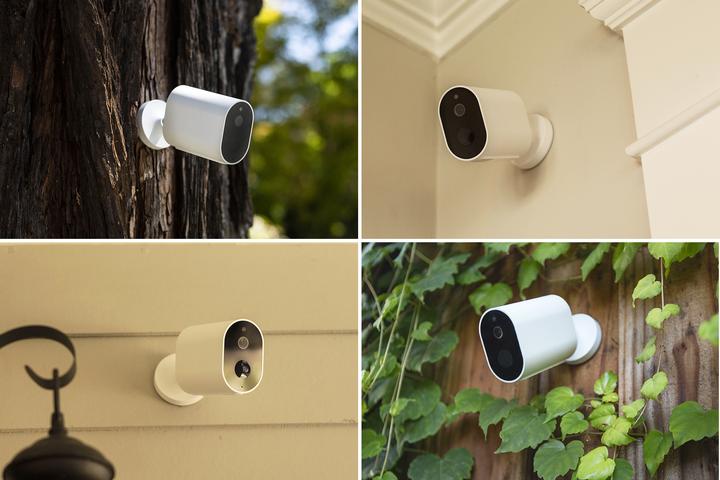 All you have to do is attach the camera to any flat surface. You can freely set it up wherever you please, indoors or outdoors. Place it next to any doorway, around your backyard, above your garage or even on the trees.
You can easily install your IMILAB EC2 Wireless Camera Set by using the included wall bracket and screws (if you do decide to do some easy drilling). The included wall bracket is a 360° adjustable ball joint holder frames bracket set that allows you to set and/or adjust different camera angles with ease.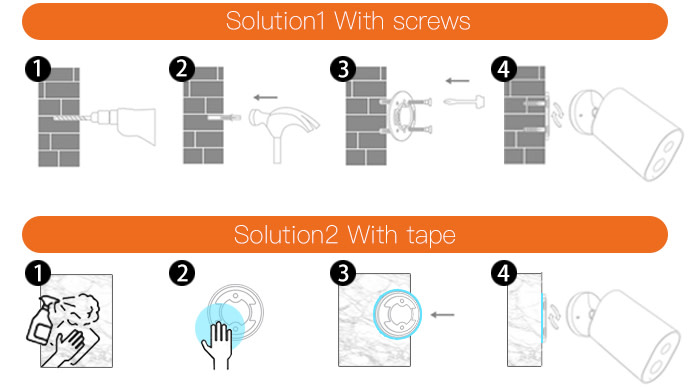 However, you can also use the 3M tape that's provided. The picture embedded above exemplifies both scenarios.
Remote Monitoring
After its quick setup you'll be able to stream high-resolution live video that you can check at any time, from anywhere you are by using the Mi Home APP.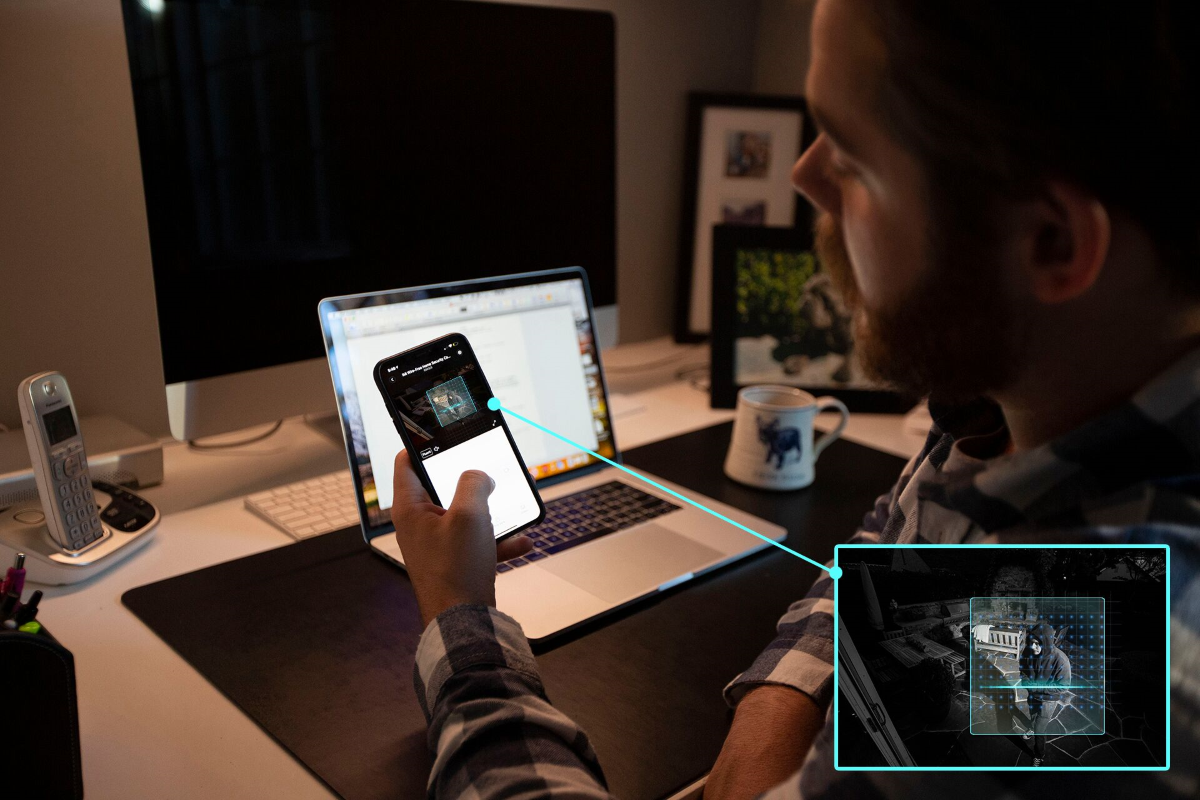 The IMILAB EC2 comes with built-in Cloud DVR and remote viewing, allowing you to see what's happening in your home & business via your smartphone or tablet while you are away.
PIR Sensor & AI technology
The IMILAB EC2 also comes equipped with a PIR motion sensor that'll automatically receive the infrared wave emitted by the human body. The sensor will then start the security scanning with AI technology. This helps the system to distinguish between people and animals.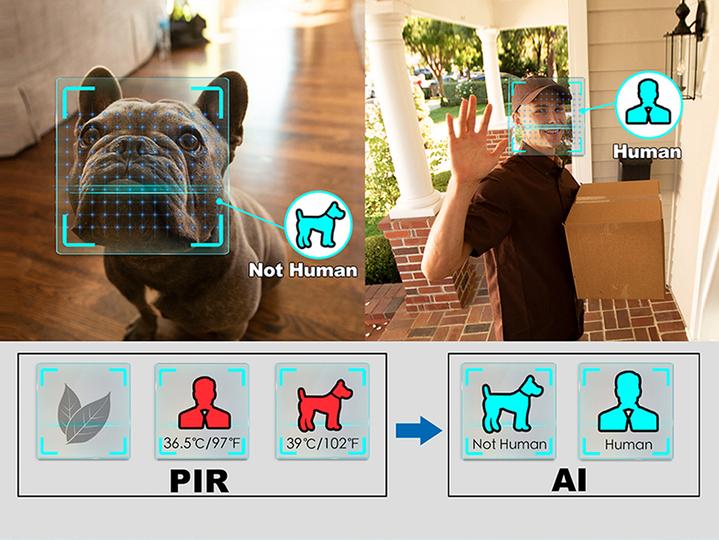 Combining AI technology with the PIR sensor reduces false triggers, making the system fully capable of differentiating among humans, large pets or other large warm moving objects. If any animals are detected, the PIR sensor will not send alarm notifications to your smartphone, nor it will record anything in the cloud storage system, which consequently helps the devices to consume less energy.
Affordable, Accessible, Always Yours
The IMILAB EC2 Wireless Camera Set is a cost saving home security system. Not only it is wireless, which saves you both time and money during its installation, but the best part is that there aren't any associated monthly fees. That's right, you buy it, you own it, and it even comes with a free Cloud Storage that is yours forever.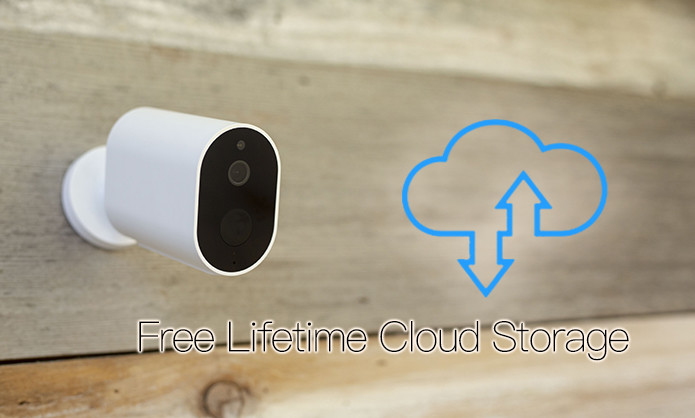 Expandibility
Keep in mind that while the IMILAB EC2 Wireless Camera Set only comes with one wireless security camera, the IMILAB GateWay supports up to 4 security cameras, meaning the system is expandable.
This gives you the ability to make an investment decision at any time in the future and further expand your security system, instead of having the need to buy an entirely new one.
FINAL THOUGHTS
The IMILAB EC2 is a 1080P wireless camera security system that features the best performance in price for an AI system. This affordable wireless AI security system offers an easy installation, is full-weatherproof, offers remote monitoring via 1080p full-HD video (with night vision), comes equipped with a PIR motion sensor that differentiates between people, animals, and warm objects, features a rechargeable battery that lasts 4 months before recharging, as well as AI Technology that quickly detects any dangers.
If you're interested in getting the IMILAB EC2 Wireless Camera Set, each set is currently going for $99 (instead of its future MSRP price of $139). You can get yours for its cheaper price right now, by supporting IMILAB's crowdfunding campaign. Participating in the company's crowdfunding campaign will be the only way to get the lowest price for the IMILAB EC2 Wireless Camera Set. For an additional $69 you can also get one extra camera.
You can also sign up to IMILAB's official website with your email address for future announcements, which you can do by clicking this link.