Busy, hardworking pet parents know just how hard it can be to get home and take care of their pets after a long workday. However, nowadays there are some gadgets like Automatic Dog Feeder that can make their lives a bit easier. This brings us to the Arf Pets Automatic Pet Feeder, a pet food dispenser for both dogs and cats.
This Automatic Pet Food Dispenser makes feeding your pet(s) a hassle-free task, and it's a great gadget for pets' dietary health and their well-being.
Let's take a look at this Automatic Pet Feeder and see everything it has to offer.
DESIGN & SPECS
The Arf Pets Automatic Dog Feeder measures 9.65 inches long by 11.8 inches wide by 15 inches tall, weighing 4.63 lbs. The device is made of high-quality ABS (Acrylonitrile Butadiene Styrene – common thermoplastic polymer) and features a maximum capacity of 1.14 gallons.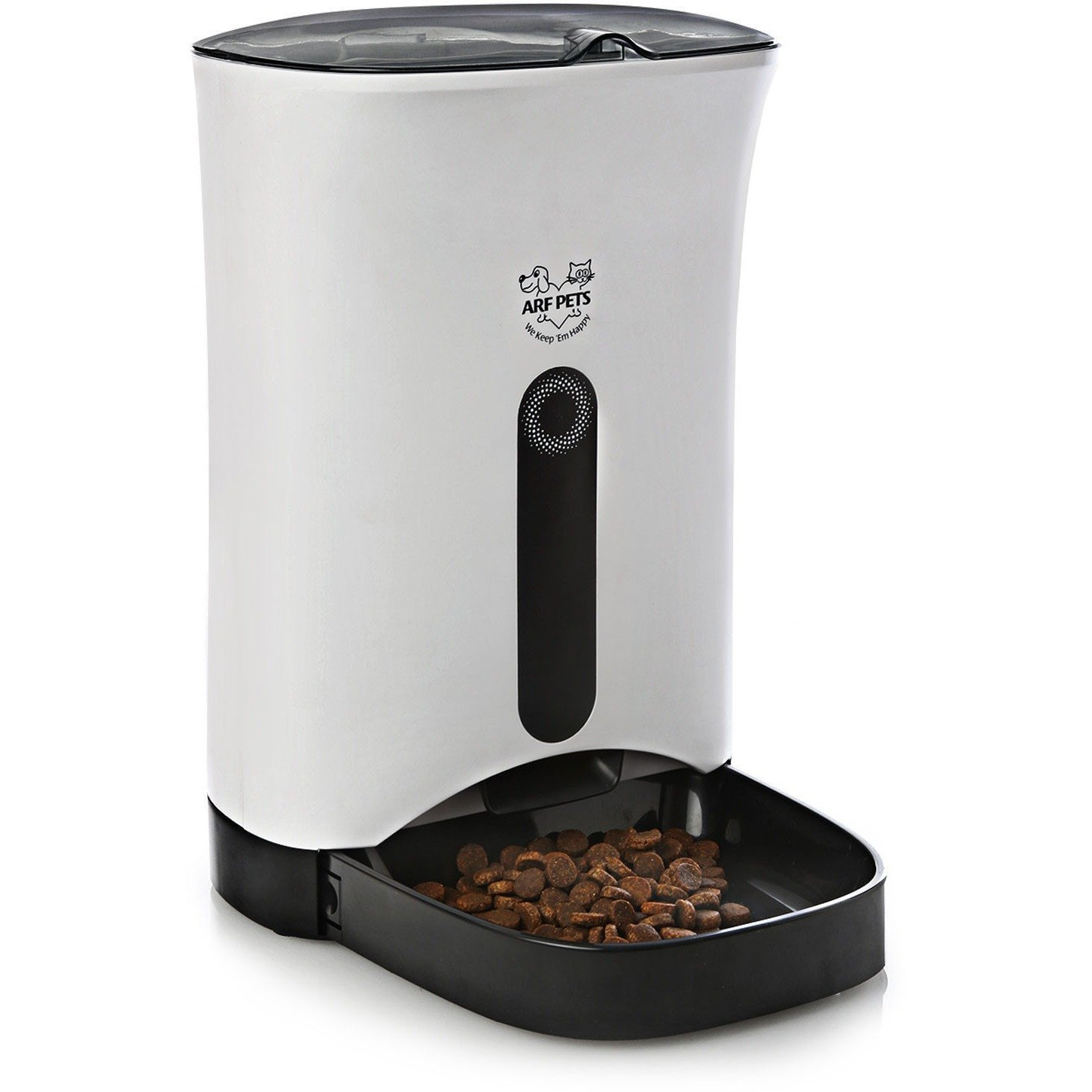 This automatic pet feeder features a sleek design, with a satin white plastic body that doesn't show smudges or dust. The device comes with a clear, see-through lid that's equipped with a magnetic lock to keep pets out of its 18-cup capacity feeder.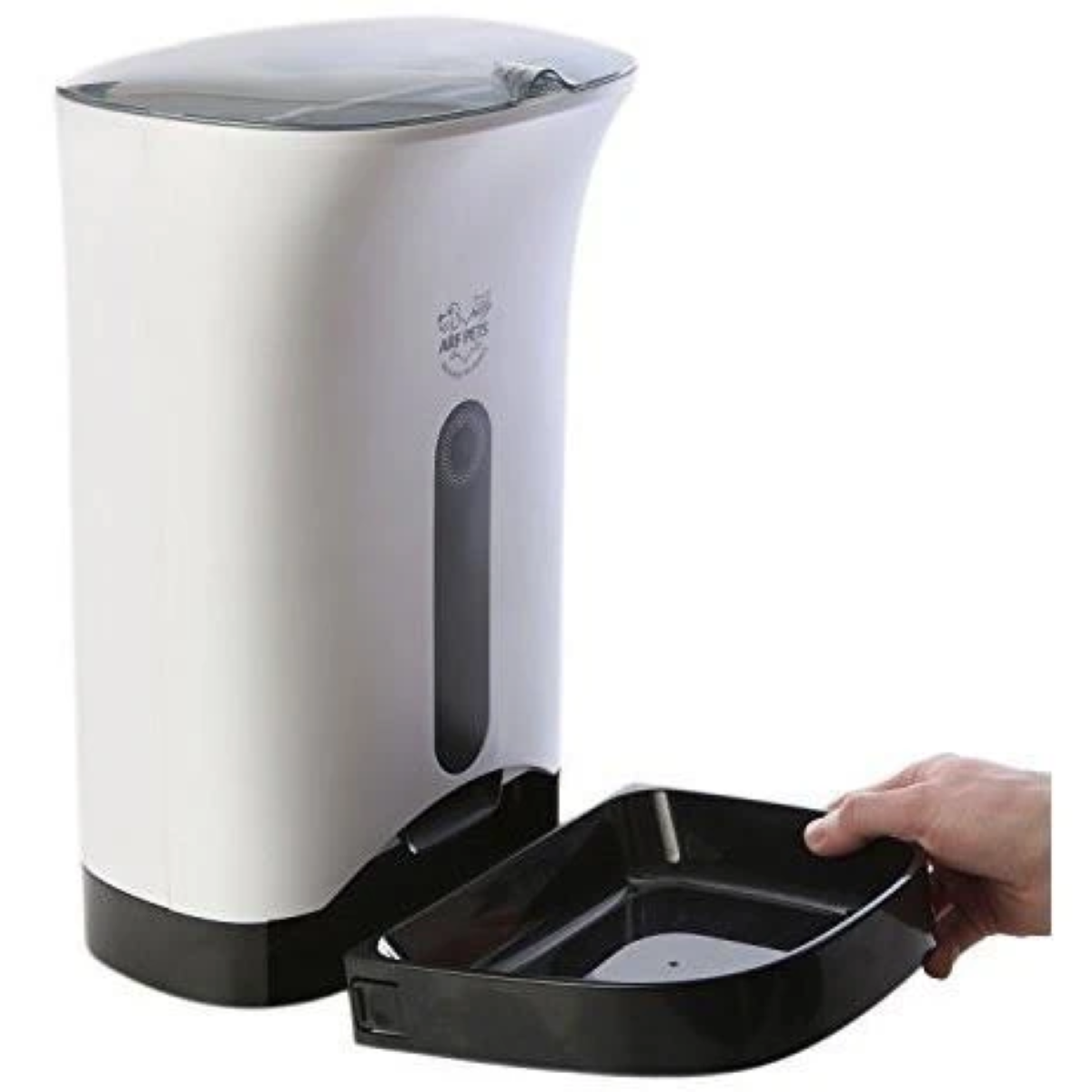 This Automatic Pet Food Dispenser includes a removable dishwasher-safe pet food bowl, as well as a removable feed-compartment so that clean-up is fast and easy. The capacity feeder works with most dry dog or cat foods, but it can't be used for canned or wet food snacks.
The interface (found at the top of the device) is incredibly easy to use, and its buttons are very responsive, even to the lightest touch. The interface also comes with also a blue light-up display screen.
The device can be powered by using its DC adapter or by three D" size alkaline batteries. Its motor features a working life of 2,000 hours, with a rotate speed of 8RPM and a rated voltage of 4V.
WHAT'S IN THE BOX?
Inside each package users will find: one Arf Pets Automatic Pet Feeder and the included DC power cord.
FEATURES
Customizable Meal Frequency – Scheduled Feeding Times
Pressing the "Set" button and the arrow keys (on the right side of the display screen) will allow you to schedule the desired feeding time. Users can schedule up to four meals per day.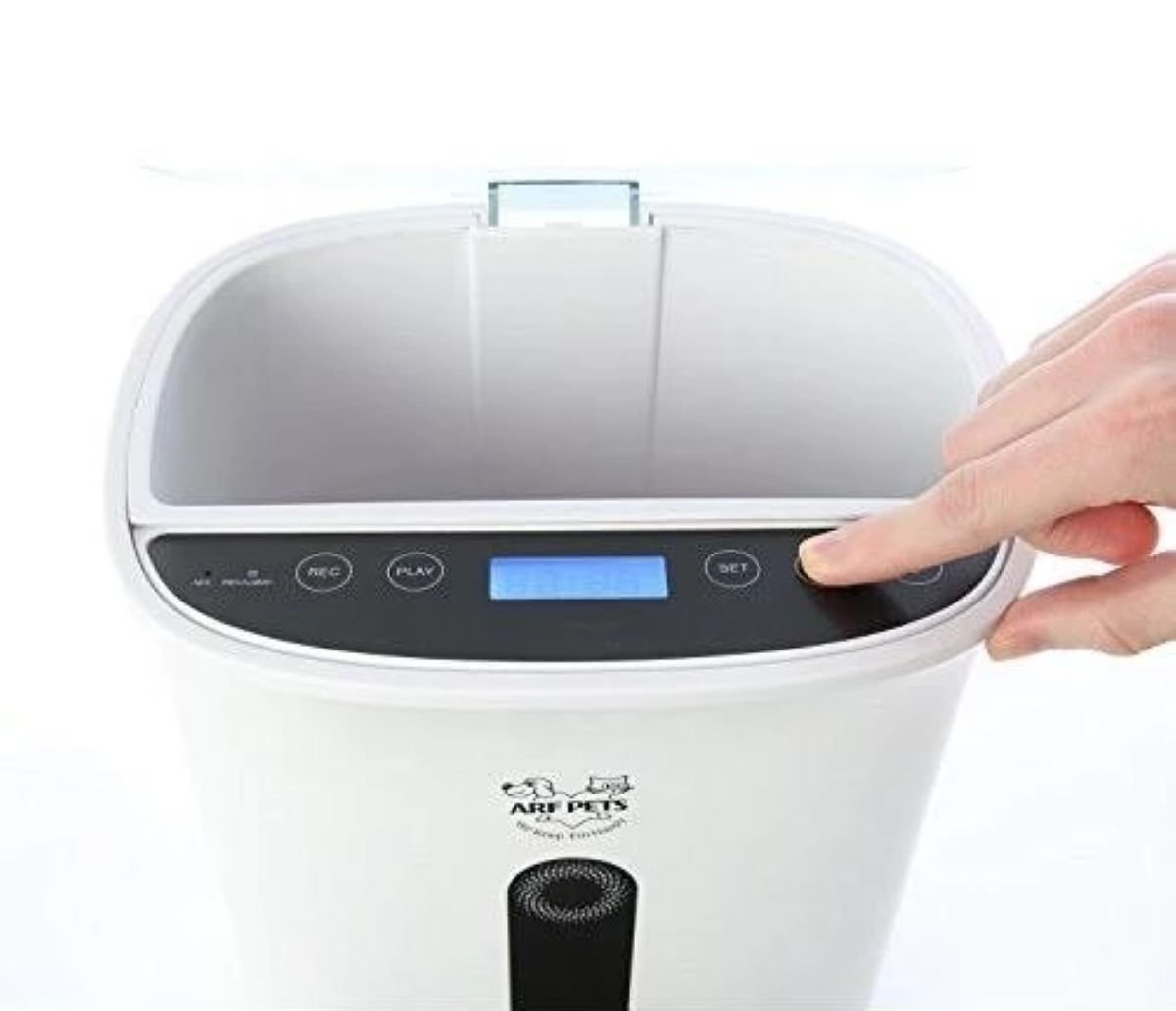 Pressing the "Rec." (Recording) button will allow you to save a short voice message – up to 10 seconds – that will be played when your scheduled meals are served, letting your pet easily understand what's happening.
Customizable Meal Portions
Pet owners can adjust each meal with 10 different meal portions, and each portion is 24ml. Just select the ideal quantity for your pet and never worry about over- or under-feeding again, no matter your pet(s)'s size(s).
FINAL THOUGHTS
The Arf Pets Automatic Pet Feeder is a simple automatic pet food dispenser that makes your life a whole lot easier. With it you can scheduled multiple feeding times and configure the customizable meal portions. This means you'll never have to worry about over- or under-feeding your furry companions ever again.
This automatic pet feeder is designed for pets' dietary health and their well-being.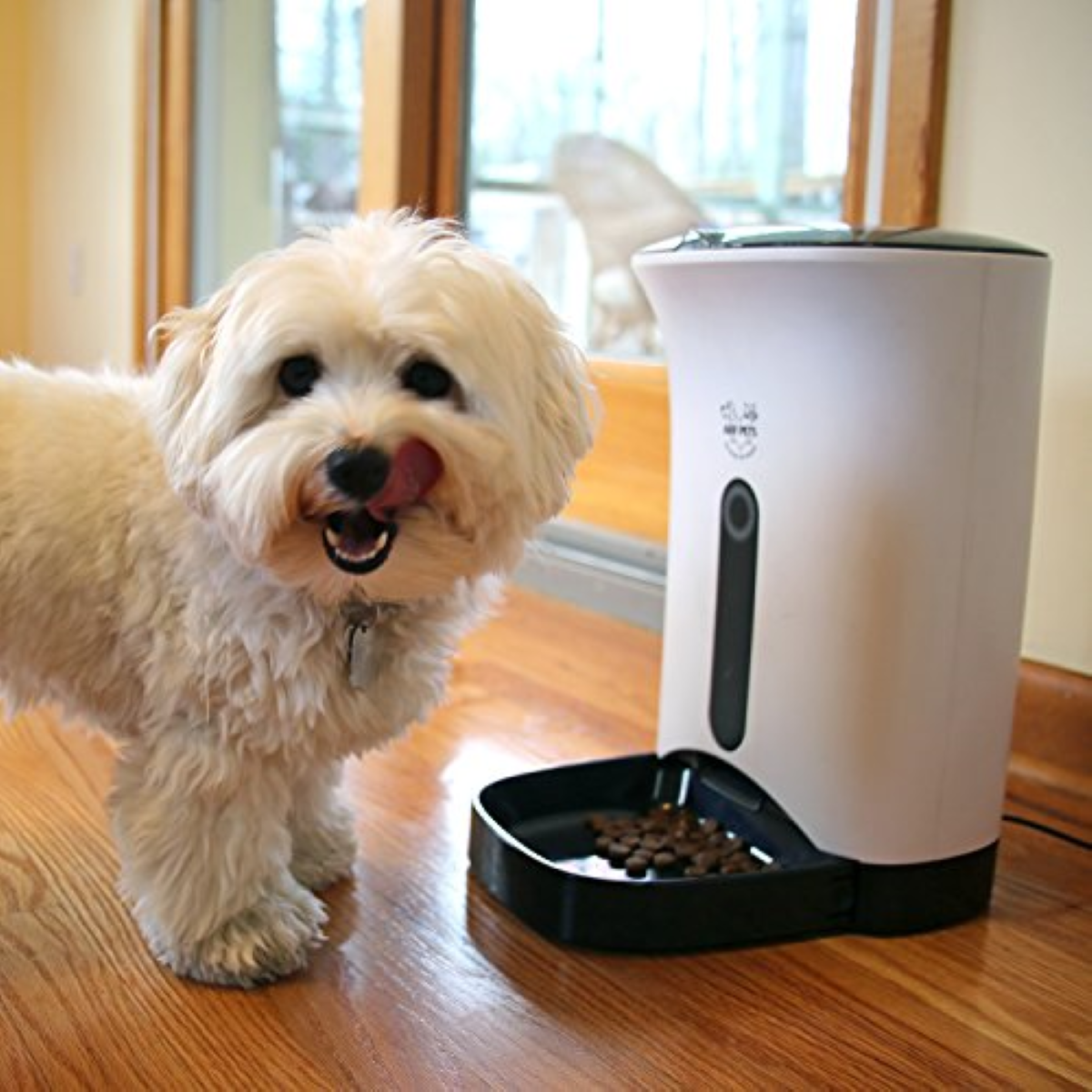 If you're interested in getting the Arf Pets Automatic Pet Feeder, each unit is currently discounted from its normal price of $110, and is now going for $80 (saves you $30). You can order yours right now, directly from Arf Pets' official website, which you can access by clicking this link.