The Edgyzo Infinity Messenger Bag by Edgyzo is the ultimate functional messenger bag for professional men and women.
This minimalist-designed bag comes with 2 spacious quick access pockets (front and back), 3 main storage compartments, 25 organizing pockets and other thoughtfully designed features that allow users to go everywhere and do everything in the most productive and organized manner.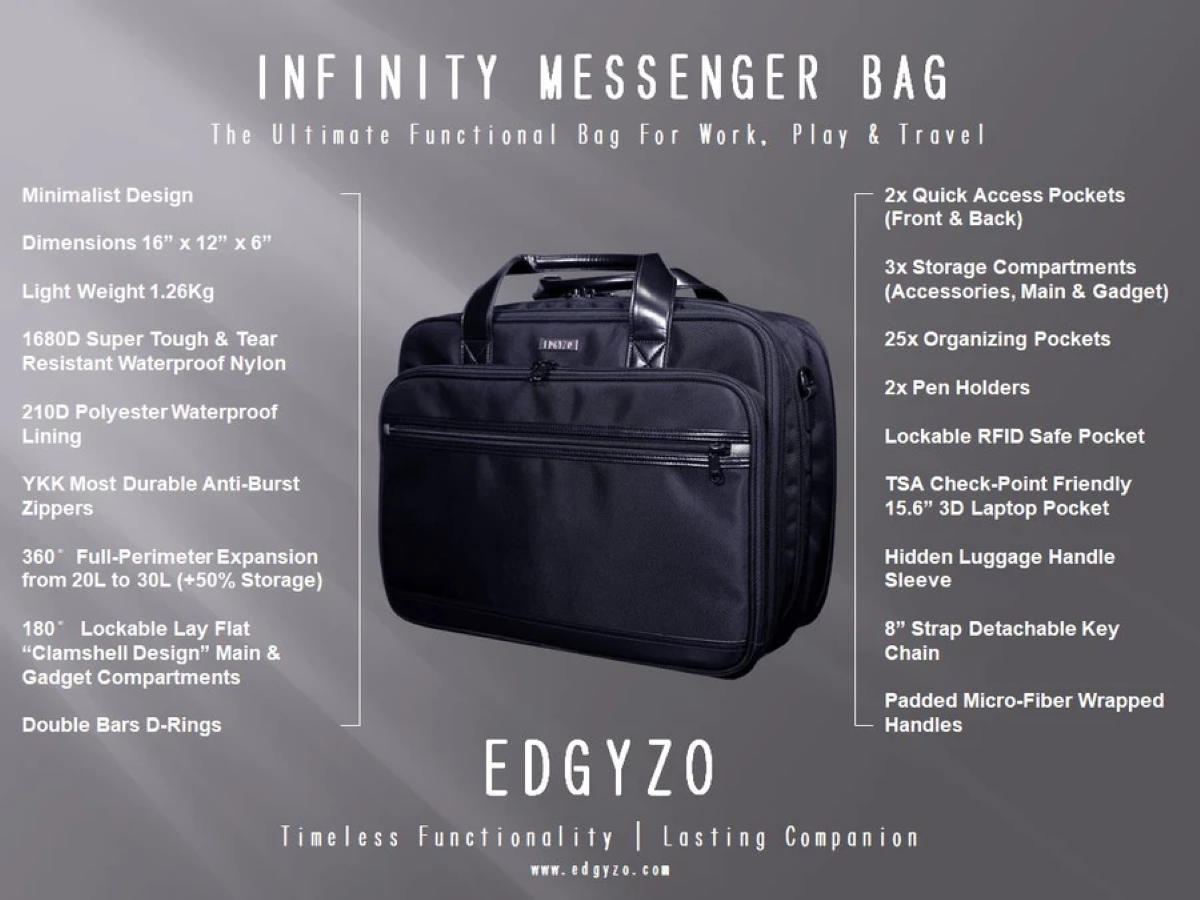 Whatever you're looking to carry, this bag has a place for it. This means that you'll never have to search your bag for lost items, ever again!
This bag is designed and crafted by Edgyzo, a Kickstarter born company based in Singapore. The company was founded in 2019 to design and retail functional bags and accessories. "Edgyzo" is named by its founder, Tyrone Lee, which means the company will always stay at the forefront of the functionality trend to design bags and accessories that offer timeless functionality and lasting companion.
The Edgyzo Infinity Messenger Bag is designed to optimize neat and effortless organization and maximize storage space. Its 360° full perimeter expansion increases the storage capacity by 50 percent from 20 liters to 30 liters, giving you full flexibility to carry more whenever you need. It also comes with a large lockable RFID safe pocket to keep all valuable items and a TSA check point friendly 3D padded laptop pocket that fits up to 15.6" laptop. Both the main (center) and gadget (back) compartments are lockable and can be opened 180° lay-flat (i.e. clamshell design) making packing and TSA check point clearance a breeze.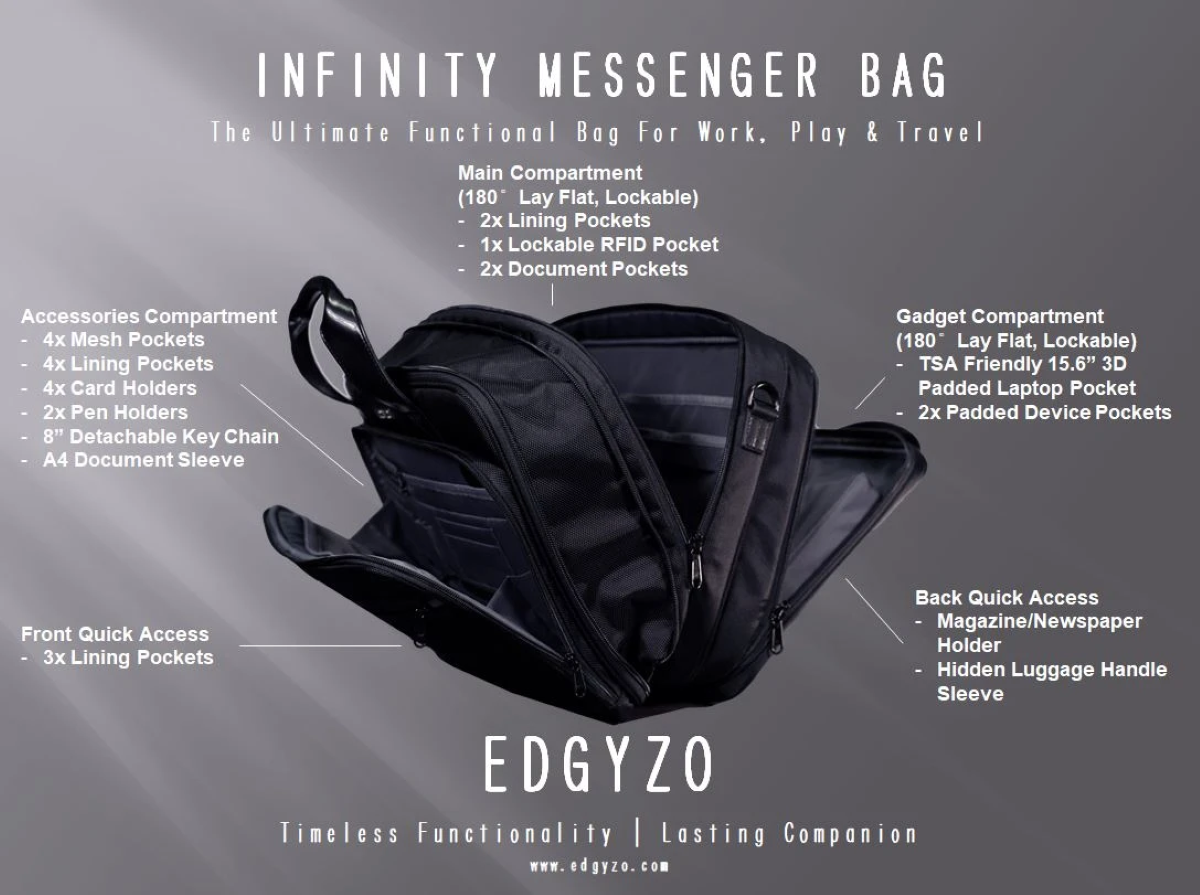 DESIGN, SPECS AND MAIN FEATURES:
Dimensions: 16″ x 12″ x 6″ | 40.6cm x 30.4 x 15.2cm.
Weight: 1.26kg | 2.8lbs.
Exterior: 1680D (denier) super strong and tear resistance waterproof nylon exterior.
Interior: 210D waterproof polyester lining.
YKK durable anti-burst zippers.
360° full-perimeter expansion to increase storage capacity from 20L to 30L.
2 quick access pockets (front and back).
3 storage compartments for accessories (front), general items / clothing (center, lockable) and gadgets (back, lockable).
25 thoughtfully designed pockets with neat and effortless organization.
All storage compartments are padded individually to ensure the contents are protected from collusion.
180° lay flat (clamshell design) lockable center and back compartments.
Large lockable RFID safe pocket (for passport, wallet and purse etc.).
TSA check-point friendly 3D laptop pocket for up to 15.6″ laptop.
Hidden luggage handle sleeve.
8″ strap detachable key chain.
Double bars D-rings isolate the D-ring webbing from shoulder strap hooks, preventing wears on the webbing from shoulder strap hooks and enhancing its durability.
Black matt zine alloy hardware for professional and elegant outlook.
Padded microfiber wrapped handles for durable and comfort handling.
Meets airline carry-on dimensions, carry up to 4 days of travel clothing.
Maximized usage design within the bag.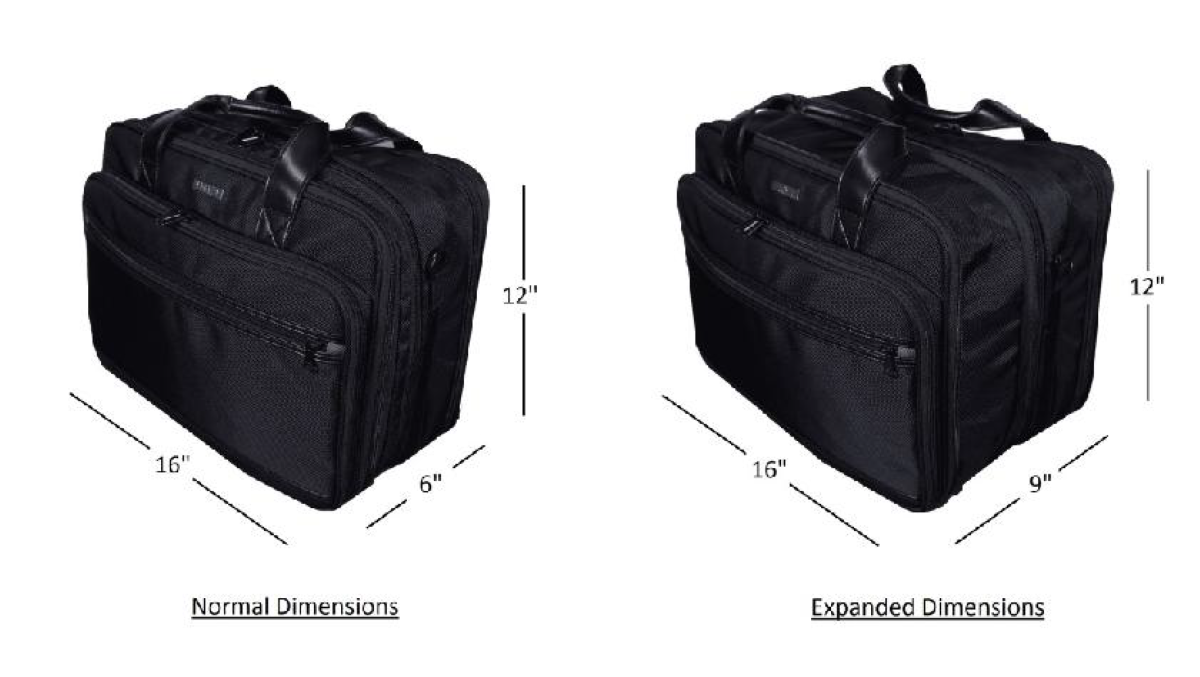 COMPARTMENT FEATURES
Front Quick Access Pocket
The Front Quick Access Pocket consists of the main pocket plus 2 medium-sized inner pockets.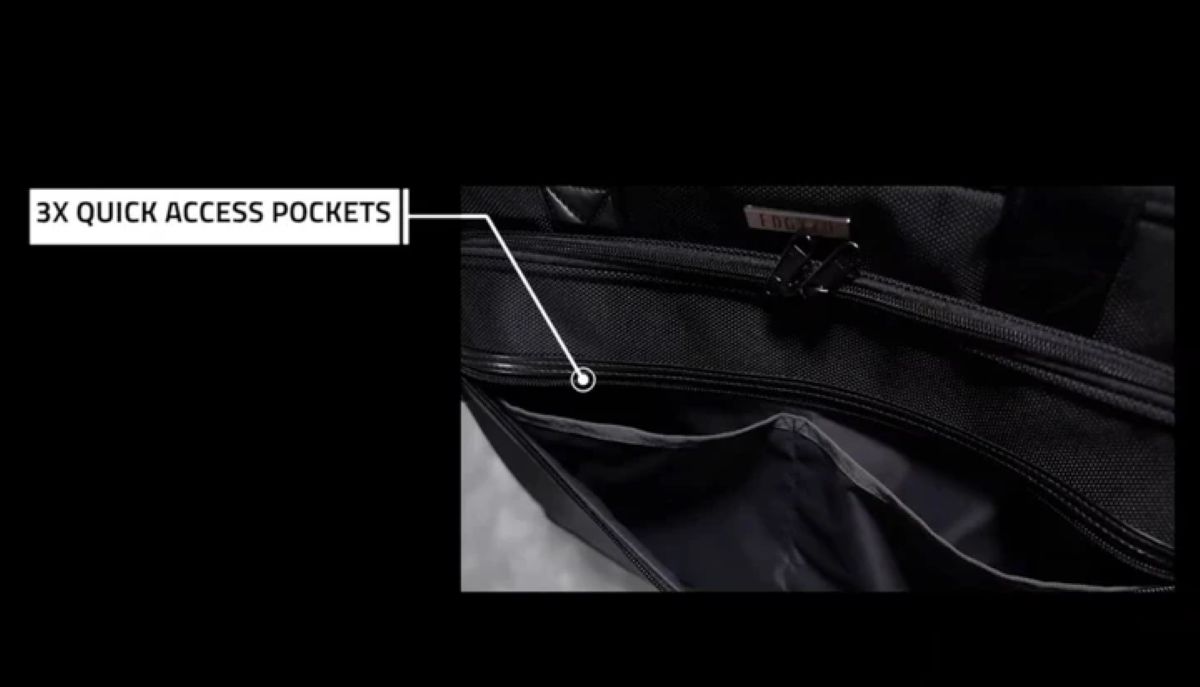 Unlike the normal quick access pockets where you have to dump everything into one single pocket, the Infinity Messenger Bag offers you a better way of keeping your most commonly used items stored in a neat and organized manner, ultimately enhancing your productivity and efficiency on the move!
Accessories (Front) Compartment
The Accessories (Front) Compartment is the most functional accessories compartment you'll ever see, allowing you to store literally a ton of accessories.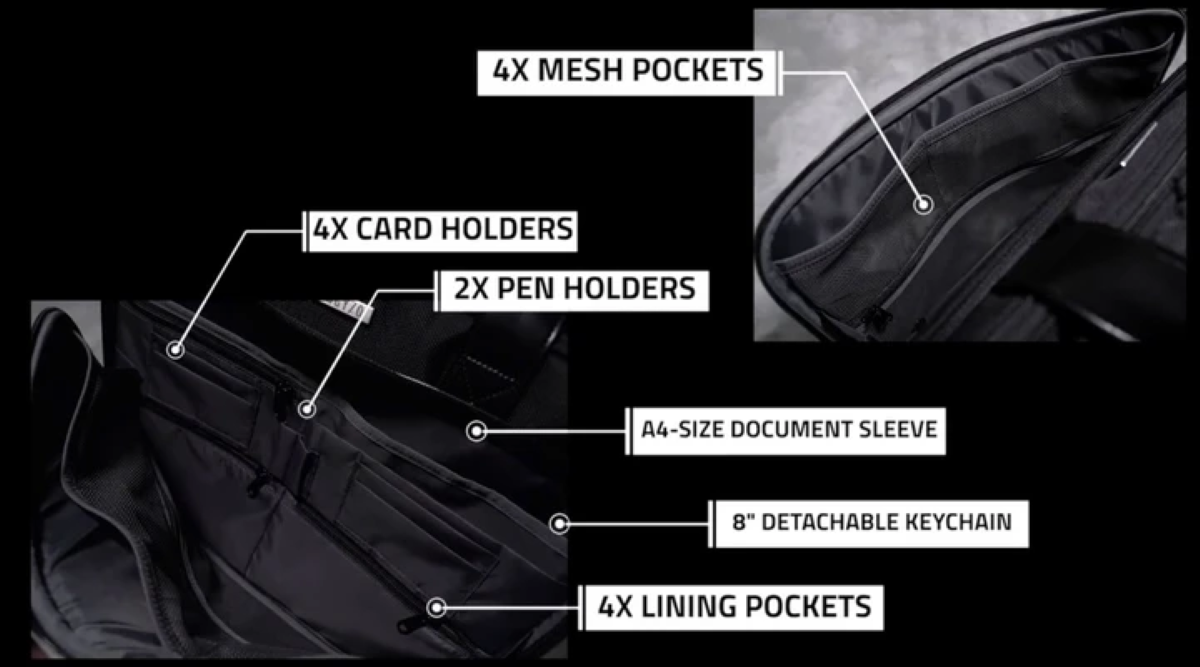 Main (Center) Compartment
The Main (Center) Compartment is where your put your everyday essentials. Things like working files, notepads and books, exercise shoes and gym wear, or even your lunch box, water bottle and umbrella. The Main (Center) Compartment offers you full flexibility to decide what you want to carry!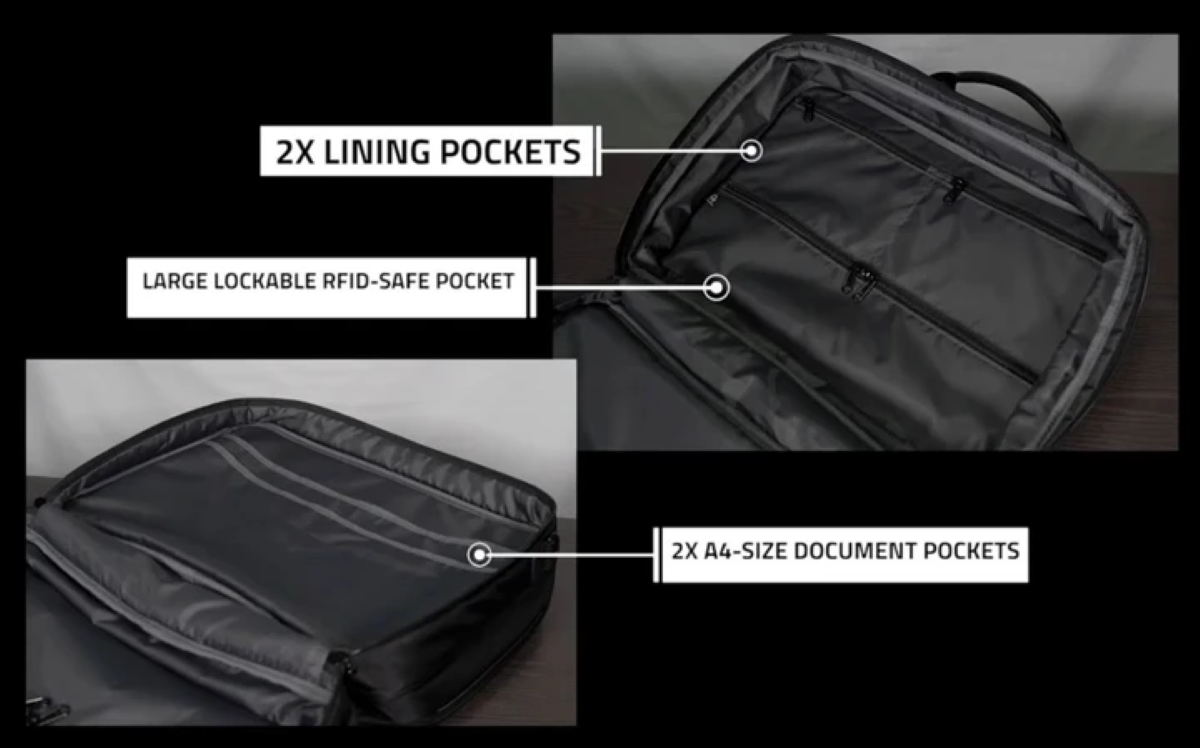 When expanded, this enlarged compartment allows you to pack up to 4D3N (4 days/3 nights) of travel clothing and toiletry bag too!
Gadget (Back) Compartment
Contrarily to some laptop bags that claim to "perfectly fit" a 15.6″ laptop but then feature a laptop sleeve that actually can't fit a regular 15.6″ laptop, know that you have nothing to fear from the Infinity Messenger Bag.
Not only is its 15.6″ laptop bag 3-dimensional (allowing it to fit even the older 15.6″ models), the laptop sleeve even comes with double-thickness padding to protect your laptop and important data from any collision.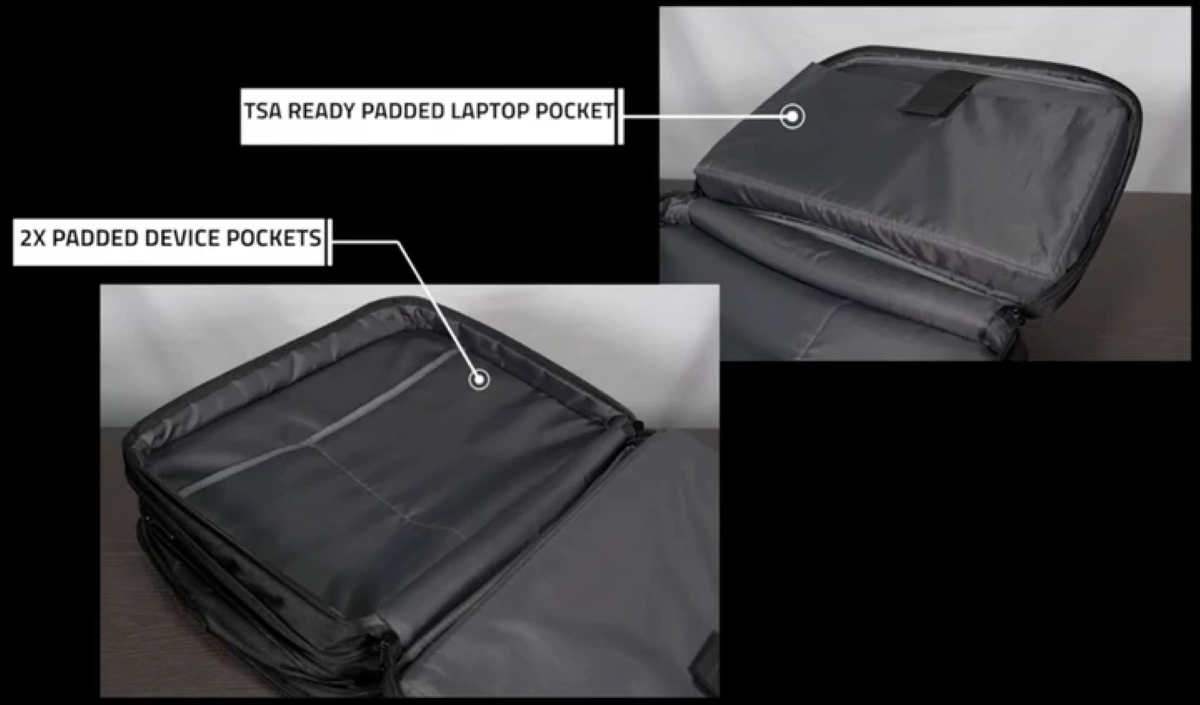 The Gadget (Back) Compartment also features 2 padded device pockets to keep your 10.1″ tablet, iPad, eBook reader and other accessories – like laptop adapter and cable – safe and organized.
Back Quick Access Pocket
The Edgyzo Infinity Messenger Bag's Back Quick Access Pocket allows you to bring any documents with you, including magazines and newspapers!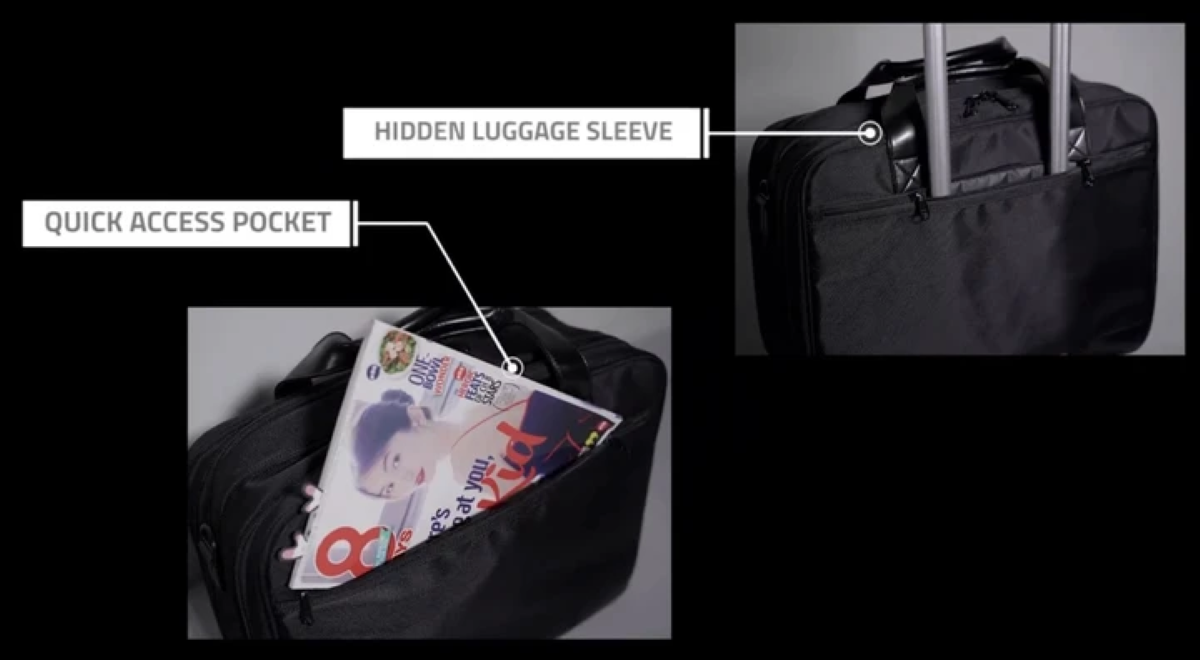 It also comes with a hidden luggage handle sleeve that allows you to put the bag on to your luggage when you travel!
FINAL THOUGHTS
Edgyzo's brand-new Infinity Messenger Bag is without a doubt one of the most functional laptop bags available.
It's a great laptop bag to take with you for work, play or while you're traveling.
If you're looking to get an Infinity Messenger Bag for yourself or your loved one, you can pre-order yours at heavily-discounted prices at Edgyzo's Kickstarter Campaign for a limited time only when the campaign launches on 28 January 2020 (8.00 AM EST). All Kickstarter orders come with free international shipping!
You can also find out more about the Infinity Messenger Bag at Edgyzo's homepage.