While it's rather easy to overlook snoring as a harmless sleeping habit, ignoring can not only disturb your sleeping partner's night rest, which can lead to fatigue on their daily routine, but it may also bring you long-term health concerns. However, thanks to the 10Minds Motion Pillow, you can immediately stop your snoring habit (or your partner's) so that both you and your partner can get a good night's rest, every single night.
Anatomical abnormalities of the nose and throat like enlarged tonsils or adenoids, nasal polyps, or deviated nasal septum cause exaggerated narrowing of the throat during sleep which consequently leads to snoring. In some specific cases, some sleeping positions like sleeping on your back can also lead to snoring.
Snoring can not only disrupt your sleep but also lead to many uncomfortable complications, including daytime sleepiness, concentration problems, and an increased likelihood of car accidents. In short, chronic loud snoring isn't just annoying – it can also be dangerous and deserves medical attention. Furthermore, snoring is not only bad for your health when affecting your sleep quality. It can also affect personal relationships.
The 10Minds Motion Pillow is an Anti-Snoring Smart Pillow that features state-of-the-art sleeping technology to ultimately help you successfully stop snoring during sleep.
Traditionally, after getting waked up by snoring, people try using a pillow to elevate their snoring partner's head or turn them onto their side whenever their snoring partner is sleeping on their back. Correcting your sleeping partner's position by turning their head or body to the side places them at a better sleeping angle that helps to open up their airways as they sleep, which then reduces the vibrations in their throat and potentially eliminates snoring.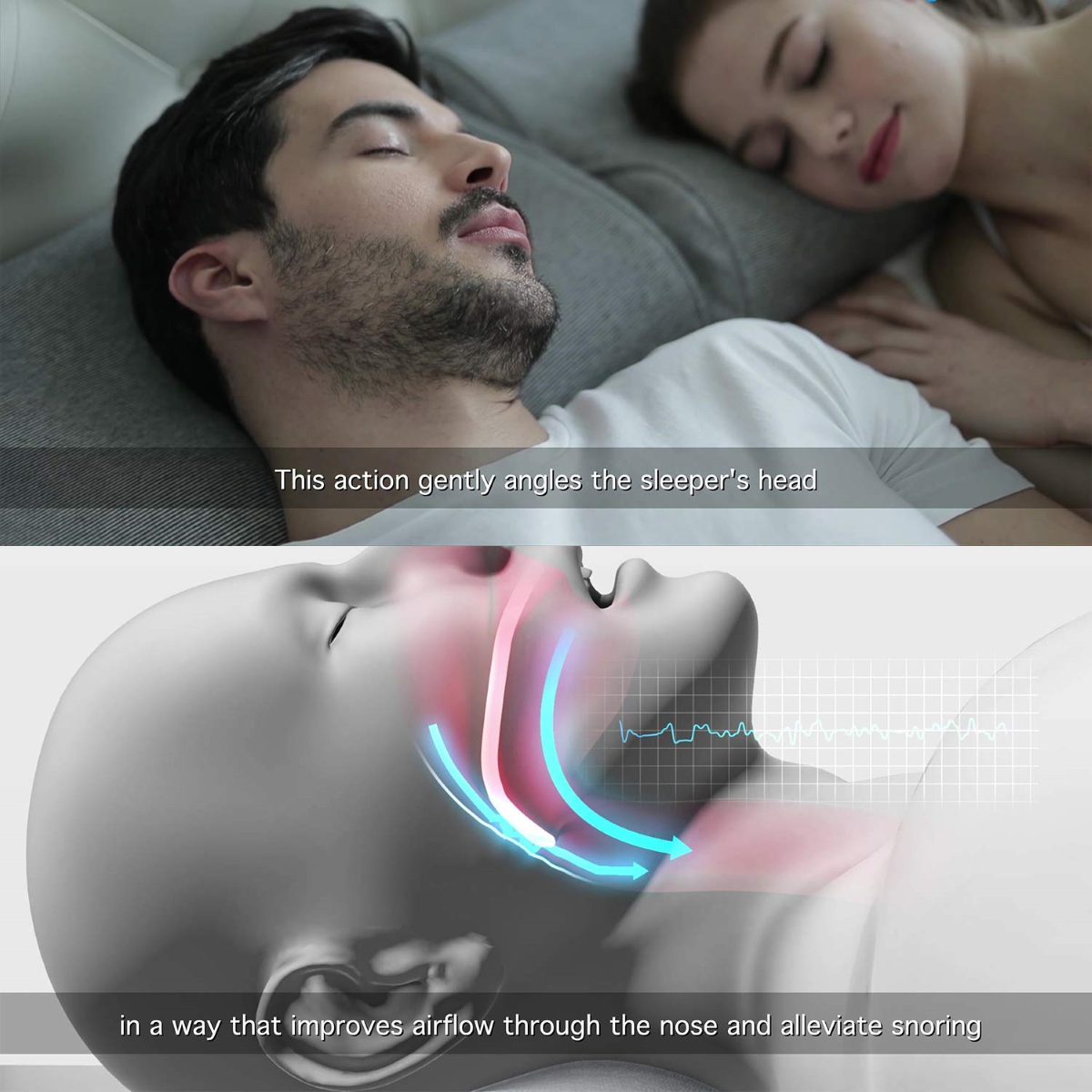 And that's exactly what the 10Minds Motion Pillow's smart sensors do, but they do it for you, right before you or your sleeping partner start snoring loudly, letting you both have an uninterrupted night of continuous healthy rest for a great night's sleep.
Let's take a detailed look at this cool Smart Anti-Snoring Pillow and check everything it has to offer.
DESIGN, SPECS & FEATURES
The 10Minds Motion Pillow is anti-snoring smart pillow that was designed specifically to help snorers fight their bad sleeping habit (snoring), working both as an anti-snoring smart device and snoring solution. The pillow itself measures 21.70 inches long by 13.70 inches wide by 4.10 inches tall and is incredibly lightweight, weighing only 6.72 pounds.
The pillow itself is a high-quality pillow that's soft, durable, skin-friendly, and safe to use, featuring Sweat Absorption and Breathable Heat Dissipation without any harmful substances. The Motion Pillow is focused on bringing Noise Reduction to aid your sleep, featuring 3 integrated layers of noise reducing materials to minimize the disturbance to its users' sleep, ensuring they awake refreshed and rejuvenated.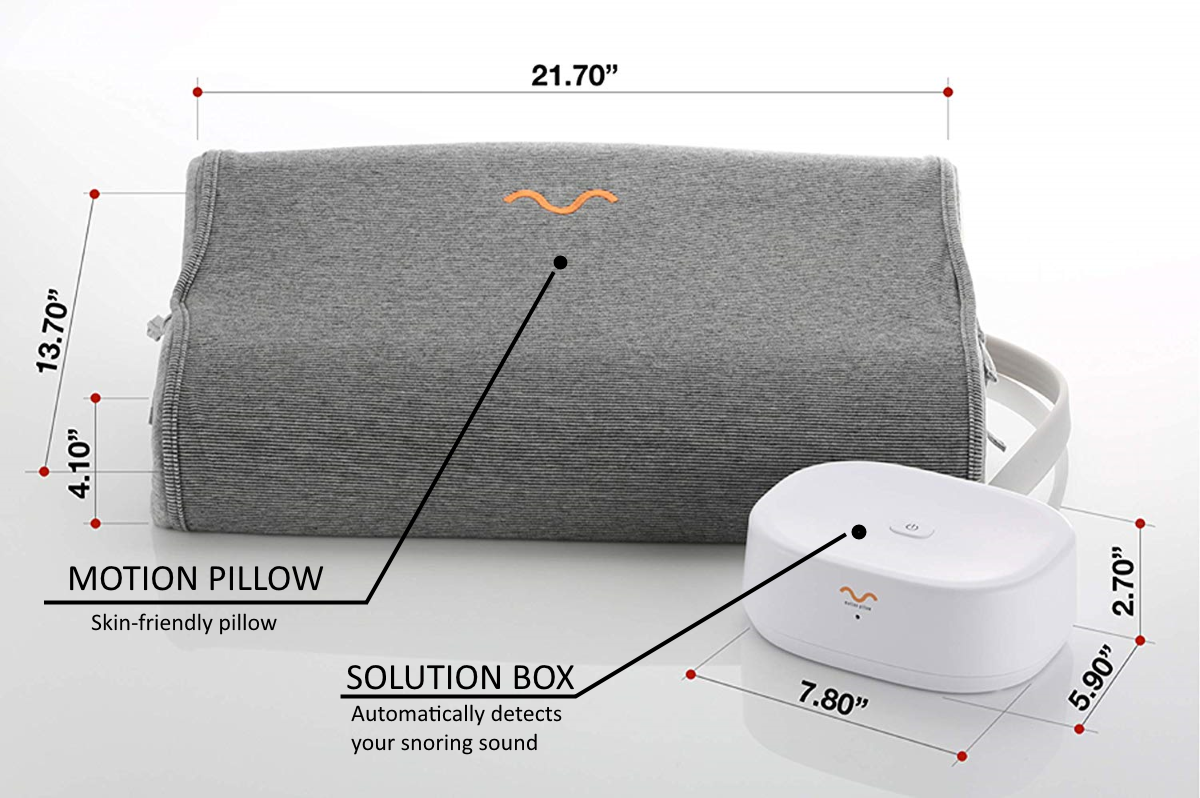 The 10Minds Motion Pillow also features a patented sleep pressure monitoring system (its Solution Box – discussed right ahead) that integrates a couple of smart sensors and a built-in microphone that make it able to accurately detect whenever your head is positioned on the pillow, as well as its exact position on the pillow and your head's resting angle.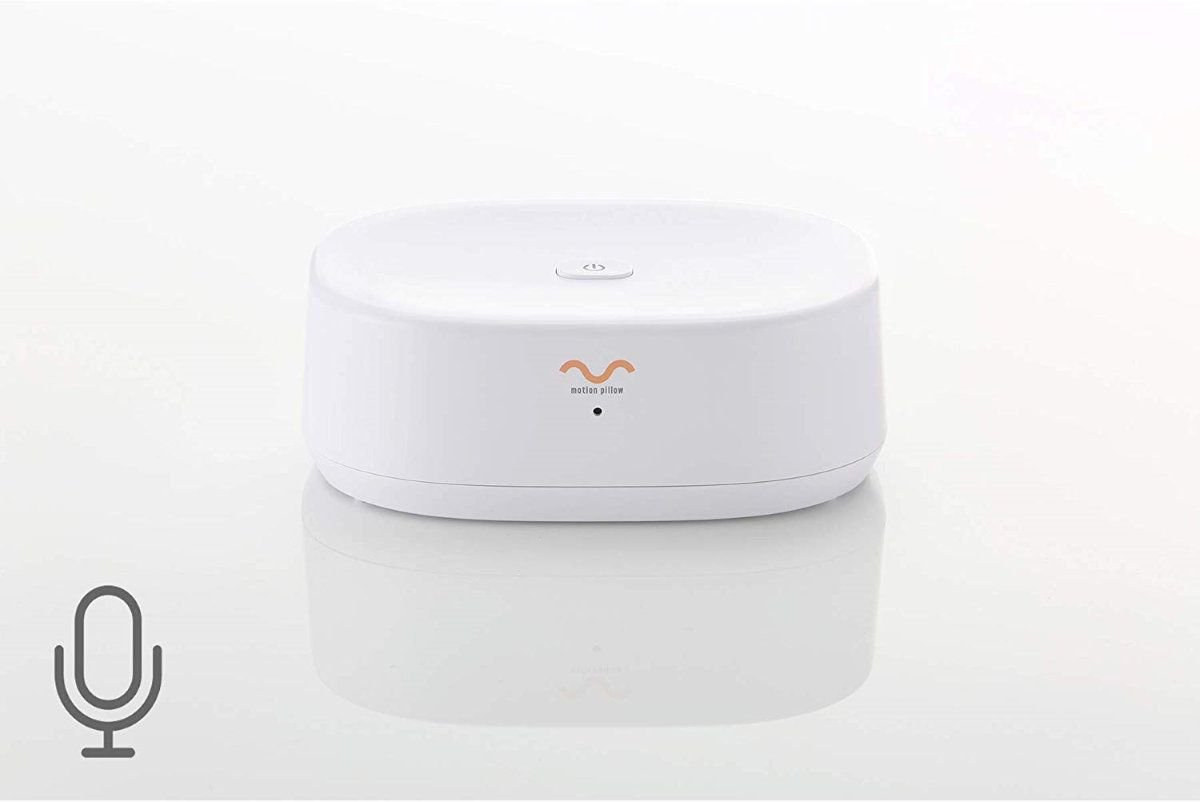 The pillow comes with a total of four (x4) built-in Airbags that are triggered whenever a snoring sound is detected. As soon as the Airbags are activated, between two to three at a time are specifically selected – depending on the user's head position – by the pillow's Smart Box accurate smart algorithm and then inflated to gently turn the user's head.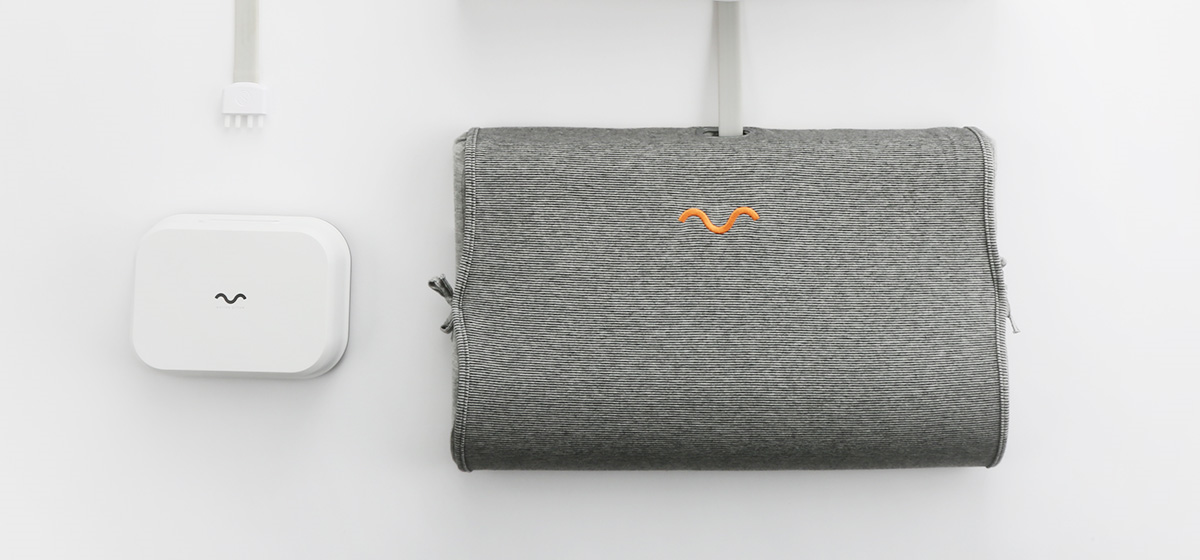 Thanks to these delicate movements, users get an improved quality of sleep so that they can wake up fully refreshed without having a fatigued body.
The 10Minds Motion Pillow works perfectly in synch with its Smart Box, allowing it to perform those precise adjustments to the user's head to ultimately improve a user's sleeping position.
The Solution Box – which measures 7.80 inches long by 5.90 inches wide by 2.70 inches tall – detects, records, and analyzes users' snoring patterns, inflating the airbag in the pillow to create a sleeping posture perfect for unimpeded nasal breathing. All the analyzed data is then sent to the Smartphone Companion App (discussed ahead).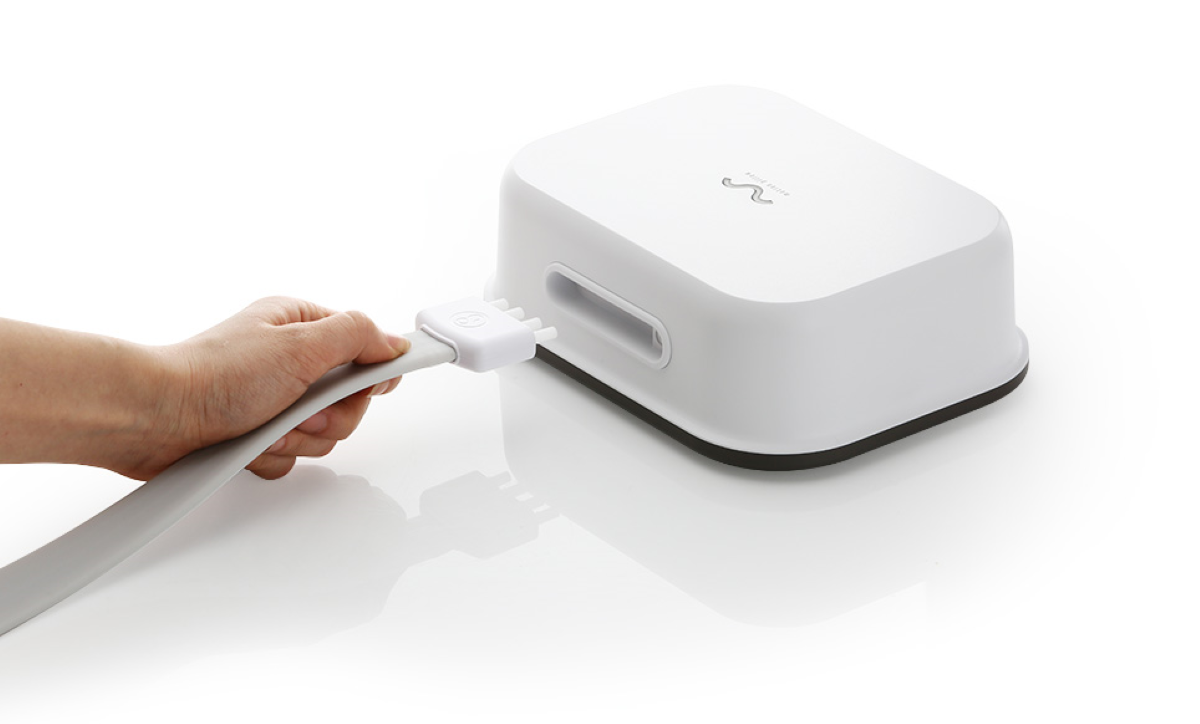 By connecting the 10Minds Motion Pillow with its Smart Box users can control all snoring issues during the night, including both sleep deprivation for themselves and their sleeping partner and bedroom annoyance, as well as sleep apnea, insomnia, and more.
The 10Minds Motion Pillow will work throughout the entire night, detecting snoring sounds and tracking sleeping patterns through the Smartphone App.
WHAT'S IN THE BOX?
Inside their package users will find: their 10Minds Motion Pillow, the included Solution Box, a Power Adapter and a USB-C Type Cable.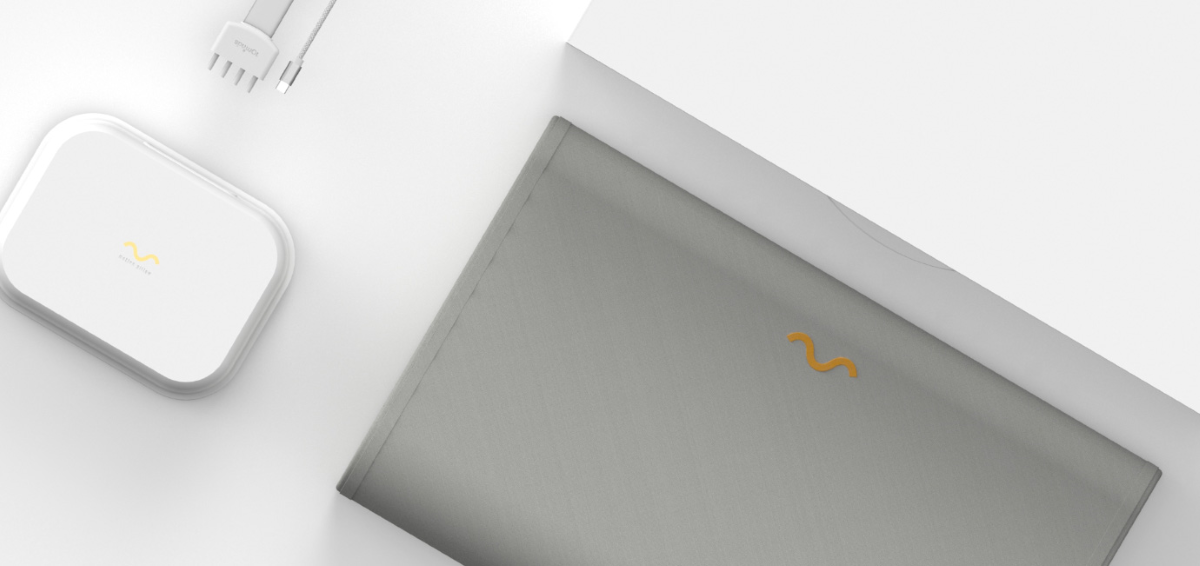 THE SMARTPHONE COMPANION APP – MOTION PILLOW APP
The 10Minds Motion Pillow and its Smart Box also work together with the Motion Pillow App (which is free for both iOS and Android), which is the pillow's Smartphone Companion App.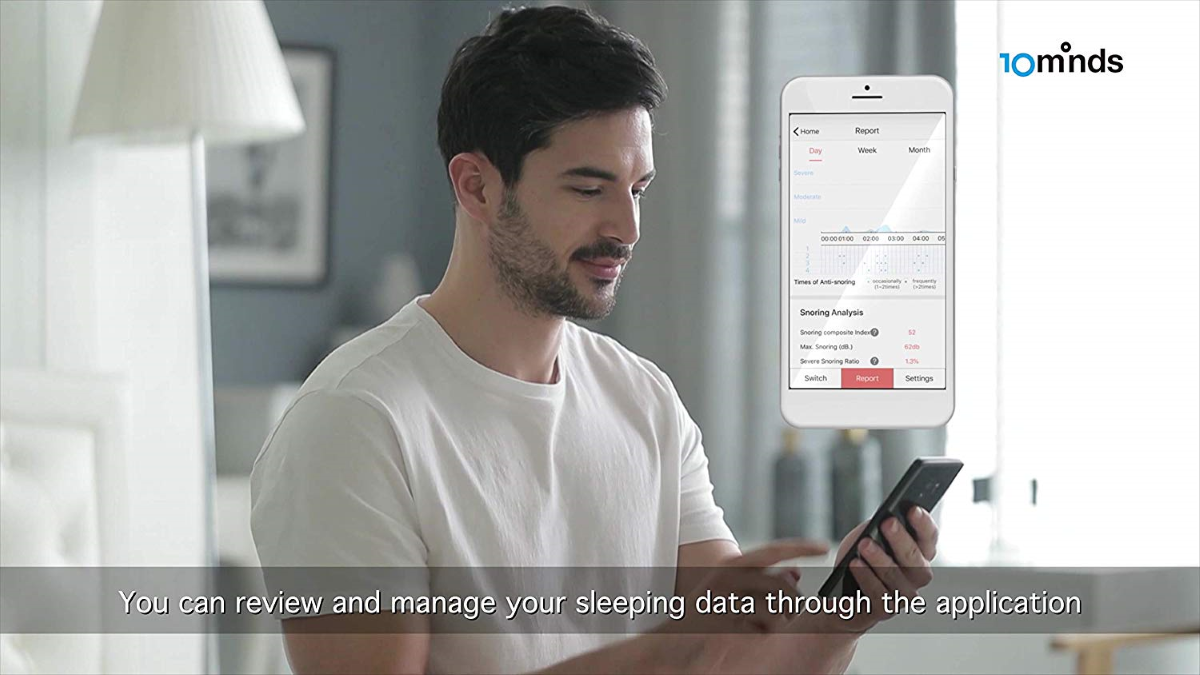 The Motion Pillow App provides users with real-time Data Analysis and Feedback, allowing them to monitor their sleeping patterns and trends over a daily, weekly and monthly basis. All the data is stored within the App to be uploaded at users' convenience.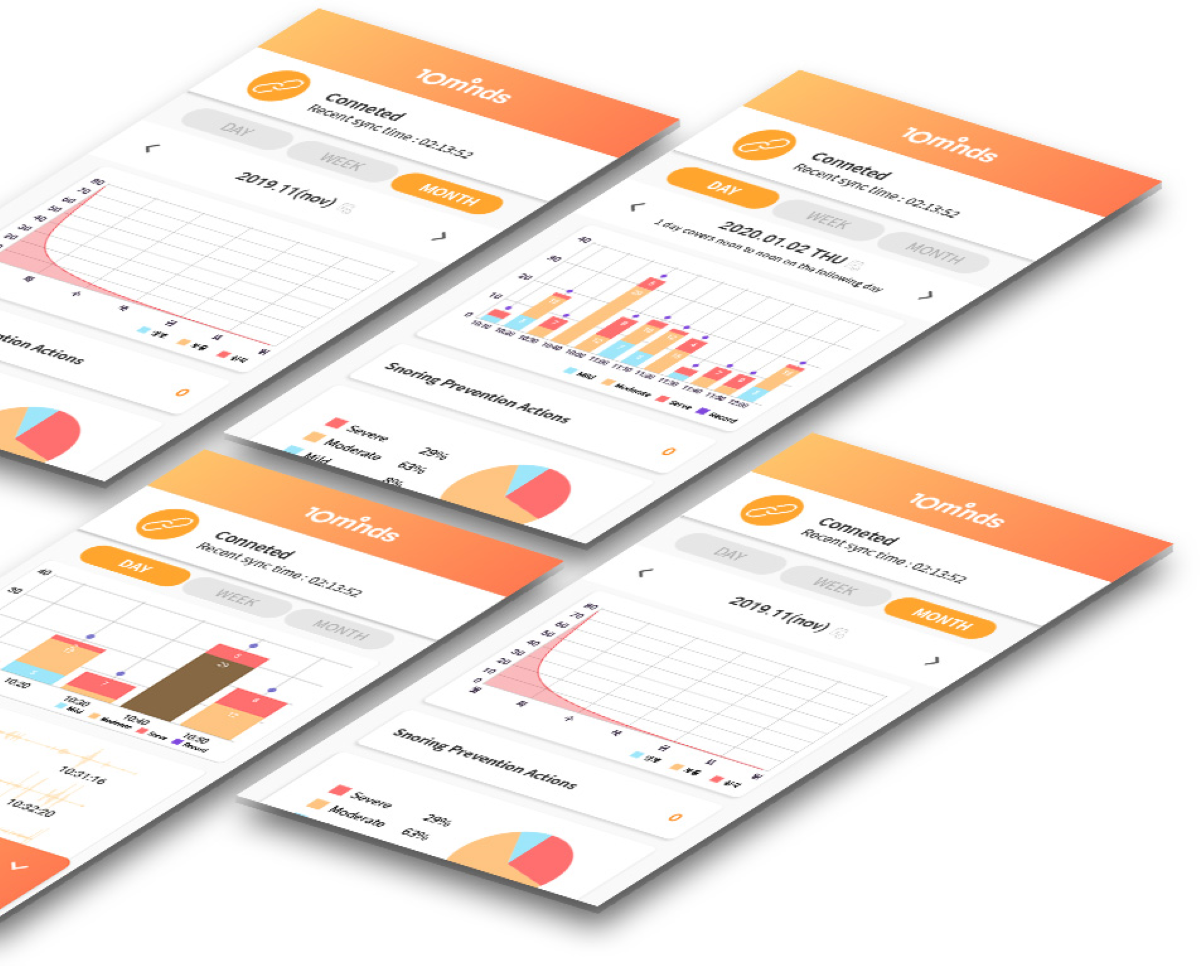 FINAL THOUGHTS
The 10Minds Motion Pillow is an Anti-Snoring Smart Pillow with built-in Airbags that are triggered by the pillow's sleeping technology to turn your head and help you stop snoring during sleep.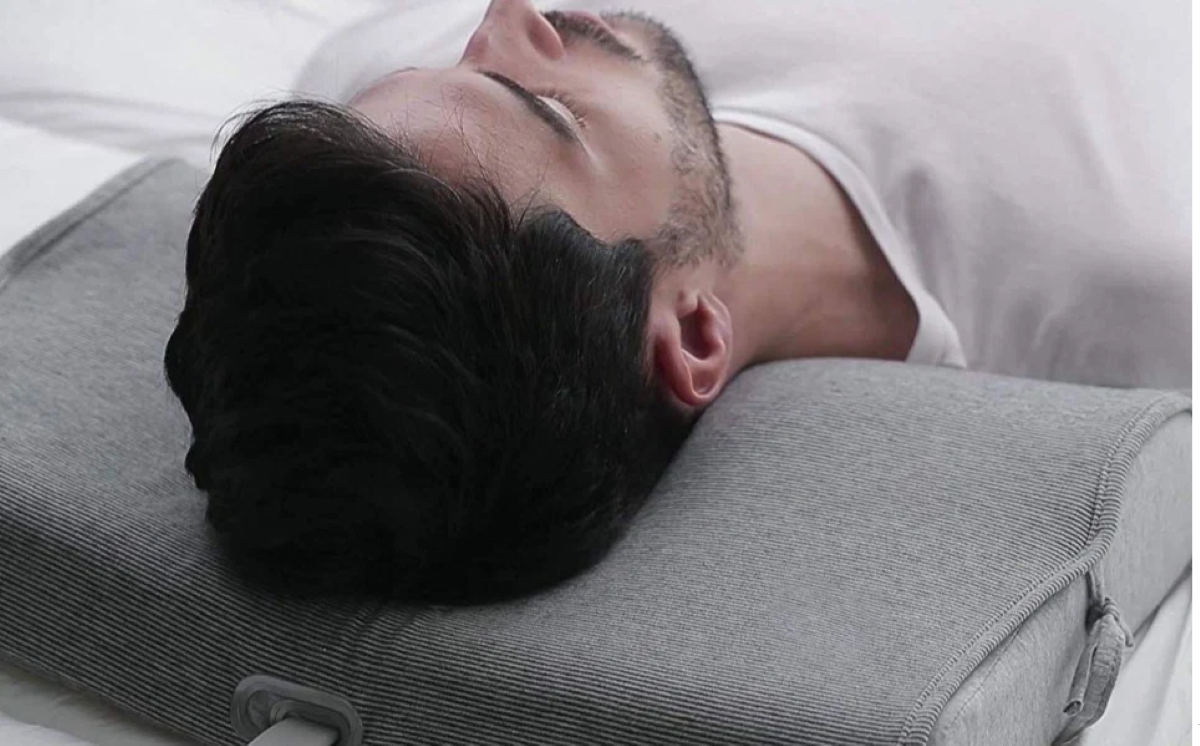 If you're interested in getting your own 10Minds Motion Pillow, each unit is currently going for $378. You can get yours directly from Amazon (who 10Mind's is an official partner of). Just click this link to access the corresponding Amazon shopping page.
The company (10Minds) also has a 2nd Generation of its Motion Pillow Smart Anti-Snoring Pillow already under development, which is currently going through a Crowdfunding Campaign at Indiegogo. Click the link provided if you're interested in checking and/or supporting 10Minds' new campaign.