With brand-new smart integrations to gadgets of all categories, even kitchen gadgets have gone through mind blowing transformations. For coffee lovers that purely means one single thing; a smarter way to make coffee, completely hands free. That's exactly what the Hamilton Beach Smart 12 Cup Coffee Maker has to offer.
Not only does this smart coffee maker integrate Amazon Alexa, allowing users to have the coffee maker prepare them some coffee via simple voice commands, but it can also be App Controlled.
For coffee lovers, that's two amazing smart features in one single smart kitchen gadget, allowing them to quickly and easily prepare a hot cup of coffee without ever physically interacting with the device. Not only that, but this high-end coffee maker also offers its users some more cool smart features.
Let's take a more detailed look at this smart coffee maker and check everything it has to offer.
DESIGN & SPECS
The Hamilton Beach Smart 12 Cup Coffee Maker is an average size coffee maker, measuring 7.95 inches long by 12.91 inches wide by 13.9 inches tall.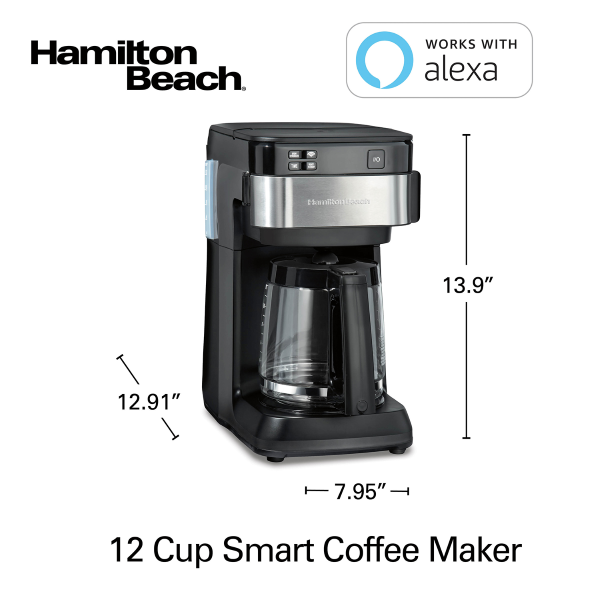 Furthermore, it also features a simple yet super stylish design that can easily blend in with the rest of your kitchenware and kitchen countertop.
The Hamilton Beach Smart 12 Cup Coffee Maker comes equipped with a front-fill/swing-out brew basket and a front-fill water reservoir.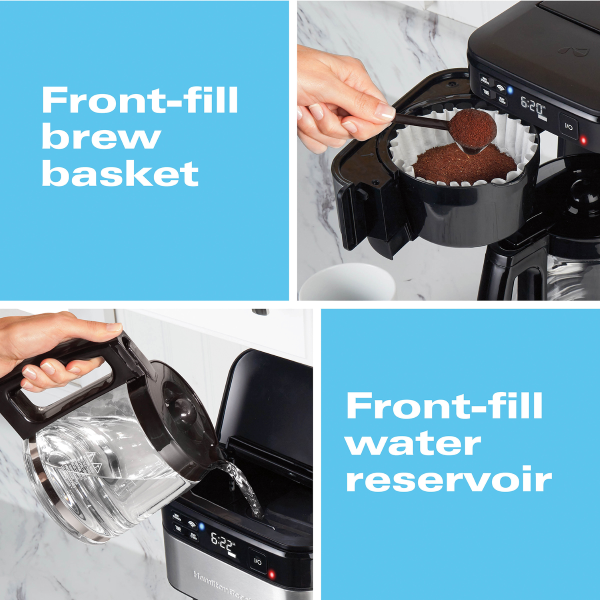 Thanks to its front-fill water reservoir, users can easily add their favorite coffee to the swing-out brew basket and pour in water without ever having to pull the coffee maker out from under the cabinets.
Additionally, this smart coffee maker also comes with an included drip-free carafe that makes it super easy to serve your coffee.
EASY SETUP
The Hamilton Beach Smart 12 Cup Coffee Maker offers an extremely simple and super easy plug-and-play setup.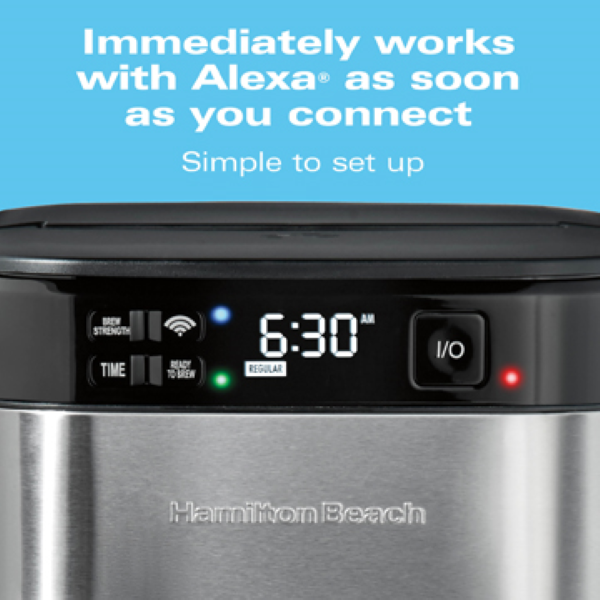 As soon as you plug it in, the smart coffee maker will immediately work with Amazon Alexa.
THREE SMART FUNCTIONS
This smart coffee maker features an Auto Pause & Serve smart function, an Automatic Shutoff (or shut off with App) smart feature, and a Smart Cleaning Cycle Reminder that helps users to keep the smart coffee maker clean, which ultimately ensures that the coffee maker has a longer lifespan.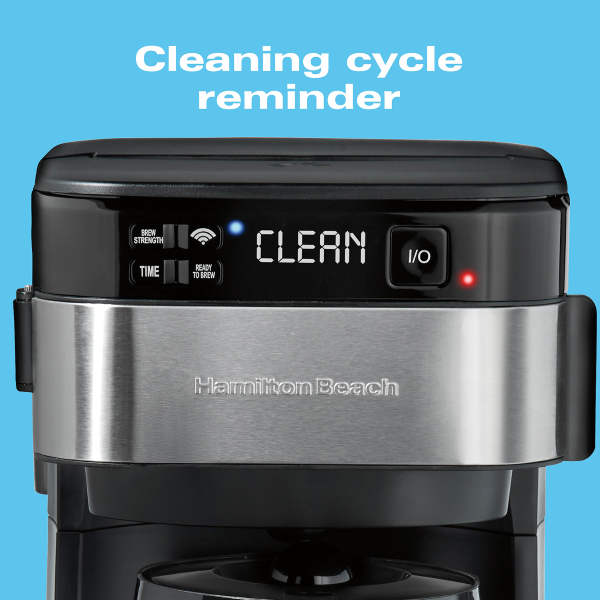 FULL COMPATIBILITY WITH AMAZON ALEXA
As mentioned before, this smart coffee maker works with Amazon Alexa right after it is connected to power, offering users the ultimate convenience for any household with a Smartphone.
Voice & App Controls with Amazon Alexa
By pairing it with the Alexa App, users can instantly use voice commands, as well as any of their home Amazon Echo smart speaker devices (such as Amazon Echo Plus, Echo Dot, Echo Spot, Echo Show, and more) to have the smart coffee maker automatically brewing coffee for them.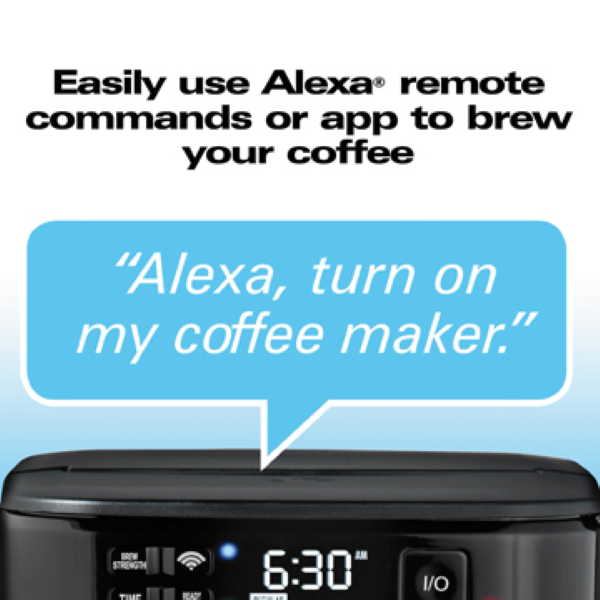 Users can then ask Alexa to turn on the smart coffee maker ("Alexa, turn on my coffee maker.") and have it brew up to 12 cups in its glass carafe.
Users can also turn off the smart coffee maker by using voice controls, the App, or ultimately by turning it off manually.
By visiting the Alexa App regularly users can also learn new functions or new voice commands to say to Alexa as Amazon releases new updates.
Super Convenient App Features
By using the Alexa App features, users can easily create a new automatic routine and program it to have the smart coffee maker brewing them some fresh coffee right in the morning.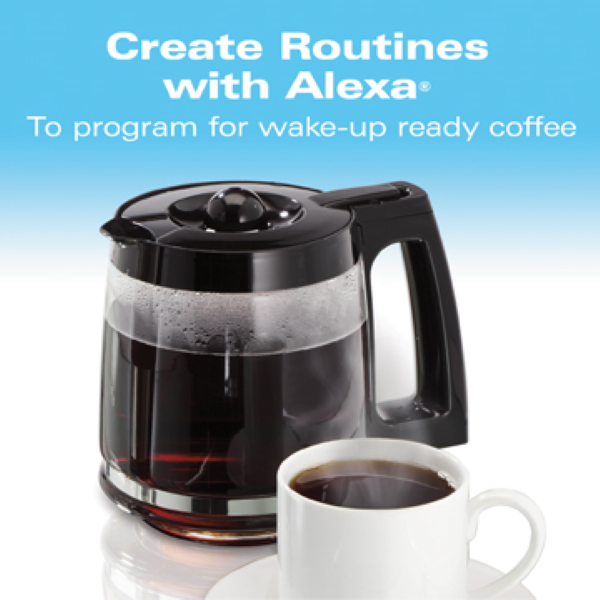 Brew strength options for great-tasting coffee
Lastly, users can also choose their desired brew strength — regular or bold — through the Alexa App, most Amazon Echo smart speaker devices or ultimately by doing it manually.
By simply saying "Alexa, set brew strength to regular/bold." users can have the smart coffee maker working at either regular or bold brewing strength.
FINAL THOUGHTS
The Hamilton Beach Smart 12 Cup Coffee Maker is a smart App-Enabled and Alexa-Compatible coffee maker that offers coffee lovers the ultimate coffee making convenience.
Users can fully control the smart coffee maker via Voice Controls, App Controls, or ultimately, the machine's physical interface.
If you're interested in buying it, each unit is currently going for $90. You can order yours right now, directly from Hamilton Beach's official shopping page, which you can access by clicking here.