When working from home, users should look to have a viable and well-protected home network. That's where having one of Bitdefender's many dedicated network security products comes in handy. One of Bitdefender's best dedicated network security products is none other than the Bitdefender BOX, a great smart home network security solution.
The Bitdefender BOX is the world's first Cybersecurity Smart Device, offering homeowners a new way to have a secure home network within their Smart Home, which far exceeds the capabilities of any traditional antivirus.
Let's take a more detailed look at the Bitdefender BOX Smart Home Cybersecurity Hub and see exactly how this Cybersecurity Smart Device works to keep your home protected from hackers of all sorts.
DESIGN & SPECS
The Bitdefender BOX works as a simple and easy to use protection tool for all of your smart devices.
This dedicated home network Cybersecurity hub is powered by a 1.2 GHz dual core CPU, featuring up to 4GB of Storage Space while also boasting a high-speed dual band Gigabit Wi-Fi with up to 1GB Transfer Speeds.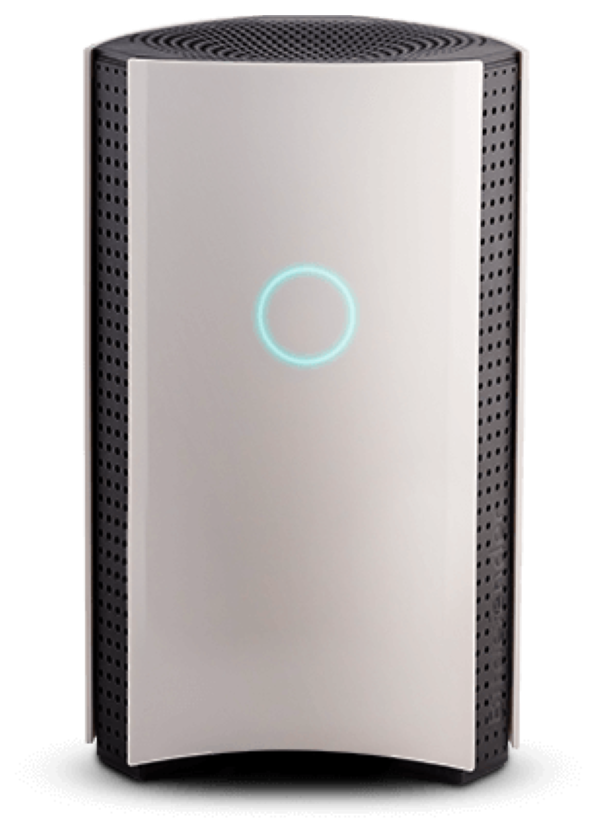 Its high-speed dual band Gigabit Wi-Fi band is a new 802.11ac Wireless LAN specification that supports data transfer speeds of 433Mbps per spatial stream and up to 1.3Gbps speeds for three-antenna/three stream hardware.
The Bitdefender BOX is a very user-friendly protection tool that can keep your home network completely secure from anyone with malicious intents, allowing homeowners to keep their entire family safe at all times from hackers with pretty much any level of expertise.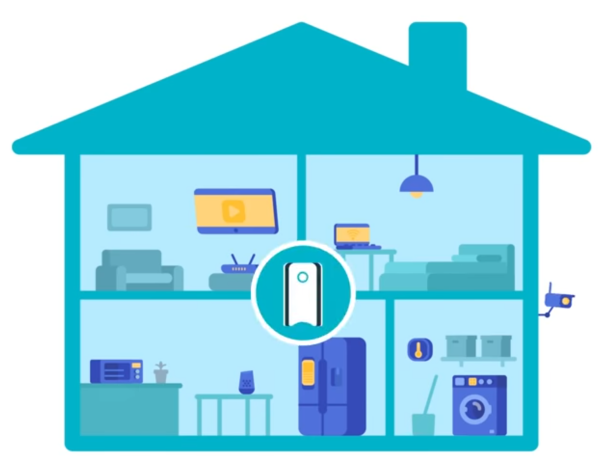 HOW TO SETUP?
This Smart Home Security network Hub is compatible with any internet setup you may have, featuring a quick and easy installation process.
Setup should only take you around 5 minutes and no more than that.
SECURITY FEATURES & BITDEFENDER CENTRAL SMARTPHONE APP
After installation is done, all of the Smart Home network security tools you'll ever need are right at your fingertips, all packed in one friendly App called the Bitdefender Central App (available for both iOS and Android devices).
Those same network security tools are what makes the Bitdefender BOX much more secure than a standard firewall.
Device Management
One of its best network security tools is the Device Management feature, which detects all the connected devices in your home, putting homeowners in full control of what happens in their home network.
After a quick Network Scan, homeowners can detect pretty much all connected smart devices within their home.
Whenever a new device tries to connect to their home network, homeowners are quickly notified via the simple and intuitive Bitdefender Central App's interface, which will always block unwanted connections by default.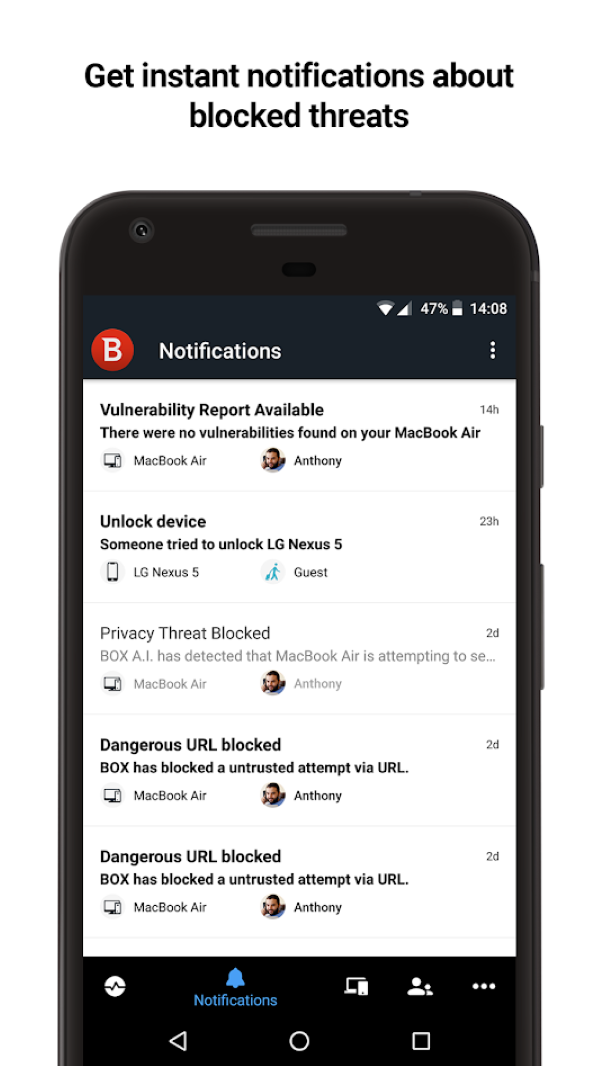 All of these App-Enabled security features ultimately allow homeowners to keep all of their smart home gadgets (including Smart Thermostats, Alexa-Enabled Kitchen Gadgets, and many more) safely connected to one main hub that integrates everything together within their connected home.
Homeowners can also get detailed Activity Traffic Reports at any time and even create User Profiles with Security Preferences and Connection Rules for both themselves and their family members.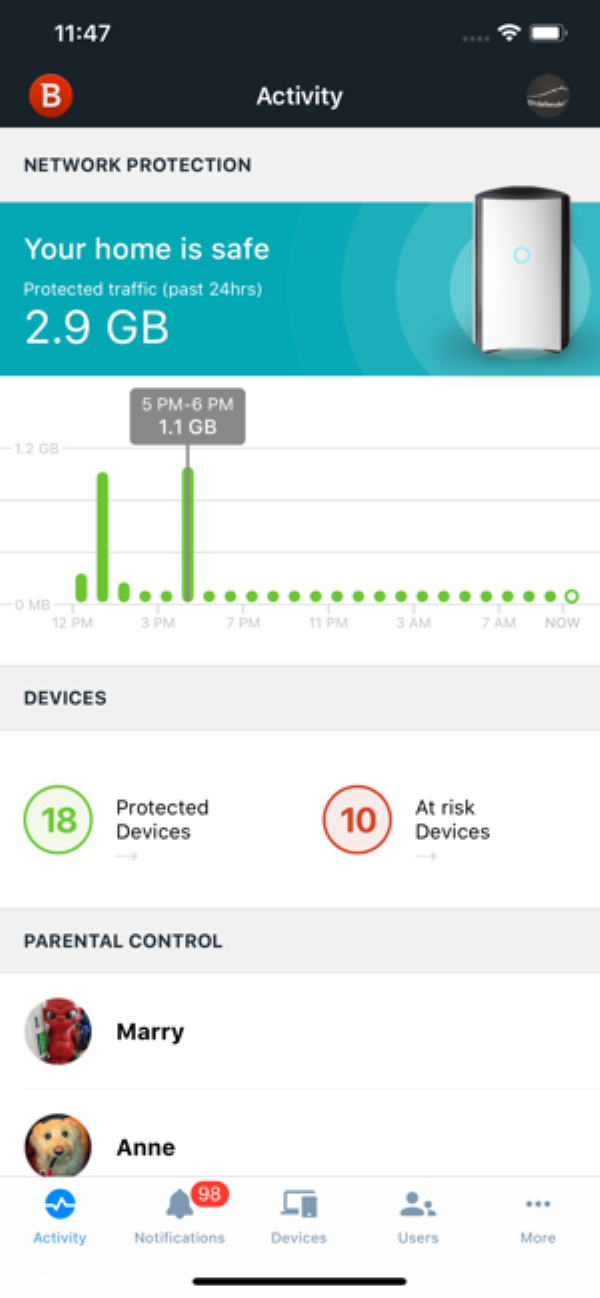 Vulnerability Assessment
Many Smart Home Gadgets are not built with security in mind, and as such, many of them can open backdoors in your home network, which will then make it unprotected, ultimately giving hackers an easy-to-use "backdoor access door" to it.
However, via the Bitdefender Central App, the Bitdefender BOX gives homeowners an easy way to determine if any of their Smart Home Gadgets are vulnerable to a backdoor attack, allowing them to find out at any time if their home network is ever at risk.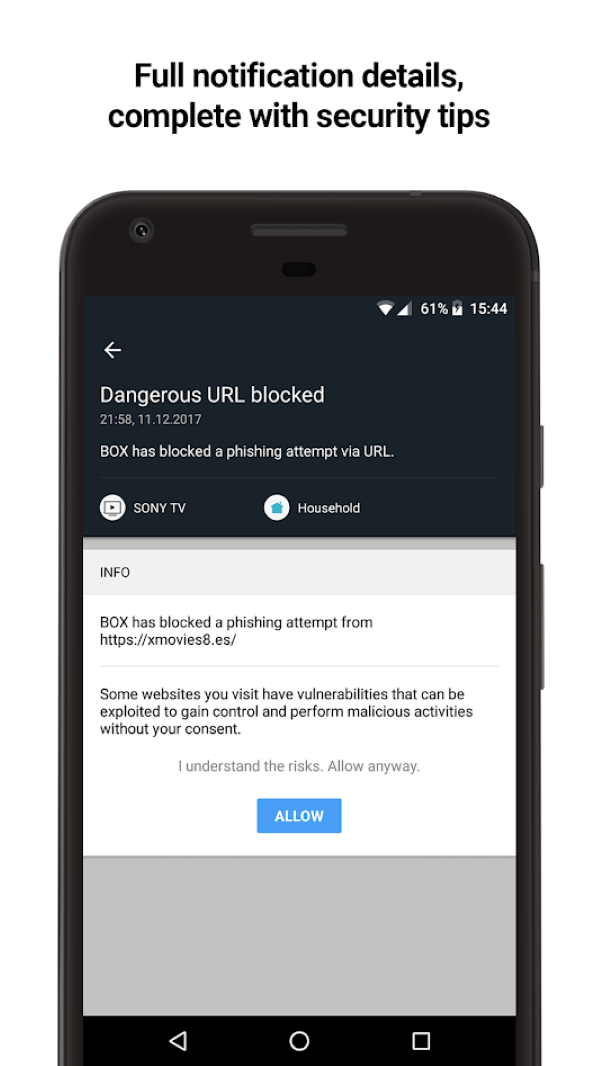 Homeowners can also run Vulnerability Scans for each of most of their smart devices, as well Quick Scans and Full Scans that allow them to check whether or not that device is affecting the entire home network system.
Safe Browsing
There's also a Safe Browsing feature that allows homeowners and their family members to stay safe on the Internet, while also preventing their smart devices (like Smart TV and Gaming Console) from going online to unsafe locations.
Sensitive Data Protection
Furthermore, homeowners are also offered a Sensitive Data Protection feature that keeps their sensitive personal data fully protected with heightened security.
Things like your credit card information (when used online), your GPS location, or even your login credentials will only be transmitted over Bitdefender BOX's secure and encrypted connection.
Anomaly Detection, Exploit Prevention & Brute Force Protection
Anomaly Detection
IP-based gadgets like Smart Home Cameras or even some smart baby monitors can be hacked to suddenly force those to try to connect to a random server you've never heard about.
But with the Bitdefender BOX you'll never have to worry about such a thing, as this reliable Cybersecurity Smart Device also brings homeowners an Anomaly Detection feature that allows the HUB to automatically identity, block and alert you via the Bitdefender Central App upon any malicious activity.
Exploit Prevention
Furthermore, for any vulnerability within your Smart Home Gadgets there's a potential attack waiting to happen.
However, thanks to Bitdefender BOX's Exploit Prevention feature, those potential attacks are blocked way before they can cause any damage.
Brute Force Protection
In addition, the HUB also brings you a Brute Force Protection feature, which keeps your home network safe against all intrusions.
Whenever a cyber-attack targets one of your Smart Home devices, the attempt is always stopped in real-time.
Advanced Parental Controls
Lastly, with the Bitdefender Central App's Advanced Parental Controls, concerned parents can keep their children fully protected.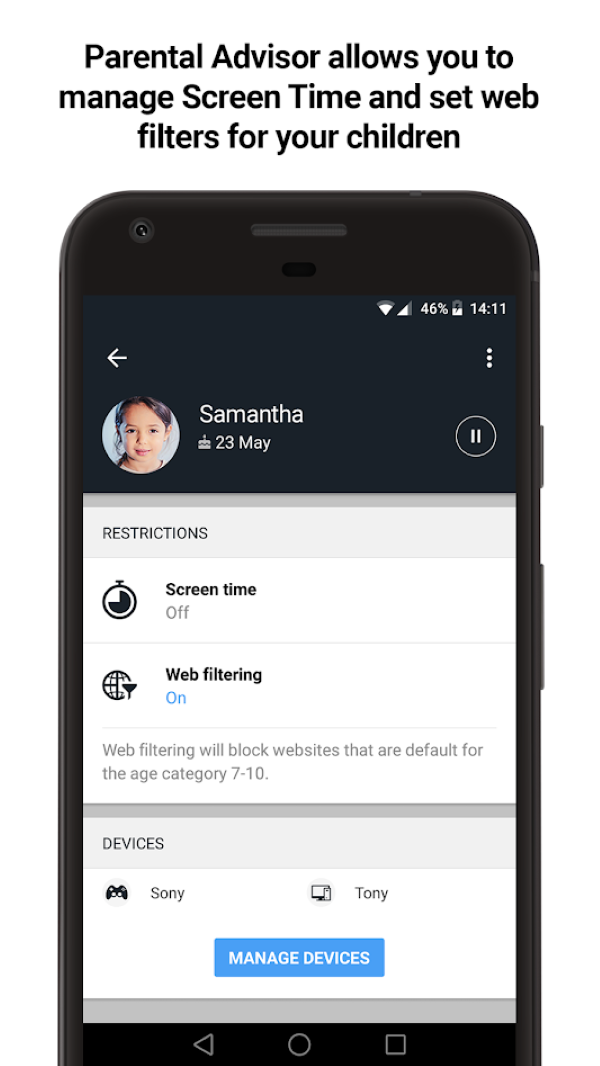 This security feature keeps track of your kids' location and filters the content they view online, while also allowing parents to limit their online gaming sessions, giving families more precious family time to spend together instead of staying stuck to their devices' screens.
---
SMART HOME CYBERSECURITY FOR YOUR HOME BUSINESS
Furtheremore, Bitdefender also offers its users a Bitdefender IoT Security Platform, which works as a Smart Home Cybersecurity solution for your home business.
Depending on what pack users decide to subscribe to, they can get a ton of Smart Home Security Solutions, many Gateway Protection Tools, and even Endpoint Protection Tools for their home business.
Smart Home Security Solutions
These Smart Home Security Solutions can include Device Detection, Identification & Management, Vulnerability Assessment Logs, Anomaly Detection Notifications and even a Brute Force Protection solution that runs 24/7.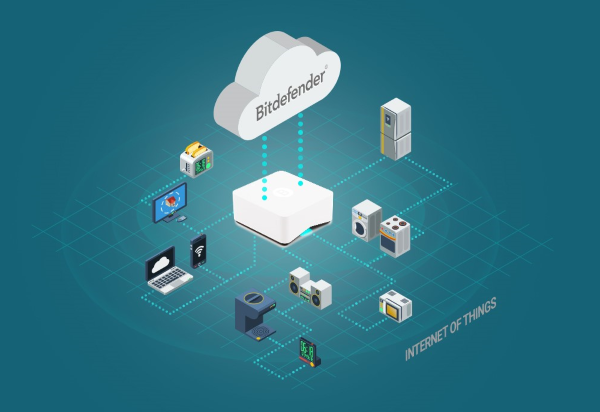 Gateway Protection Tools
From Bitdefender's IoT Security Platform, users can ultimately get Web Protection, Category Filtering, DDoS Detection & Protection, Exploit Prevention (IDS/IPS), and even Sensitive Data Protection.
Endpoint Protection Tools
Lastly, by going with one of the most complete (or even the ultimate) subscription packs users can get many Endpoint Protection Tools like Bitdefender Total Security, Bitdefender Parental Controls, Bitdefender's own VPN, and even a Mobile Management App (SDK).
The Bitdefender Parental Controls are a great tool for concerned parents to keep children protected while staying online from the dangers that lurk in the web.
FINAL THOUGHTS
The Bitdefender BOX Smart Home Cybersecurity Hub is one of the best Cybersecurity Smart Devices around, offering homeowners a ton of security features within an easy-to-use App with a super simple and user-friendly interface.
These security features include Device Management, Vulnerability Assessment, Safe Browsing, Sensitive Data Protection, Anomaly Detection, Exploit Prevention, Brute Force Protection and Advanced Parental Controls.
The Bitdefender BOX package includes a 1 year subscription with access to Bitdefender Total Security, as well as a BOX Network Security Hub that will work as your Smart Home's Cybersecurity HUB, which will keep all of your smart devices safely connected to your now secure home network.
Furthermore, the package also includes both an Installation & Setup Service (which is worth a total of $39.90), and all of the package's contents include Free Shipping.
If you're interested in in buying the Bitdefender BOX, each set is currently discounted from its original price of $200, now going for $150 only.