For anyone that travels for businesses purposes, you're most likely familiar with the hassle of carrying your laptop, dedicated external storage drive (either a portable HDD or SDD), as well as multiple USB Flash Drives. As such, any business worker that's planning a future business travel is always looking to go as light as possible, but when having so many work tools to carry with them – which will obviously add up in weight to their clothing items – it can be hard to travel light. That's exactly where Azulle's Access Mini PC Sticks come in handy, as they give you full connection capabilities to make streaming, browsing, and computing a breeze, and thanks to that, you can ultimately have the perfect on-the-go, portable product that's designed for computing while you're traveling. Meet the Azulle Access4.
Basically, the Azulle Access4 is a Fanless Mini PC Stick that's rated as Azulle's top-selling product. Ultimately, this fanless portable computing solution offers flexible applications for both your home office and business meetings. To put it in a more simple way, this fully functional and cost-efficient device basically works as a desktop replacement for both your business and home office, and you can also use it for any of your entertainment needs, including home theater streaming and cloud gaming.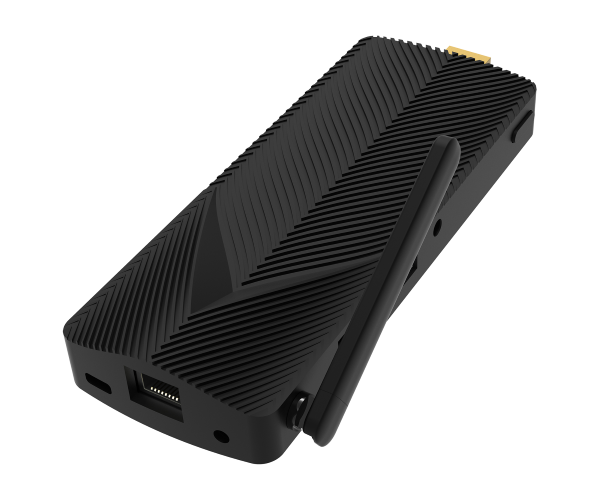 Not only does this Mini PC Stick features Windows 10 Pro as its operating system (but can also run Linux) to make personal computing easy while you're on-the-go, but also comes equipped with a powerful Intel Gemini Lake Quad-Core Processor.
Furthermore, users can make good use of the device's fully functional USB-C Port to engage on a dual monitor display, as well as connect any of their Bluetooth devices to maximize their productivity. Thanks to that, you can easily enjoy all of your stored media in 4K at 60 FPS, as well as deploy your digital signage, set up thin clients, and more.
Using it is also extremely easy, as all you have to do is plug into an HD Port from a TV, monitor, or even projector, making it great to easily share any of your media content while you're traveling, as well as perfect to share it in a classroom, any future conference rooms that you'll potentially attend, and more.
Now, let's have a more detailed look at the Azulle Access4 and check everything that this amazing and ingenious fanless portable computing solution has to offer.
DESIGN & SPECS
Starting with the unit's size, the Azulle Access4 measures exactly 5.1 inches long by 2 inches wide by 0.8 inches tall (the unit's thickness), while also featuring a very light weight to it, weighing around 1.31 lbs. Up to this day, it still amazes me how small this thing is. The unit comes in a really compact, sleek, and lightweight design that's combined with a very sturdy build.
Not only that, but since the unit is, as mentioned, completely fanless, it really makes no sound at all during its operation, which is just another great plus.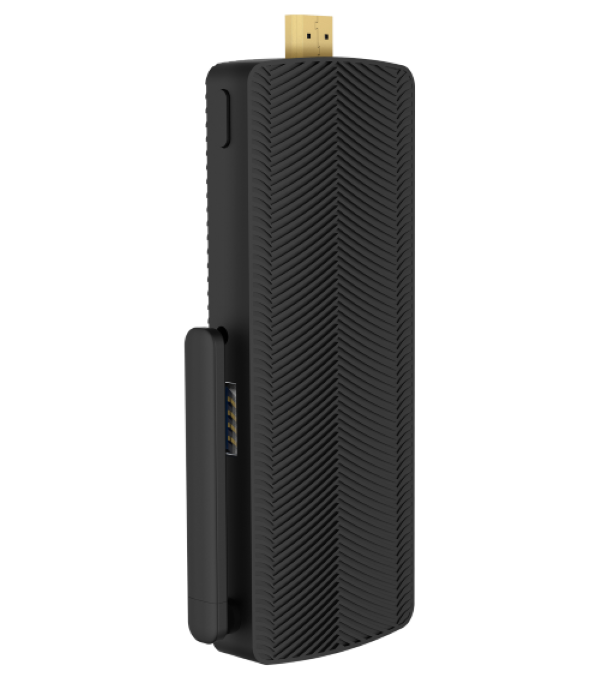 Now, don't let the unit's ultra-small size fool you. This is a full-blown Windows 10 PC. That being said, you'd be happy to know that the Azulle Access4 comes with Windows 10 Pro as its operating system (keep in mind, that it can also run Linux) , and the unit is powered by a Quad-Core Intel Gemini Lake R J4125 Processor, which comes accompanied by a dedicated Wake On LAN / PXE / Auto Power ON BIOS. That same Quad-Core Processor can work up to 2.57 GHz, which is actually pretty impressive.
The system is also powered by a total of 4GB LPDDR4 RAM, which, despite not being as impressive as the unit's CPU power, its still worth to give the company a lot of credit for stacking up to 4GB of Ram in such a small and compact design. However, since this is indeed an Azulle product, you can still have really high expectations for it, as this company makes some really really awesome miniature PCs.
Let's just hope their next model (most likely the "Access5") comes in a slightly bigger size to be able to accommodate a total of 8GB of ram instead of this model's 4GB of RAM Memory, as that would allow any of the company's upcoming Mini PC Stick models to enable Windows to spread its wings a little better, and ultimately achieve the possibility of enhanced multitasking. Furthermore, a RAM memory of 8GB total could also help to loosen the strains on any limitations to the device's dual monitor capabilities (discussed at the Features Section).
Still, for such an incredibly small PC, space is something that obviously needs to be taken into consideration, and with that said, the unit's 4GB of RAM still allow the Access4 to pack a lot of power into a tiny bit of space, which is still awesome for several different situations.
Additionally, the device also accounts for a default 64 GB of built-in storage (but this can be expanded by using the unit's dedicated Micro-SD Card Slot, which we'll discuss further ahead).
Now, in terms of its built-in GPU, the Access4 features a small upgrade when compared to its predecessor, meaning its older model (the Azulle Access3), which came equipped with a Intel HD Graphic 500 GPU. In comparison, the company's newer Access4 Mini PC Stick comes equipped with the more recent Intel HD Graphic 600 GPU, which is somewhat better than the older 500 model in terms of performance.
Thanks to its built-in Intel HD Graphic 600 GPU, the Azulle Access4 can support up to 4K of video resolution at 60 FPS (Frames per Second), which is simply fantastic, as it allows users to stream Netflix, Youtube, Spotify, Amazon Prime, and more, all at really high-quality.
INTERFACE
Now, moving on to the unit's interface, starting at its front-side, users can find the Access4's dedicated HDMI 2.0 Output Port, which, as mentioned above, can support 4K video resolution at 60 frames per second.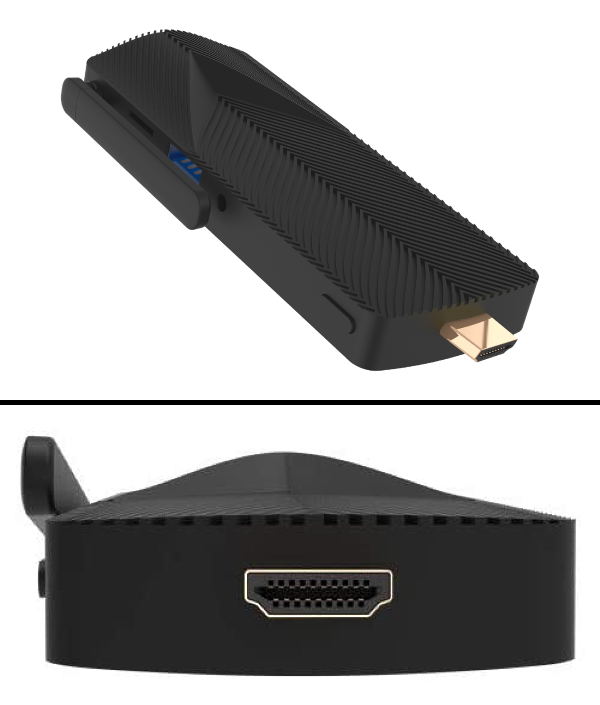 That same HDMI Output Port can easily be connected to the device's included proprietary HDMI Extension Cable, which is great for when any of your supported HDMI devices (a TV, computer, or anything else with a HDMI Port) have its HDMI Input Port placed at a weird angle.
Ultimately, the cable allows users to have an easier time connecting their Access4's HDMI 2.0 Output Port to their device's HDMI Input Port.
Moving on to the unit's left-side, after lifting up the unit's dedicated WI-FI Antena, you can find its USB 3.0 Connectivity Port, which, just like the device's HDMI Output Port, can also "supposedly" support 4K video at 60 FPS. Directly at the left side of that USB 3.0 Port, there's also a Micro-SD Card Slot that can be used to expand the unit's storage space up to 512 GB. That basically means that you can carry tons of media files around with you when bringing the Azulle Access4 along with you on your journeys / travels.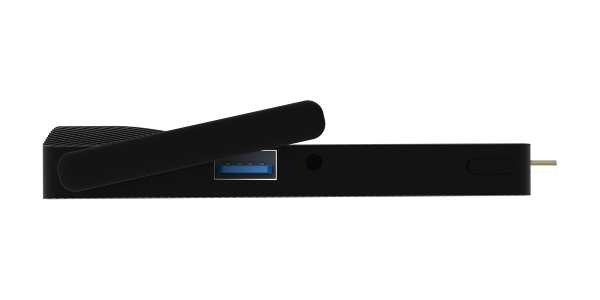 With a maximum storage space possibility of 512 GB you can literally have tons of movies stored in a Micro-SD Card so that you can watch them and keep scratching of those movies out of your "Cinema Bucket List" while you (and your Access4) are on-the-go.
Then, at the right side of the unit's USB 3.0 Port, user's can find the device's Power Input Port (5V/3A or POE – this last one is optional), which is better than any older models, as this specific Power Port for the Access4 is a barrel connector, which would be your typical AC adapter port.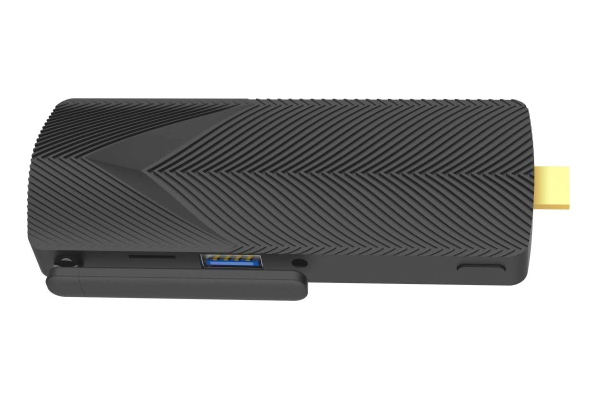 While previous models used a Micro-USB Power Port (which, mind you, wasn't very reliable, as those can bend and break pretty easily, a barrel connection can ultimately take a lot of pressure. This is just another plus when comparing the Access4 to any previous models.
Finally, at the far right of the unit's left-side panel, there's also a small dedicated Power Button that can be used to turn the device On and/or Off.
Rotating the unit to its opposite side panel will reveal a USB-C Connection Port (located at the far right) that can ultimately offer users a lot of other connectivity options (discussed at the Features Section).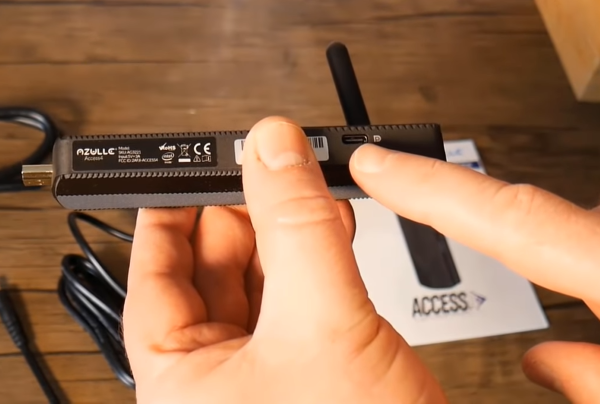 Lastly, on the back-side of the unit, right at the left there's a Kensington Lock Port, which works great for whenever you have the unit in something more of a "stationary" position, where you'll be able to get one of those locks that will tie the unit down so that it can't be stolen.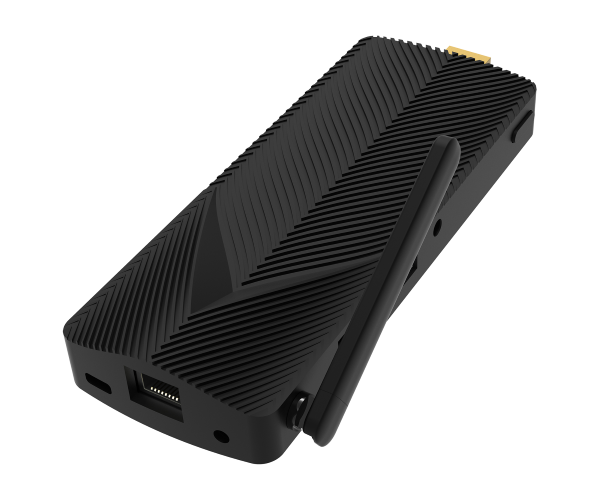 Following the unit's dedicated Lock Port, at its right side there's also a dedicated ETHERNET Port (which supports up to 1 Gigabit Connectivity) located. Then, moving once again slightly to the right, users will be able to find a dedicated 3.5 mm Audio Output Port for a Headphone's Audio Jack.
Overall, the entire device features a very simple and easy-to-understand interface, which makes using the unit a very intuitive process.
CONNECTIVITY
As mentioned earlier, the Access 4 also comes equipped with a built-in Intel AC3165 Dual Band Wi-Fi Antena to offer its users Wi-Fi connectivity, but the unit also comes equipped with a built-in Bluetooth Chip, which supports Bluetooth 4.2.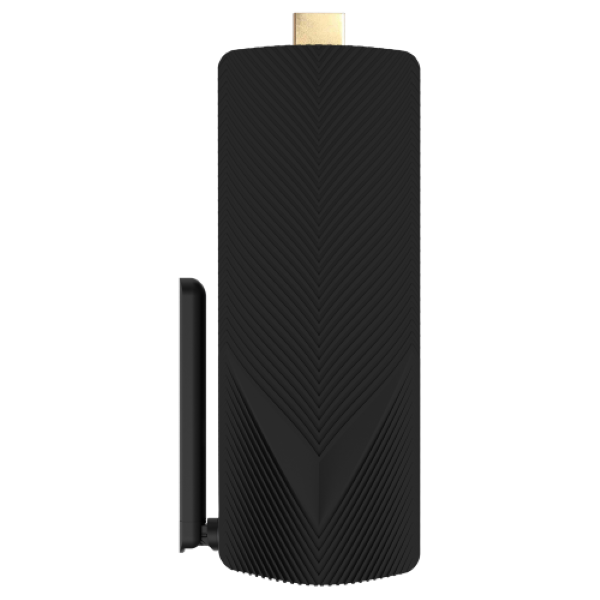 Furthermore, you also have the unit's already-mentioned dedicated 1-Gigabit Ethernet Port, if you wish to connect the Mini PC Stick directly to an internet cable (great for whenever you're at a company's office, a school, a business room, etc.).
WHAT'S IN THE BOX?
Inside each package users will find: their Azulle Access4 Fanless HDMI Mini PC Stick, one (x1) included HDMI Extension Cable, the unit's proprietary Power Adapter (with built-in cable) as well as a UK Power Convertor Head Accessory, and lastly, the unit's User Manual (which contains really simple and self-explanatory instructions on how to set up the unit, which still, should be something that's very easy to do).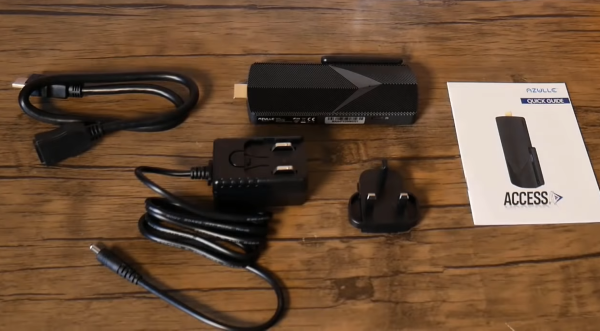 OTHER NOTABLE FEATURES
Multiple Connectivity Options
While users can easily connect any HDMI-based device to enjoy their media files in 4K at 60 FPS (or even to deploy their digital signage, set up thin clients, etc.), they can also choose to connect any of their Bluetooth devices to maximize their productivity.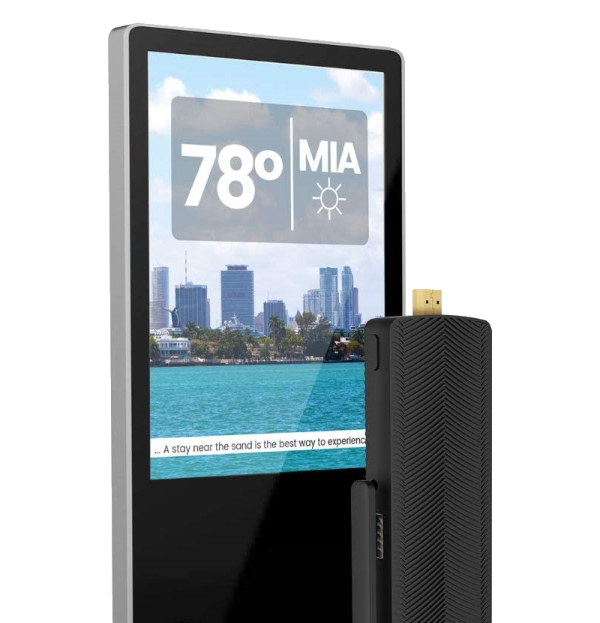 Additionally, you could also use the device's fully functional C-Port to set up a dual monitor display for your media files.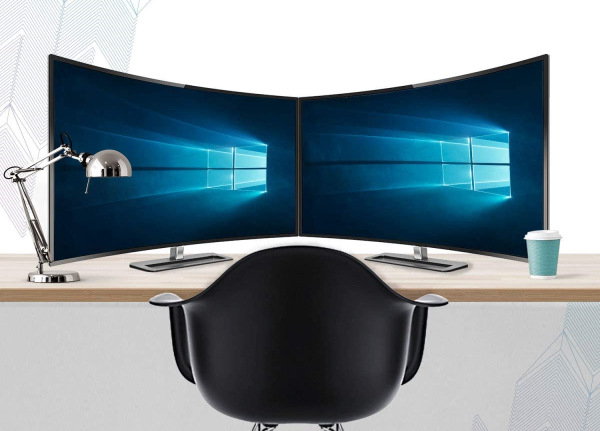 FINAL THOUGHTS
The Azulle Access4 is a Fanless HDMI 2.0 Mini PC Stick that features 4GB RAM, 64GB Storage (additional 512 GB via Micro-SD Card), and both HDMI 2.0 Output and USB-C Connectivity.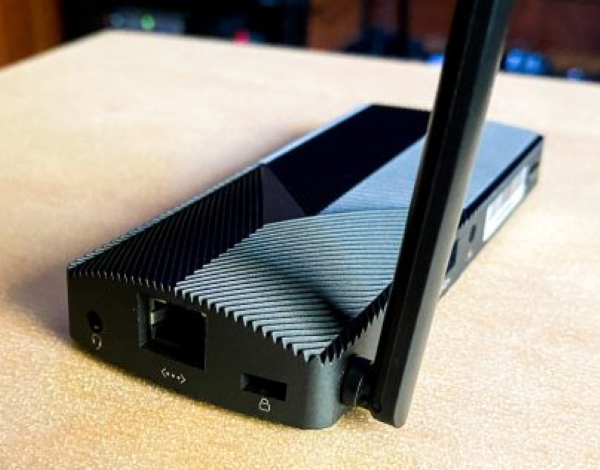 Thanks to this fully functional and cost-efficient fanless portable computing solution you can have flexible applications for both your home office and business meetings by using it as a desktop replacement for both your business and home office. Thanks to that, you can also conveniently use it for any of your entertainment needs, including home theater streaming and cloud gaming.
While this Fanless Mini PC Stick obviously won't be able replace a powerful high-end PC, it will still conquer any simple to intermediate processing tasks with ease. Furthermore, one of its best features is that by using its USB-C Port, it can even be used for a dual-monitor display set up.
If you're interested in buying the Azulle Access4, each unit is currently going for $280. You can order yours right now, directly from the Azulle's official shopping page, which you can access via this link.