Since the COVID-19 pandemic as started, millions of disposable masks (as well as gloves) have been used and then thrown away every single day. As such, conservationists around the globe are sounding the alarm to raise the general public's awareness over where all those single-use products are ending up. That goes not only for face masks, but also for gloves and other coronavirus-protection products, which are all polluting our ocean. So far, hundreds of thousands of waterlogged masks, gloves, hand sanitizer bottles and other coronavirus waste have already been found on our seabeds as well as washed up on our beaches, and those products only add up to the already day-to-day plastic detritus that was already found dumped into our ocean ecosystems. So, for anyone that's looking for a better and less polluting way than disposable face masks of staying safe and protected from getting infected by the SARS-CoV-2 virus and contracting the COVID-19 disease, then the XMask Mesh 3.0 by House of X might very well be your answer.
The House of X XMask Mesh 3.0 is an advanced face masks that can provide the ultimate protection while still keeping its users in total style, which is exactly the opposite of anyone that roams the streets using a standard medical-grade, yet sadly, disposable mask.
While those same disposable masks make you look like a surgeon who just got out of work and left the hospital for the day, the House of X XMask Mesh 3.0 keeps you safe and protected throughout your day while also allowing you to keep a more normal and stylish appearance.
Now, you might be wondering how can a stylish health-safety mask keep you protected from getting infected by the COVID-19's associated virus while also looking good, right? Well, you'll be glad to know that not only does the XMask Mesh 3.0 looks really, really ultra-modern to keep its users' choice of wardrobe fashionable on a regular basis, but its integrated KN95-certified replaceable filters are designed to remove harmful particles out of the air you breathe.
Furthermore, the xMask Mesh 3.0's high-performance, breathable outer fabrics are also lightweight, comfortable for any user, as well as hypoallergenic, and even machine washable!
All that ultimately makes this mask the perfect facial cover to wear during the rest of this pandemic. The xMask Mesh 3.0 is not only a safe to wear and up to health-and-safety standards mask, but it is also very easy to use and very comfortable to wear. Ultimately, all of that makes the XMask Mesh 3.0 a super reassuring health-safety product that you can safely wear in these troubled times.
Now, let's take a more detailed look at the XMask Mesh 3.0 by House of X and see exactly how this product is built, check how it works, and understand just about everything that it has to offer.
DESIGN
As mentioned earlier, the xMask Mesh is a washable and reusable face mask that's mainly made from antimicrobial materials, and this model is perfectly engineered for breathability.
Basically, the mask's fabric is composed of a high-tech antimicrobial mesh that's combined with a strong and durable nylon construction, and that ultimately makes the mask both lightweight and breathable. The antimicrobial mesh that composes the mask's fabric is a soft stretch material that adds a lot of comfort to the mask, and that goes especially for times where you're looking to wear it for an extended period of time.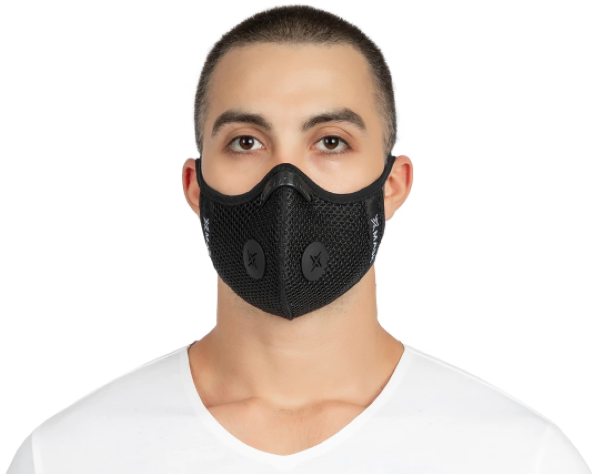 The mask's key to protection is its main part, which is its dedicated interchangeable filter. During your time wearing the mask, whenever a user breathes into this high-quality filter while having the mask on, air will pass through a total of five high-quality layers of protection before it actually reaches a user's lungs.
Since each of those five layers has a different density, the mask can accurately filter particles of different sizes, allowing the mask to filter up to 95% of unwanted airborne particles, including PM 0.3-10, dust and other air pollutants, as well as pollen and other allergens, Bacteria and other pesky germs, and even accurately filter wildfire smoke and cigarettes' smoke too.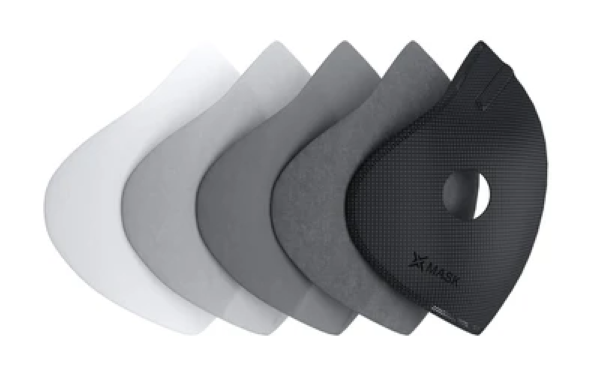 This multi-layer filter consists of a Outside PP Layer (the first layer), which is basically an outside filter wrapping that's made with a durable finish, followed by an Active Carbon Layer (the second layer), which then filters gases and reduces odor, followed by a 1st and 2nd Electro Charged Layers (the mask's 3rd and 4th filtration layers), which can respectively filter larger PM10, pollen and other allergens, and then filter smaller PM2.5, dust and bacteria.
Lastly, the mask's final layer is an Inside PP Layer that works as a dedicated inner air filter, coming in an ultra-smooth and skin-friendly finish that won't ever leave your face irritated and/or scratched or your facial skin damage.
It's worth to mention that this multi-layered interchangeable filter is replaceable. Each filter should last you around 100 hours of use. Nevertheless, you'll be happy to hear that each mask includes a total of two (x2) sterilized KN95 mask and valve filters per package / purchase, and whenever you're out of filters, the company sells affordable packs of filters that come in either a 5-pack (for $19), a 10-pack (for $29), and a 20-pack (for $49).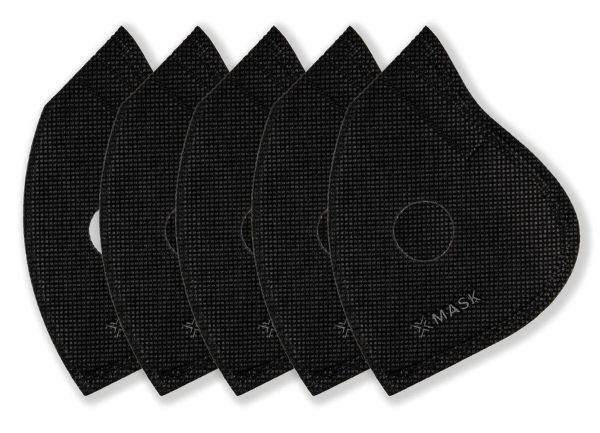 Additionally, the House of X XMask Mesh 3.0 also comes equipped with a set (a pair of two) filtered non-return valves (located on each side of the mask) that are there to ensure that you're breathing safe and filtered air, while also working the other way around to protect those that spend time close to you – including co-workers, family members, significant other, etc.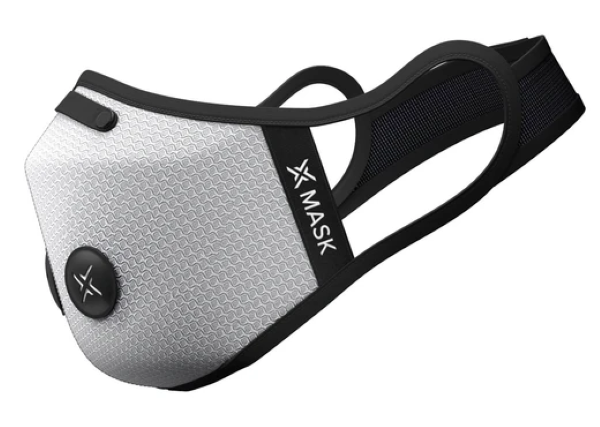 The mask's two non-return filtered exhalation valves work as a ventilation system that's engineered to only transport out your exhaled air, while simultenously preventing any unfiltered air from sneaking in. Whenever you exhale, those two valves transport your exhaled air outwards to prevent the mask from becoming warm and moist, and that ultimately makes the mask easier to breathe through.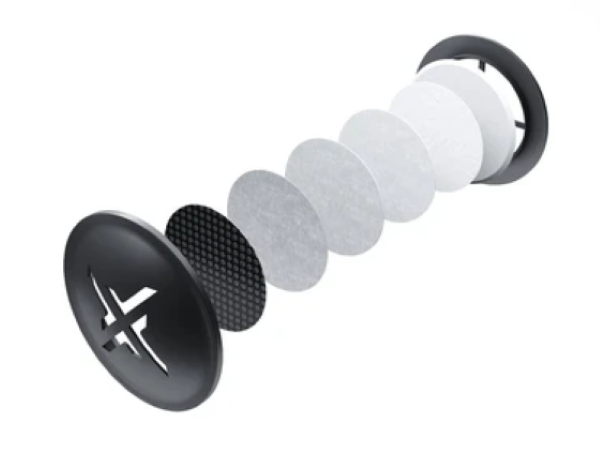 I should also note that not only do the mask's valve pieces stay perfectly in place, but they also never seem to cause any discomfort whatsoever.
Just like the mask's affordable extra packs of filters, the company also sells extra valves packs directly at its online store, coming in packs of 2 (2-packs), and those are available in Black, White, Gold, or Silver.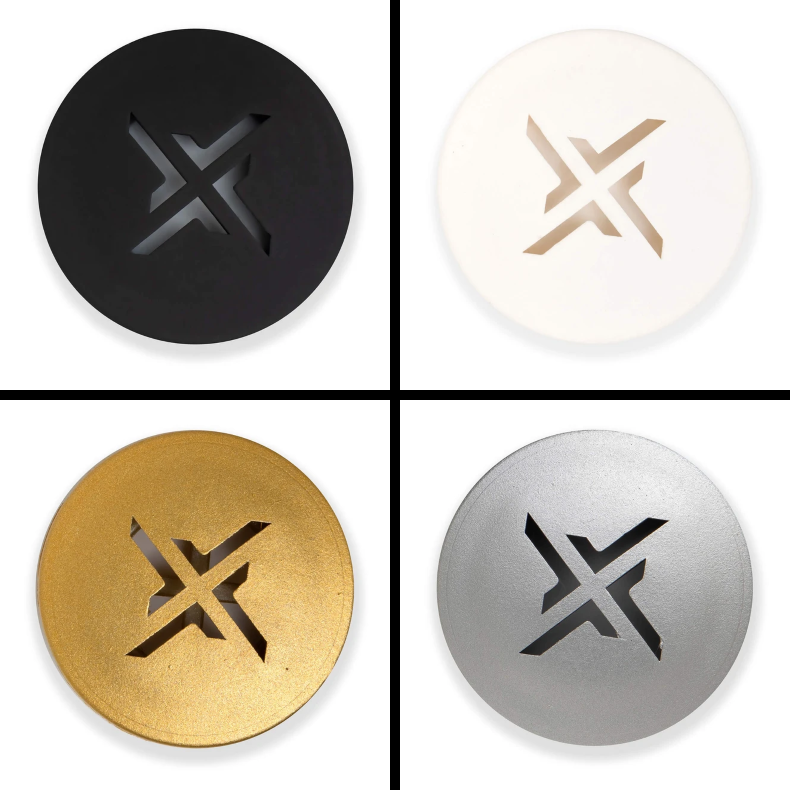 Lastly, while this mask might seem and look somewhat "techy", as if it almost came from something like a Star Wars Movie, it still features a very sleek design that allows you to stay both safe and comfortable throughout this pandemic period. It also doesn't fog up a user's glasses like many other masks on the market tend to do.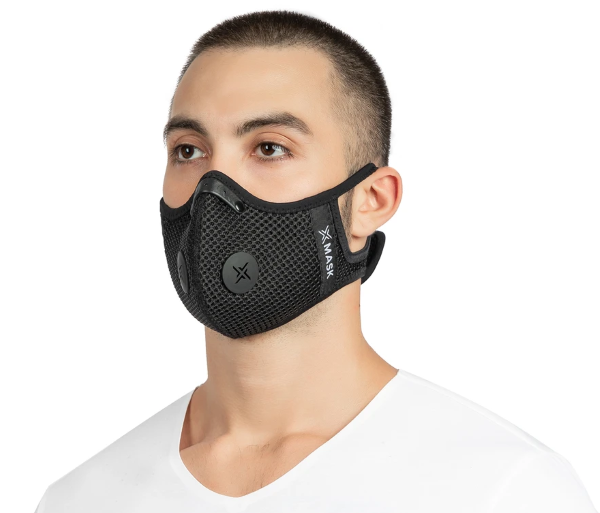 That being said, while the masks air filtration and protection are obviously its most important aspect, the XMask Mesh 3.0 also needed to be comfortable to wear. As such, while the mask comes sealed around its edges to ensure that air only travels through its high-quality multi-layered filter, the XMask also features some adjustable components that allow the mask to always offer each and every user a perfect fit, no matter their face shape.
Going to the back part of the mask, the XMask Mesh 3.0 comes fitted with an adjustable velcro strap that allows users to create a personalized fit around their face.
Additionally, the mask is also equipped with an adjustable nose clip that further improves the fit of the mask, while also stoppinh air from sneaking in (and out) around the edges of a user's nose, thus ensuring that the mask has minimal air leakage, regardless of a user's face shape.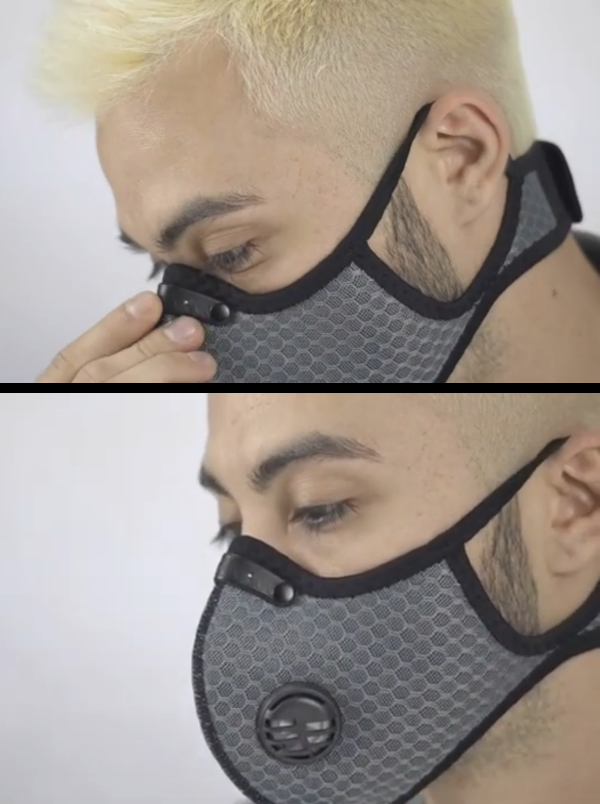 In sum, this mask is versatile thanks to both of its adjustable velcro strap and adjustable nose clip, which always ensure a perfect fit for its users, while also proving to be ultra-safe to wear, as well as quite durable.
MAINTENANCE
You'll also be extremely happy to know that the XMask Mesh 3.0 is actually washable by using cold water only. However, instead of washing it in your washing machine, it is preferable that you wash your XMask Mesh 3.0 by hand. Be aware that if you're going to wash it by hand with other clothes, remember to wash it only with clothes of very similar colors (dark blue, dark brown, dark grey, and obviously, black).
It's important to note that you should NOT use chlorine and you should also NEVER bleach the mask. After washing it, keep in mind that you also should NOT try to dry clean it. Instead, simply tumble dry it on low settings.
Lastly, it's important to note that since each xMask comes with two changeable filters, the life expectancy of the xMask filter will depend on many variables, and that mainly includes the mask's particulate exposure density and duration, as well as a user's breathing rate.
While a mask can last you around 20-30 hours of continuous use in heavy dust exposure to things like grain bins, off-roading, construction/demolition, etc., it could potentially last you around 10 more hours of continous use (meaning around 30-40+ hours) in light dust exposure to those same elements, or almost no exposure at all (this last situation should help you reach around 42 hours of use at most).
WHAT'S IN THE BOX?
Inside each package users will find: their xMask Mesh 3.0 skin, a total of two (x2) applicable sterilized KN95 mask and valve filters, and the mask's proprietary set of (x2) Non-Return Valves.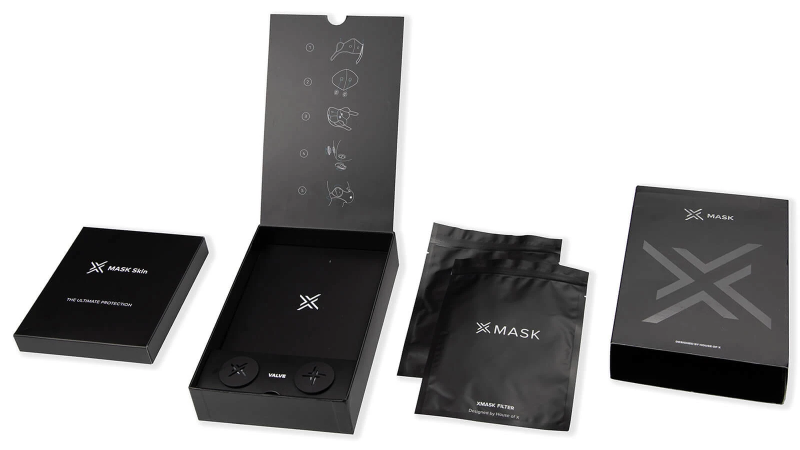 FINAL THOUGHTS
The House of X XMask Mesh 3.0 is a breathable, lightweight, washable and reusable Face Mask that features a multi-layered protection filter and a set of two non-return air valves.
It's much more breathable and comfortable than disposable masks, and it also feels less wasteful than its disposable counterparts.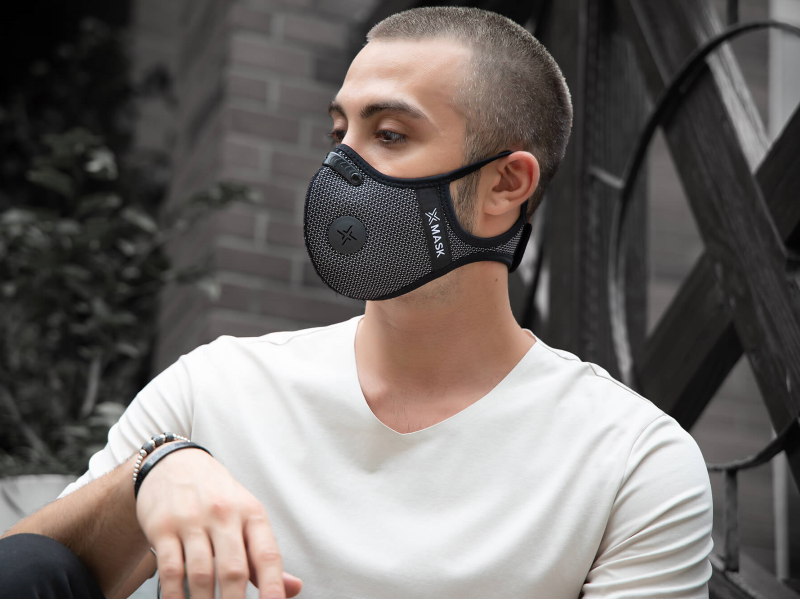 Overall, this face mask is a really high-quality product that's both easy to assemble as well as to maintain.
The XMask Mesh 3.0 is currently available in 4 sizes, including kids size (S, M, L, and XL), and each unit can come in one of five (x5) different colors, including Black, Grey, Red, Silver and White.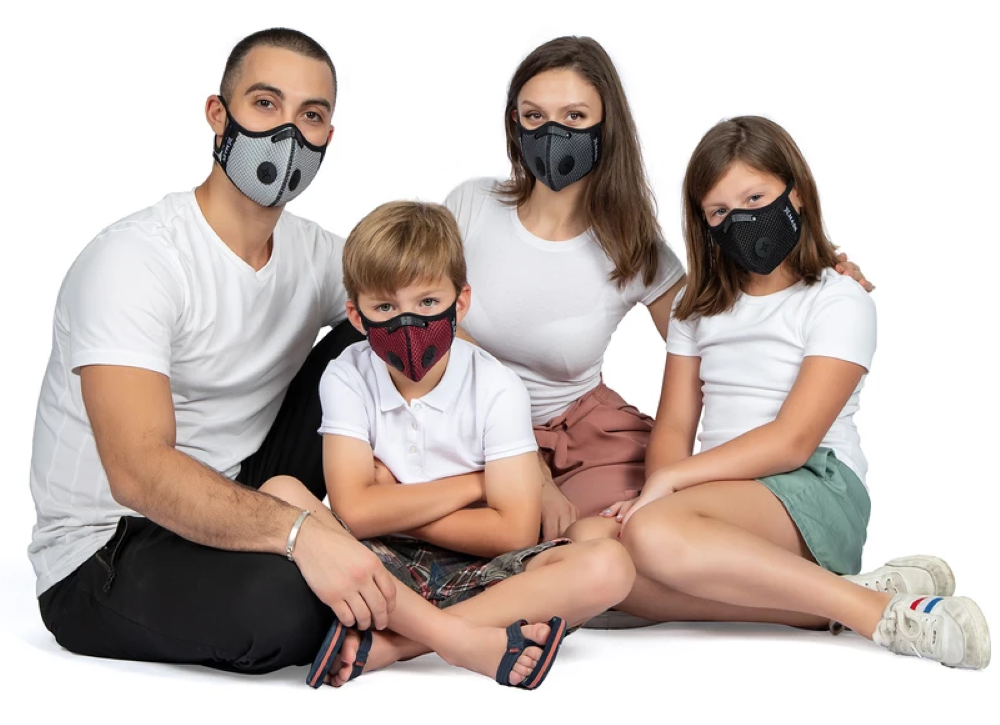 If you're interested in buying the XMask, each unit is currently going for $49 , no matter what color model you decide to go with. You can order yours online right now, directly from House of X's official shopping page, which you can access by clicking this link.