Dogs are very social and energetic pets, but sometimes, that energy can result in unwanted dog barking as well as negative dog behavior. Most of the times when a dog barks is basically because Fido is trying to attract their owner's attention and response. However, any passionate dog owner would know that beat or reacting badly to their dog's bad behavior will just cause the opposite effect of trying to fix that same unwanted bad behavior. As such, it's important to notice that dog owners should resort to both reliable dog training techniques as well as dog training gadgets that can ultimately help them teach and train their dog to achieve a more calm and less aggressive behavior. This brings us to the Modus M-230.
The Modus M-230 is a handheld ultrasonic Dog Bark Control and Behavior Training Device that allows dog owners to more easily train their dogs to be able to control their barking needs in a gentle and not so intrusive manner (unlike shock collars work, for example, which are much more aggressive gadgets than this ultrasonic device when it comes to dog training).
As such, the Modus M-230 ultrasonic anti-bark device brings dog owners a safer and ultra-effective solution for dog training and bark control, as this device is proven to be capable of effectively training your dogs to stop any unwanted behavior, and that goes not only for barking, but also any unwanted clawing and chewing.
Now, let's take a more detailed look at the Modus M-230 and check exactly how it is built as well as see exactly how it works and understand everything that this ultrasonic anti-bark dog training device has to offer.
DESIGN & SPECS
Starting with the unit's size, this ultrasonic anti-bark dog training device measures exactly 3.66 inches long by 1.61 inches wide by 1.22 inches tall (its thickness). Not only does the unit feature a very sleek and compact design, but the Modus M-230 is also extremely lightweight, as it weighs only a measly 1.13 oz., which makes it very portable.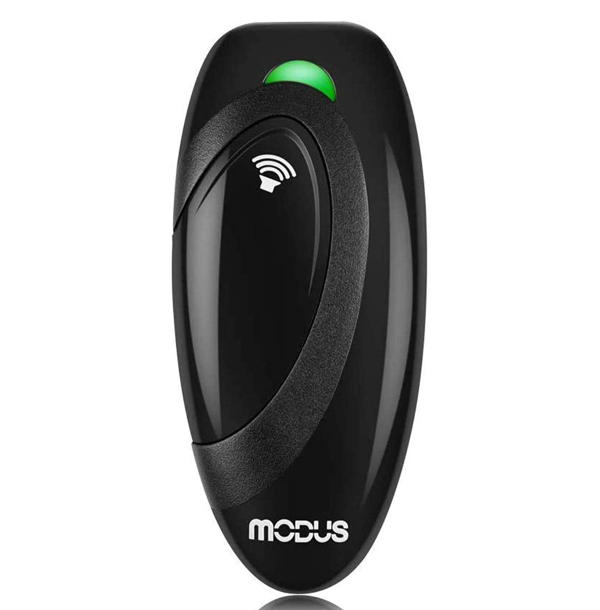 All that makes it the M-230 the perfect dog training gadget to use outdoors, as its small size allows the unit to fit nicely within your hand.
As this device works based on ultrasonic technology, it features a Maximum Operating / Effective Range of exactly 16.4 ft., meaning the maximum distance that a dog will be able to perfectly listen to it so that this dog training device is actually effective.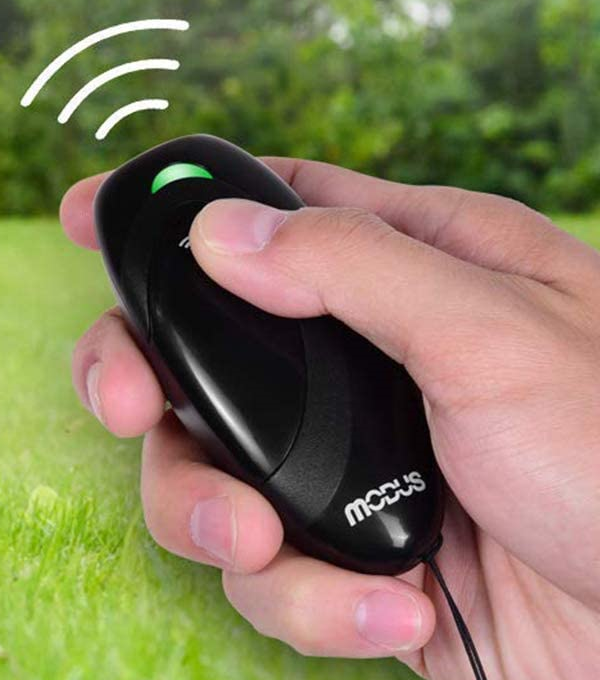 Still, dog owners that are looking to train their dogs with this device will be happy to know that the Modus M-230 works effectively on dogs of all sizes, making it perfect to train any dog breed that you can think of for a better and more calm behavior.
Furthermore, the unit also comes with a very convenient adjustable anti-static wrist strap that ultimately makes using this device a very easy and nice experience.
HOW DOES IT WORK?
Basically, the Modus M-230 Dog Bark Control Training Device works via ultrasonic technology, which basically means that whenever your dog barks, by simply pressing the device's Single-Use Button (the Start Button), the unit's built-in speaker will release an ultrasonic sound that stimulate the dog and make it feel somewhat uncomfortable. This ultimately makes this dog training device very, very easy to use.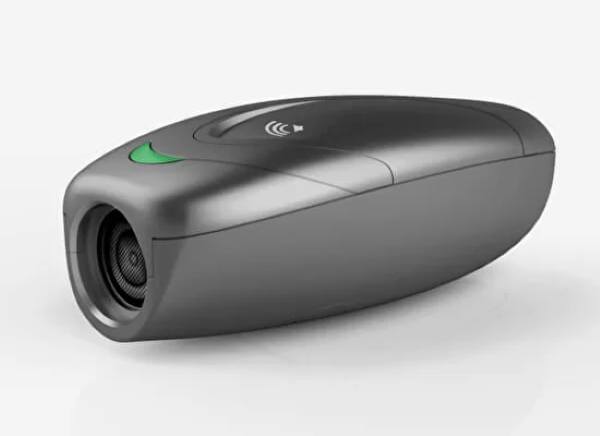 Whenever a dog owner presses and holds the device's single-use button, the Modus M-230 Dog Bark Control Training Device will emit an ultrasonic sound that can only be heard by dogs. While the average human hearing frequency range is 20HZ~20KHZ, dogs can easily hear a wider sound range that can go from 15HZ all the way to 120KHZ.
Pressing the M-230's single-use button causes this bark training device to emit an ultrasonic sound at exactly 25KHZ, which is a sound frequency that doesn't affect humans, but can grab your dogs' attention and then, as mentioned earlier, simply cause some sort of discomfort. Again, it's not painful, just an uncomfortable feeling (like any of those fabric scratchy sounds or a piece of white chalk scratching on a school board).
After pressing the device's single-use button, an LED Indicator will light up with a bright green color to let dog owners know that the device is working properly and emitting that same ultrasonic sound.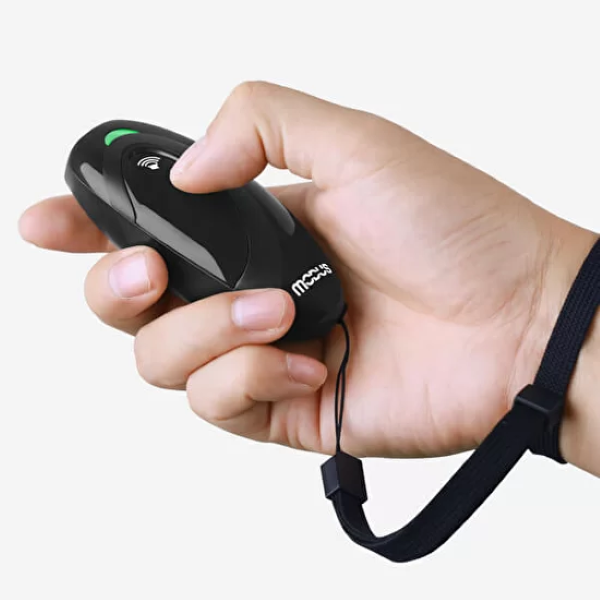 That ultrasonic sound will ultimately work as a way to help Fido learn how to better behave and manage his energy and excitement without having to bark, as well as without having claw or chew on stuff.
After repeating the process for a few times, your dog will have learned that barking all the time or clawing/chewing any object that's close to him is not ok, as Fido will then start remembering that that could potentially bring him/her that same uncomfortable feeling caused by the device's reproduced ultrasonic sound.
Thanks to that, Fido will learn a more calm-like behavior and will always start to think about whether or not it would be reasonable to bark when feeling like for each and every single situation.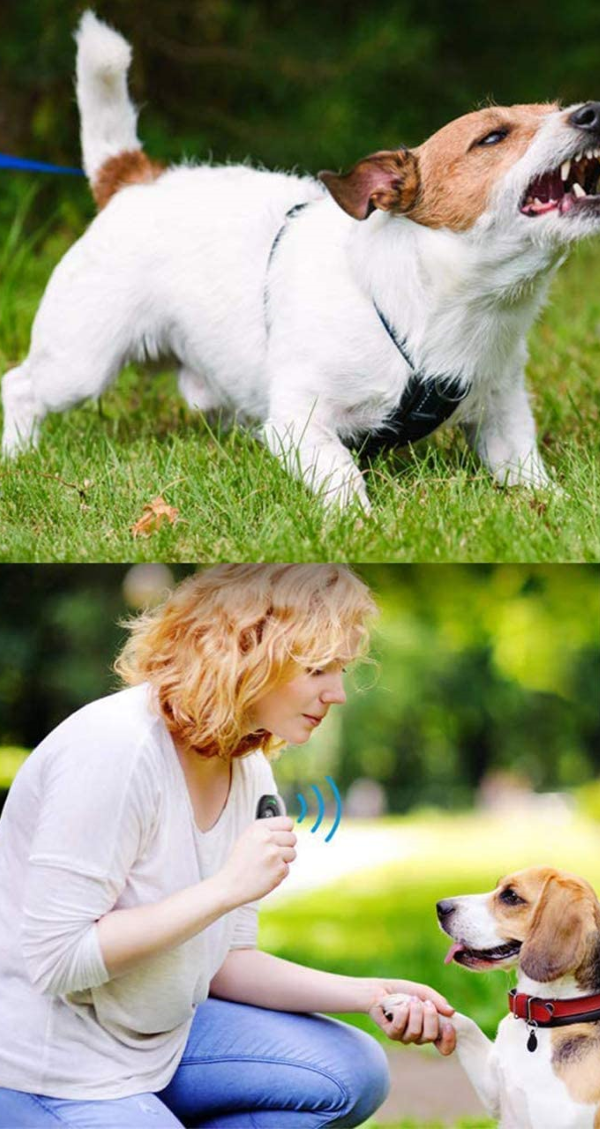 Remember that every time that your dog shows you that he/she is learning to stay away from any of the unwanted behavior that you dislike (loud barking, clawing and/or chewing), you should always give him/her something in return, and that obviously includes a nice reward like petting, a nice and tasty doggy treat, or even some good cuddles and kisses.
Additionally, pressing the button for over 10 seconds will allow dog owners to force the device to be turned off automatically.
This dog training gadget is battery-powered and comes with a set of 4 AAA batteries included.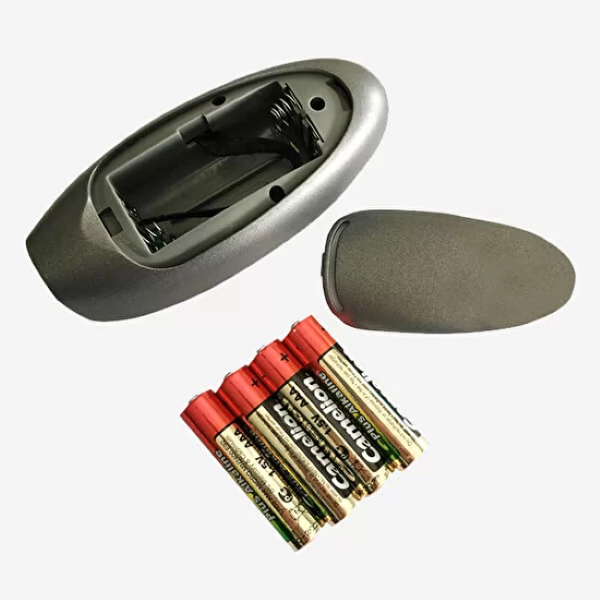 Lastly, that same built-in LED Indicator at the top of the unit will glow as a bright red whenever the unit's battery power is low, thus informing dog owners that the batteries should be replaced.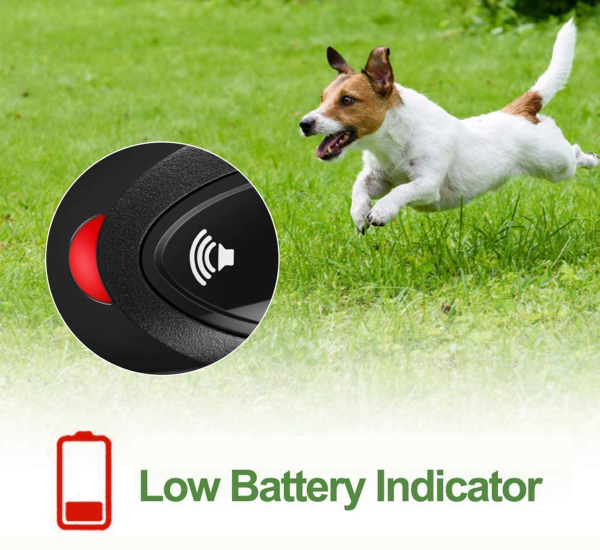 ADDITIONAL TIPS
Keep in mind that this ultrasonic anti-bark device won't be effective on dogs that struggle with hearing problems. Furthermore, it's not recommended that dog owners use this product on young pups that are under six (6) months old, as that could very likely disrupt the dog's development in hearing.
As all dog training gadgets and/or dog training routines, remember that patience and persistence is key to have a dog owner achieve a highly effective and long-lasting result for their dog's behavior improvements to be notice, as well as to stay that way.
WHAT'S IN THE BOX?
Inside their package users will find: their Modus M-230 Ultrasonic Dog Bark Control & Behavior Training Device, the unit's included Wrist Strap and its corresponding User Manual (this is a very simple and easy read and should definitely help you out with any further questions)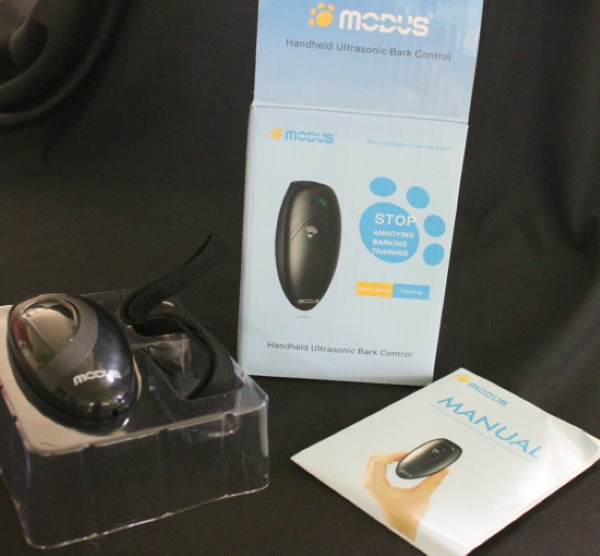 FINAL THOUGHTS
The Modus M-230 is a handheld ultrasonic Dog Bark Control and Behavior Training Device that allows dog owners to train their dogs to be able to control their barking, clawing, and chewing urges in a gentle and non-intrusive manner.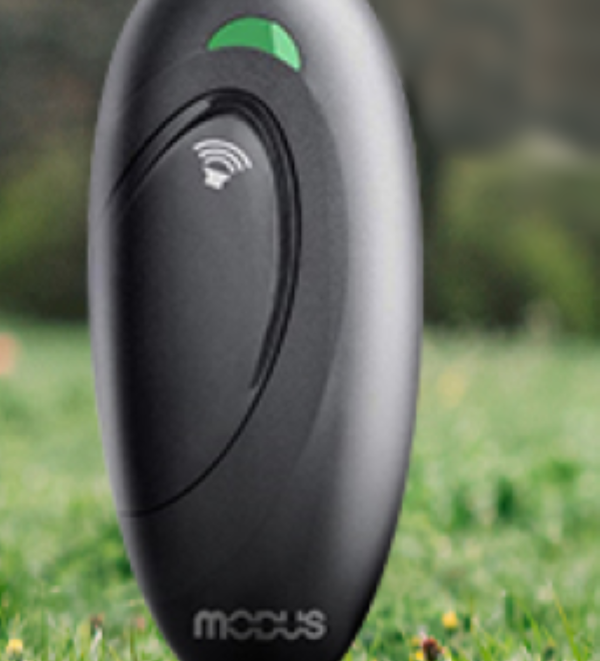 With it, dog owners can easily have a convenient, non-intrusive, consistent, and effective way of teaching their dogs to stay away from any type of unwanted behavior like loud and unwanted barking, as well as aggressive clawing and chewing.
The M-230 is currently available on four (x4) different color models: Champagne, Gold, Gray, and Black.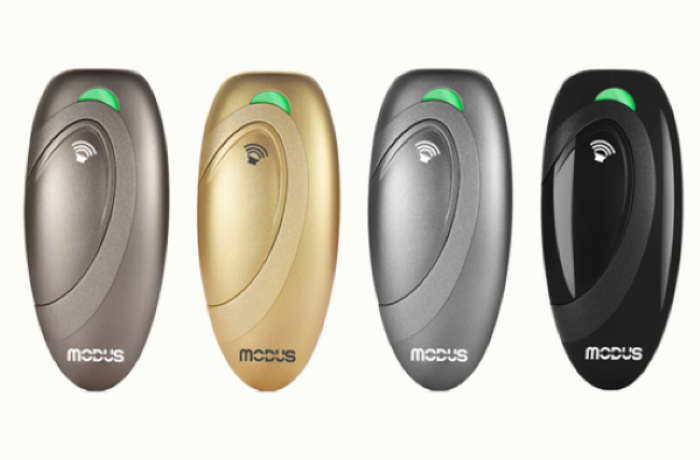 If you're interested in buying the Modus M-230, each unit is currently going for just $24, no matter what color you decide to go with. As the company (Modus) is officially partnered with Amazon to sell all of its Dog Gadgets, you can order the M-230 online right now, directly from Amazon's corresponding shopping page, which you can access by clicking this link.