For any dog owners that are looking for a high-quality outdoor kennel unit that allows them to provide their dogs with an extra living space outside their home, then the Advantek Pet Gazebo might very well be a perfect fit for your pup.
The Advantek Pet Gazebo is a 5 ft. long Low-Profile Outdoor Dog Kennel that not only is extremely durable, but also comes equipped with a reversible one-side reflective weather resistant cover that can ultimately make this outdoor dog kennel less heat absorbent during the hotter Summer sunny days while also keeping your dog protected from all weather elements.
With this high-quality Outdoor Dog Kennel you can provide Fido with a simple, yet durable extra living space outside your house.
Let's have a more detailed look at the Advantek Pet Gazebo and check what this Outdoor Dog Kennel is all about.
DESIGN & SPECS
As mentioned earlier, the Advantek Pet Gazebo is a 5 ft. long (meaning 5 ft. by 5 ft. by 5 ft.) Low-Profile Outdoor Dog Kennel that's ultra-durable. This is a unique and octagonal-shaped outdoor dog kennel that's built out of an ultra-durable heavy duty galvanized steel, which is then coated by a very attractive rust resistant Aztek Gold finish.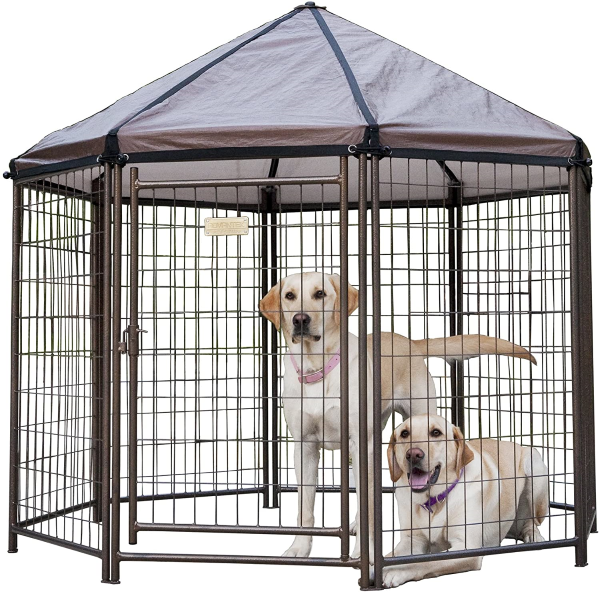 Starting with the smaller details, the gazebo's main door is equipped with a heavy-duty security lock that's easy for dog owners to use to lock and unlock the kennel unit's door / entrance.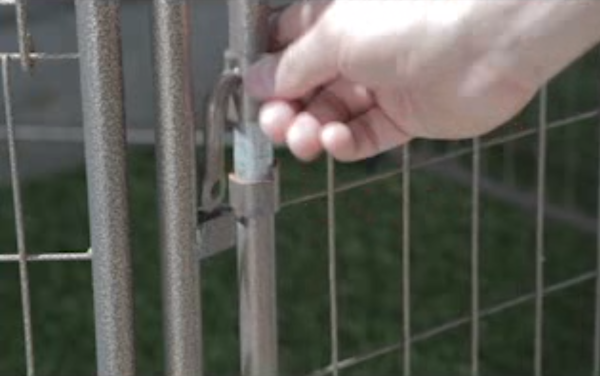 Furthermore, at the sides of the gazebo, dog owners will also have some heavy-duty security latches that can be easily lifted to open up secondary entrance panels.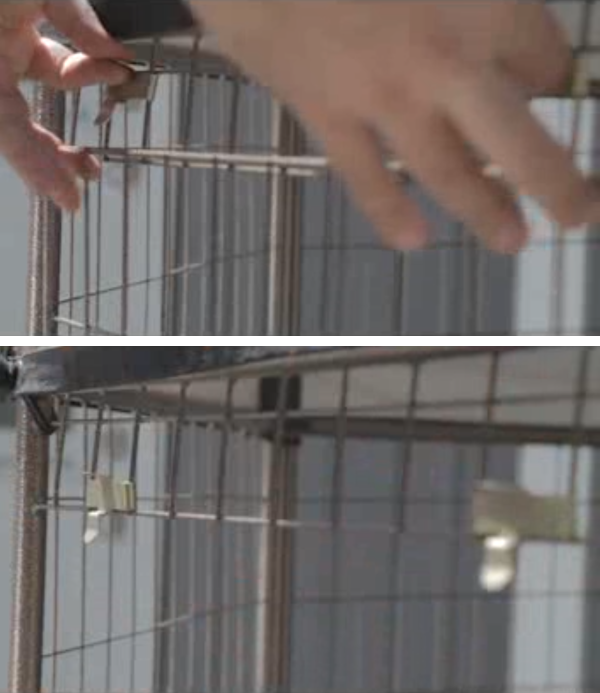 The entire kennel unit is compact, sturdy and portable, and all that makes it perfect for any dog owner to take it with them for vacation, fishing, camping and traveling, as it allows them to keep their pets safe, secure and happy. Furthermore, the gazebo's ultra-low profile perfectly complements any landscape that you decide to visit with your furry friend.
Keep in mind that this Outdoor Dog Gazebo Kennel is designed to be used for pets that weigh as much as 80 pounds, and not more than that, so, you should use it for anything other than Giant Dog Breeds (these include the English Mastiff, the Irish Wolfhound, the Saint Bernard, the Newfoundland, the Dogue de Bordeaux, the Leonberger, the Anatolian Shepherd, the Neapolitan Mastiff, and some others).
That being said, this outdoor dog kennel unit should still be great for all medium and most large dog breeds, just not giant ones.
Furthermore, the Advantek Pet Gazebo also comes with its very own high-quality and ultra-durable weather resistant woven polyethylene reversible cover, which dog owners can install at the top of the gazebo's umbrella roof frame to protect their best friend from all the weather elements so that their four-legged furry friends can comfortably relax in style.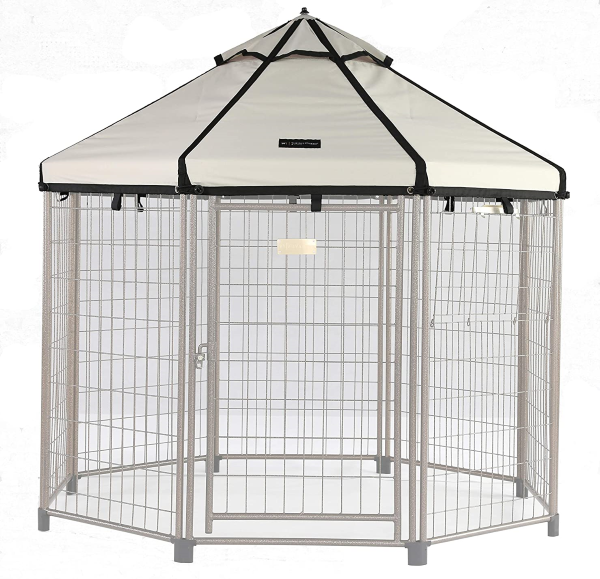 The gazebo's roof cover also features a very easy installation process, as absolutely no tools at all are required for setting it up. Literally all you have to do is to simply connect it to the kennel's raised umbrella roof, tie up the roof cover's strings to the gazebo's string hooks / loops, and you'll be all set.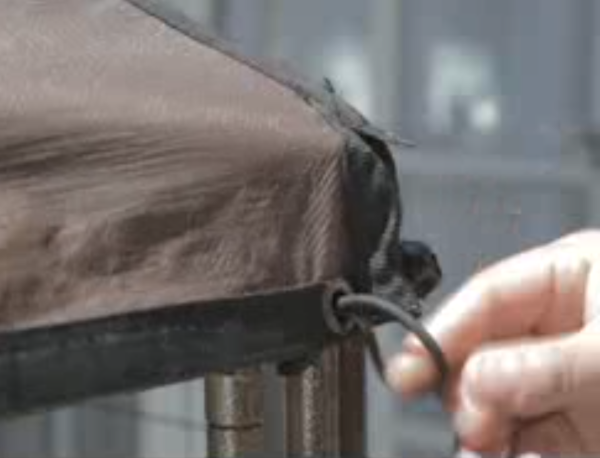 It's also worth to mention that the gazebo's raised umbrella-shaped roof frame makes it very easy for dog owners to clean the top of the unit, as that same shape simplifies cleaning a lot.
Lastly, the Advantek Pet Gazebo's modular design ultimately allows dog owners to create their own custom layout of their dog's outdoors living space by simply connecting some additional panels, or ultimately, more gazebos, which is the perfect feature for when staying outdoors with multiple dogs.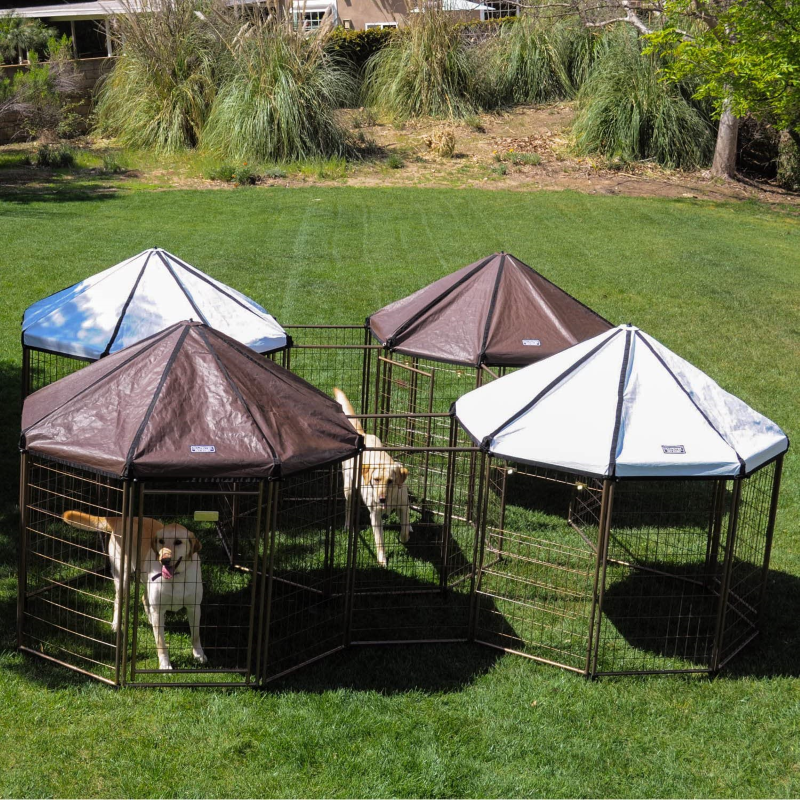 FINAL THOUGHTS
The Advantek Pet Gazebo is a 5 ft. long Low-Profile Modular Outdoor Dog Kennel that's durable, weather resistant and portable, coming equipped with a reversible one-side reflective weather resistant cover that can keep Fido protected from all weather elements.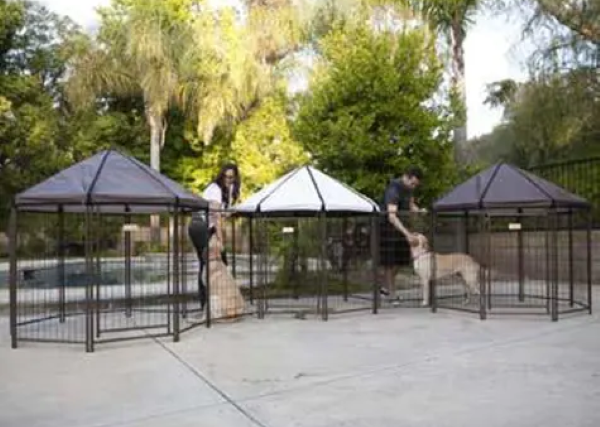 If you're interested in buying it, each unit is currently discounted from its normal price of $300, now going for just $250 (saves you $50). You can order it online right now, directly from Petco's official shopping page, which you can access via this link.