Everything You Need To Know About A Swimming Pool Skimmer
Are you wondering about the importance of a pool skimmer to your backyard haven? Simply put, it helps keep your swimming pool sparkly clean by skimming its water and catching debris that floats around. These include dirt, leaves, dead insects, twigs, flower petals, and even oil from your sunblock before they sink at the bottom of your pool.
Most pool skimmers are built into the upper side portion of in-ground pools. They automatically suck up the garbage and trap it. Moreover, you can access most of them via a hatch through the deck area of your swimming pool. Meanwhile, you can find skimmers that you only need to attach to a telescoping pole for scooping debris.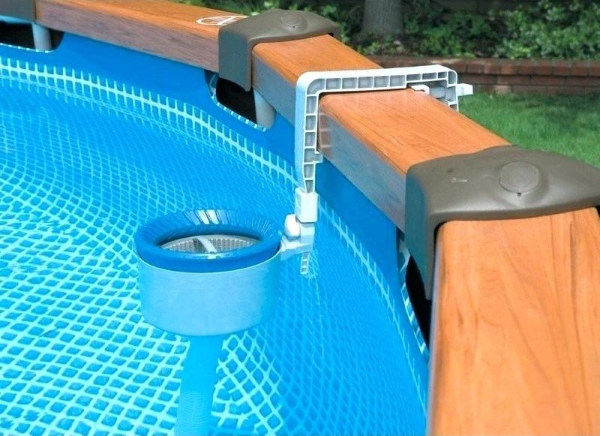 Either way, these pool cleaning gadgets are an essential part of the functionality of your backyard mecca. Hence, you must understand how to use and take care of them properly, as well as how they actually work.
What Exactly Is A Pool Skimmer?
All swimming pools come with vital cleaning system parts that work collectively to provide your pool with proper cleaning. A skimmer is one of these components. The major role it plays is to ensure that the pool water surface is free from all sorts of floating debris.
Furthermore, it is where the water of your pool lives before it lands at the filter and pump. And since it gets rid of debris, it is your pool's first line of defense. Plus, it makes cleaning your pool a lot easier. Watch the skimmer in action in this unboxing video.
But aside from this, the term also refers to a mesh basket that you can attach to a utility pole for fishing out all sorts of debris from your pool.
Different Types of Pool Skimmers
Built-In Pool Skimmer
You'll see this type of skimmer located in the opening around the top of the waterline of your pool that looks like a small gutter.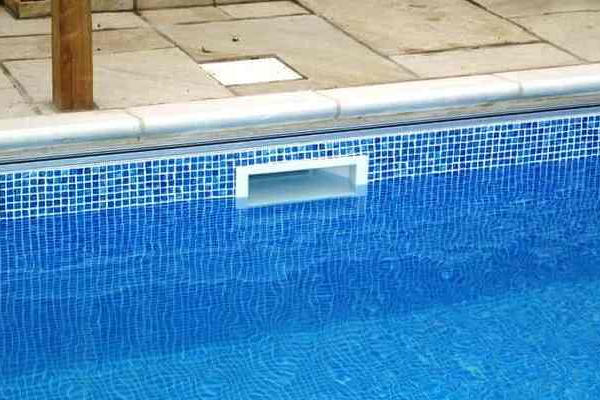 Most pools, depending on their size, will come with more than one. Built-in skimmers are connected to the plumbing of your swimming pool. Pool's pump produces suction that creates water circulation and is often seen in larger pools.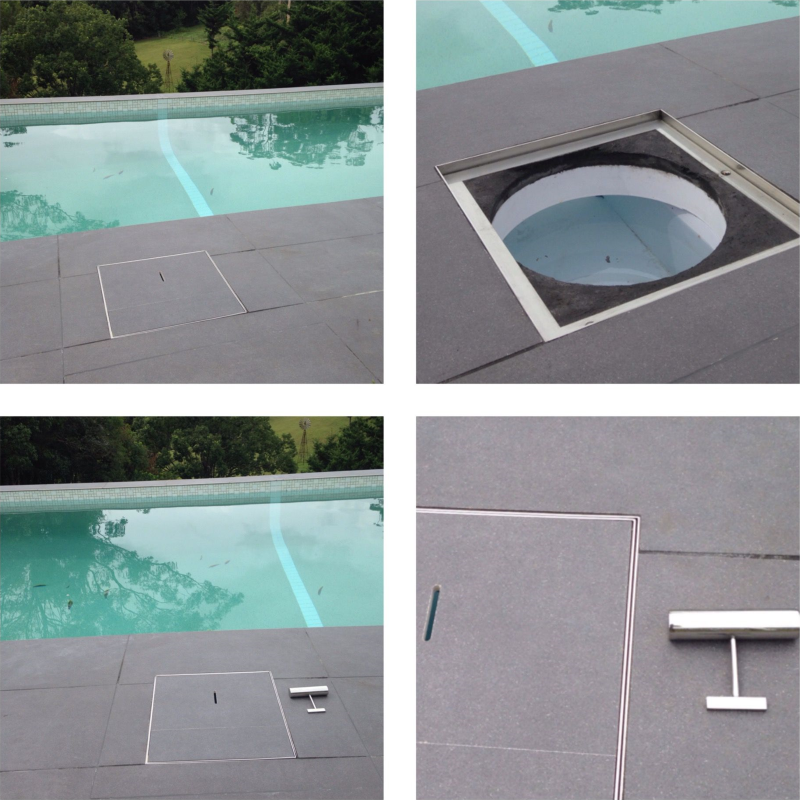 Furthermore, you can connect the hoses of your pool vacuum cleaners to these devices when you want to clean the pool surface. Although they are available in various sizes, built-in or in-ground skimmers are typically composed of a weir, mouth, basket, and lid.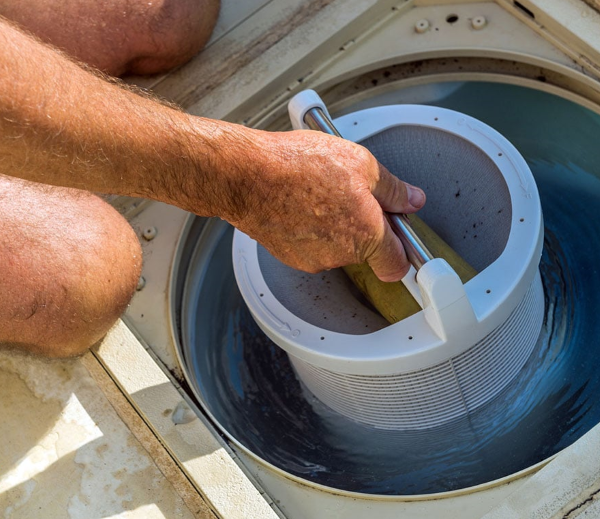 The weir is a door or flap that will keep all the debris it has gathered from escaping. Meanwhile, the lid will ensure that large objects will not fall straight into the pool pump. The basket acts just like a strainer, keeping leaves and other debris from obstructing the filter.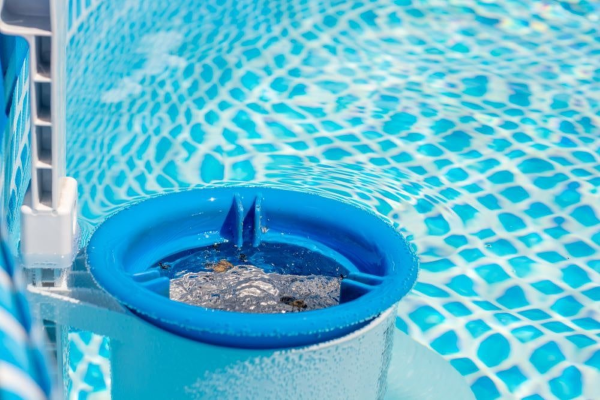 Manual Pool Skimmer
You don't need any power source to use a manual skimmer. It's simply a net connected to a pole that you can manually move around to gather floating debris. While you can connect some to the filtration system of your pool, you still need to move them around manually.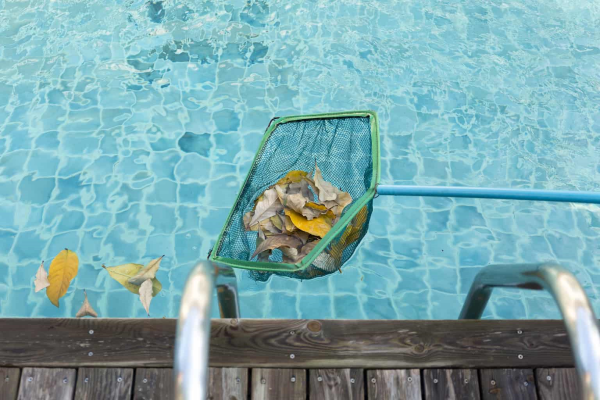 These work well for removing basic debris but will not be able to help in circulation. Likewise, you can't run this type constantly since it requires you to power it up.
Automatic Pool Skimmer
You also need to connect an automatic skimmer to your pool's filter system. It normally comes with paddles that look like a propeller that maneuvers it along the pool surface while sucking debris and water via its hose.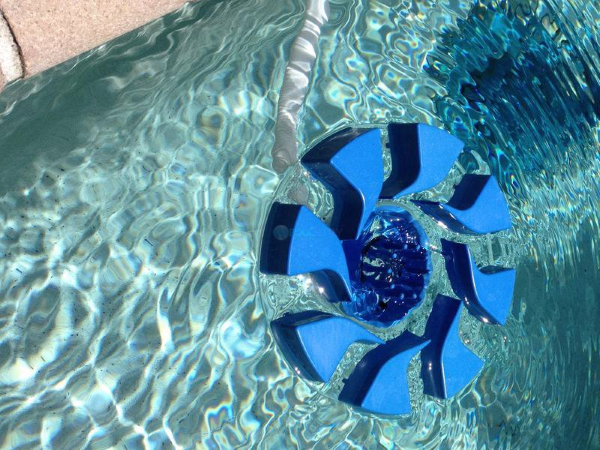 Robotic Pool Skimmer
A robotic or self-contained skimmer runs using batteries or solar power. It will maneuver along the surface of your pool as it skims debris. Although its initial cost is higher in comparison to other pool skimmers, it is very energy-efficient.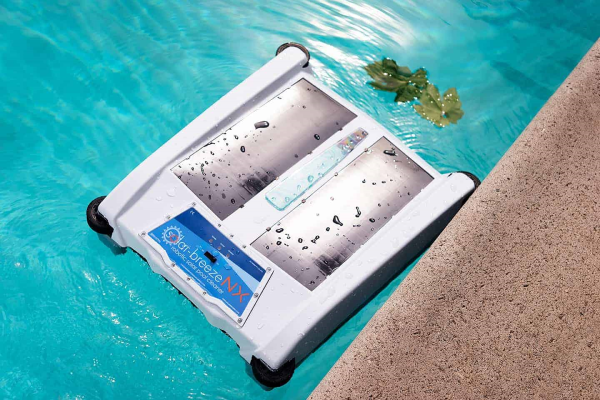 Features to Consider
When shopping around for a skimmer, keep the following things in mind:
Durability
Not all skimmers are created equal. Hence, it's important to consider their materials and read reviews of the product you are eyeing. If there are plenty of complaints about it, look for something else.
Ease of installation
If you're looking to buy an automatic skimmer, make sure to see if it will not give you a headache when installing it before making any purchase. The last thing you want is to break the product during installation and waste your money.
Price
This is a pretty obvious factor for a lot of us. Obviously, you don't want to spend a lot on something that can hurt your budget. Keep in mind that a higher price tag does not always mean quality. As such, make sure to read reviews and compare products before buying anything.
How To Properly Maintain Your Skimmer
It is extremely crucial to empty your skimmer basket regularly to make sure both the pool filter and pump last longer. Before you start cleaning, make it a habit to properly inspect the condition of the skimmer's weir, lid, and basket. If you find any damage or a component is not functioning properly, repair your skimmer or replace it if necessary. Here are some more essential maintenance tips that can help you make the most out of your pool skimmer.
Why Do I Need A Pool Skimmer?
As mentioned, skimmers are one of the most vital components you can provide your pool. They will keep debris at bay and out of the plumbing system of your pool.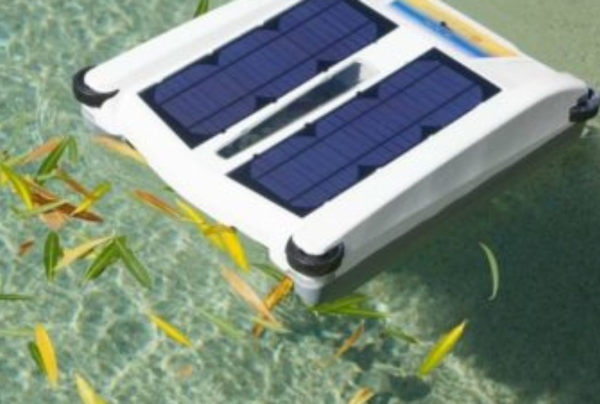 Aside from this, here are some of the reasons why you need one:
Having clean plumbing will ensure the circulation of pool water. This, in turn, will prevent stagnation and algae from building up.
It will ensure the longevity of the filtration system of your pool.
Prevents costly parts replacement in the long run.
Your pool's filtration system will run more efficiently.