When it comes to keeping all of your personal digital files safe from prying eyes as well as keeping all of their contents secure from being leaked into the internet, there's only one word that you should focus on, and that is Cybersecurity. To put it simply, Cybersecurity means protecting your digital data, any networks that you typically use, any programs, systems and hardware that you use on a regular basis from unauthorized or unattended access, data-theft, damage and change, or in worst case scenario, destruction. Most importantly, as the latest technology advancements have completely changed our lifestyles, we now spend the majority of our days online, rather than away from the online world. As such, it is now more important than ever to get yourself a Cybersecurity solution that's both safe and reliable. So, if you're looking for a safe and reliable antivirus for Windows that's guaranteed to keep all of your personal files secure and well-protected from shady hackers and from unexpected Cyberattacks, then consider getting yourself the Bitdefender Antivirus for Windows, which is simply one the best antivirus for Windows that you can currently get.
The Bitdefender Antivirus for Windows is a great choice of antivirus security software for Windows users, with advanced security features like Real-Time Malware Protection, Anti-Phishing Protection, a Password Manager, System Optimization, File Shredder, and Tracking Link Blocker.
By using this security-feature-packed Antivirus you can easily protect any Windows PCs against pretty much all currently-existing online threats, and this user-friendly security software even includes some really nice privacy tools such as Bitdefender VPN and Bitdefender Safepay Browser.
It's also worth to mention that the company's Bitdefender Antivirus Plus Packs are actually classified as the Next-Gen Cybersecurity Suites, as they won the "Product of the Year" award from AV-Comparatives.
With all that said, if you're on the market for a easy-to-use, safe and reliable Cybersecurity solution for your Windows PC, consider going with what the experts use and get yourself the Bitdefender Antivirus for Windows. With it, you get the most innovative antivirus security technologies that can predict, prevent, search for, detect, remediate and remove both software viruses and other malicious software, including even the latest cyber-threats.
And if you're still not convinced, here's a sum up of everything that the Bitdefender Antivirus has to offer you.
Bitdefender Antivirus for Windows – The Antivirus Pack as a Whole
What mainly makes the Bitdefender Antivirus a great choice of antivirus security software for Windows users is all of its advanced security features, which include Real-Time Malware Protection, Anti-Phishing Protection, a Password Manager, System Optimization, File Shredder, and Tracking Link Blocker.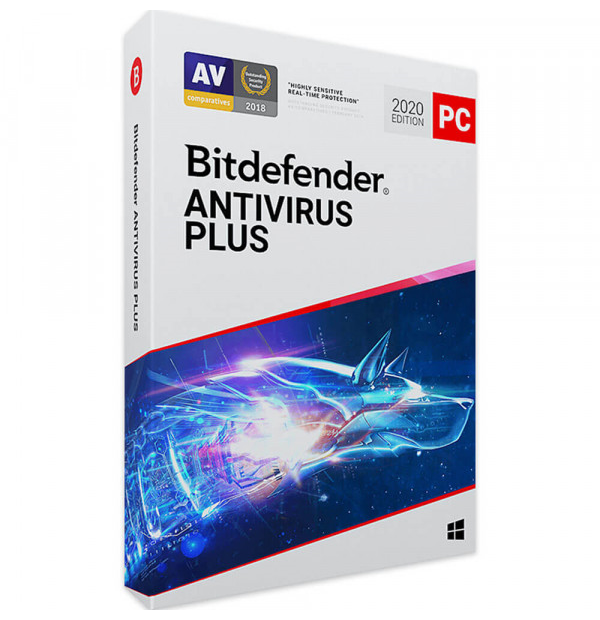 Overall, the Bitdefender Antivirus is simple and straightforward to use, as it features a very user-friendly interface.
On top of that, this particular antivirus security software also has excellent detection rates in pretty much all of its malware tests for malicious software detection.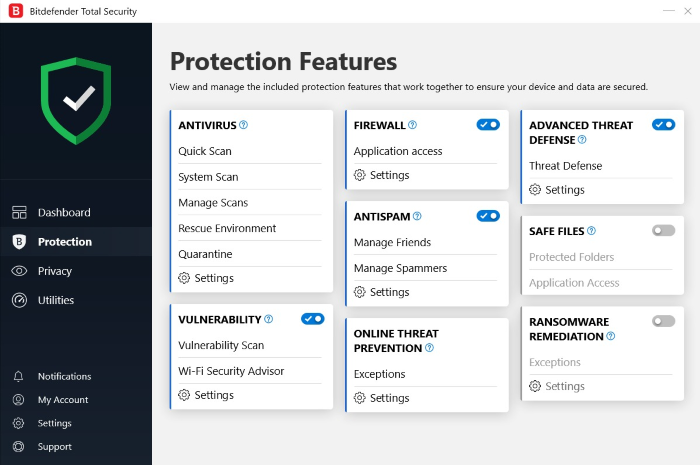 Last but not least, the system's full-virus-scans not only are incredibly fast, but they're also extremely thorough, and the best part about them is that they don't end up draining your computer's performance, which is definitely a game-changer, because, as we all know, not all antivirus programs out there can offer you that, as most actually drain your PC's performance during virus-scans.
On a side note, It's also worth to mention that all of Bitdefender's antivirus products use the same core technology and system security features, which are all highly efficient when it comes to your system's protection. So, no matter what Bitdefender Antivirus plan you decide to go with, you'll still be able to benefit from the same core protection that this security software has to offer you.
Written below, you'll also find a short sum-up that lets you know about the benefits of each of the Bitdefender Antivirus' advanced security features.
For more information, consider reading our Full Review of the Bitdefender Antivirus, where we cover literally every single one of its security features in great detail.
Different Security Features Available
Behavior Monitor & Ransomware Remediation
This security feature helps your system to stop ransomware from encrypting any of your files, as it runs simultaneously alongside the software's Ransomware Remediation security feature, which is designed to back up any of your targeted files (by malware software) if Bitdefender ever detects anything that the software sees as ransomware.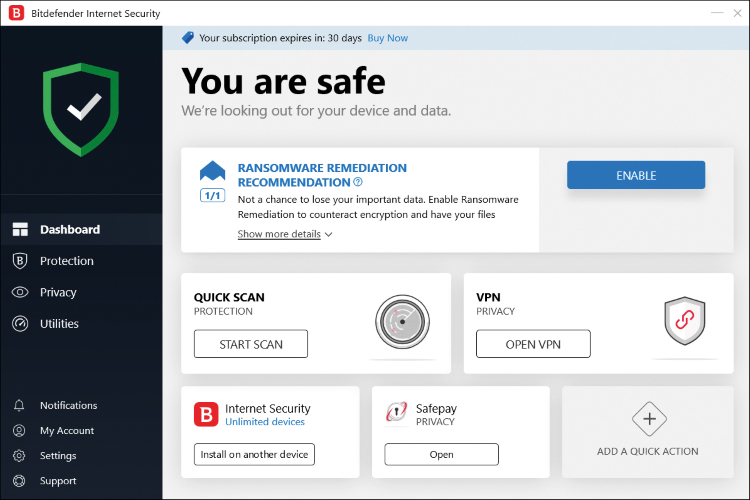 Phishing Detection
When it comes to its phishing detection capabilities, this antivirus software is designed to use a "Web Shield" as its Phishing Detection method for any time that you're browsing the web. This feature helps to protect your whole system against potential phishing attacks, as well as against unintentional access to malware (from your part by accessing a webpage that you had no idea about how malicious it was in the first place), as well as from any other dangerous websites.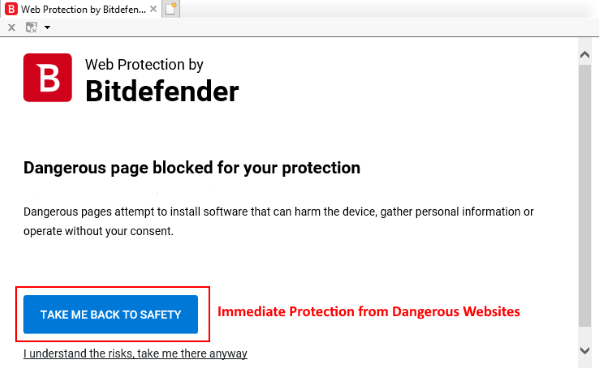 This "Web Shield" feature also helps the software to safeguard users during all their network activities, including detecting any dangerous links (with over 90% detection rate) that are usually quickly found by the software in an online document.
Webcam Filter & Microphone Blocker
The Bitdefender Antivirus Software also comes with a Webcam Filter security feature that's designed to prevent hackers' from hacking their way into accessing your webcam and spying on you while you're using your device (a PC, a laptop, etc.), and this even includes privileges given to any software on your computer that wants to use your webcam.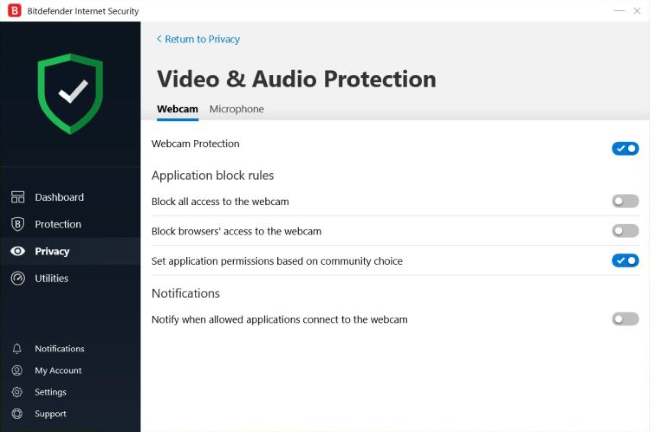 Additionally, you're also offered a Microphone Blocker tool, that just like the software's Webcam Filter, also prevents attempts to infiltrate and gain access to your computer's microphone.
The combination of these two security tools prevents hackers from ever being able to see or hear you without you knowing it, with the Bitdefender Antivirus instantly alerting you about any Webcam or Microphone breaches as soon as they're detected.
SafePay Browser
For times that you're looking to do some online shopping (which can potentially be a dangerous activity to perform online), we have the software's SafePay Browser tool, which can help you keep all of your private information and payment credentials protected while you're happily shopping online.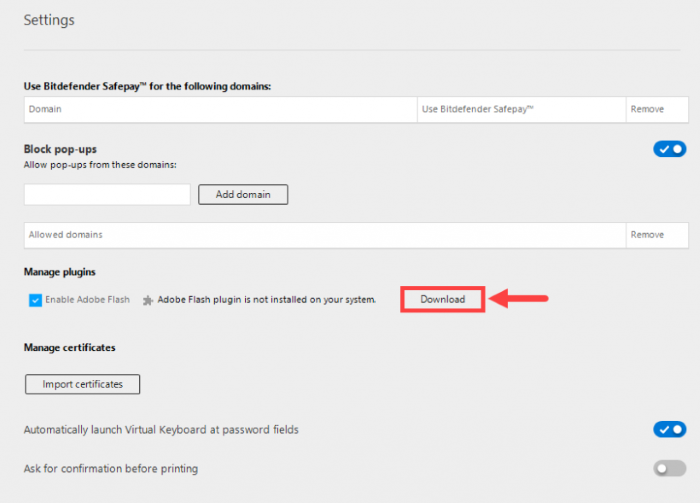 This security tool not only allows you to visit your favorite banking and shopping websites, but also prevents you from accessing any unsecured websites (those that do not start with HTTPS), and also blocks any unwanted browser extensions from working while you're shopping online.
Password Manager
Another of the Bitdefender Antivirus' security features is its Password Manager, which is a very useful feature that allows users to store all of their login credentials / information in a single place.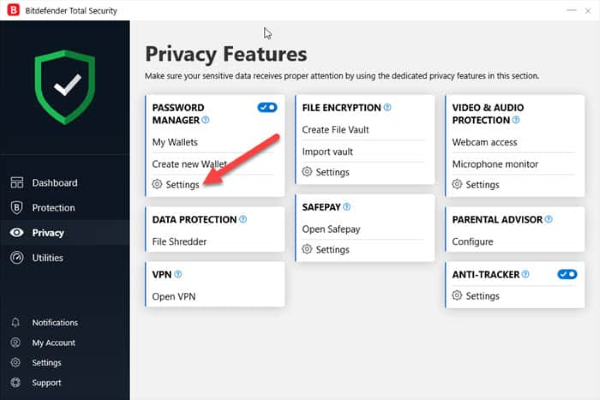 Moreover, the software's Password Manager tool also safeguards all of your credit card(s) details as well as any other personal information that you need protected. By using the software's Password Manager tool you can set up multiple password databases that are then continuously synced across all of your Bitdefender-protected devices.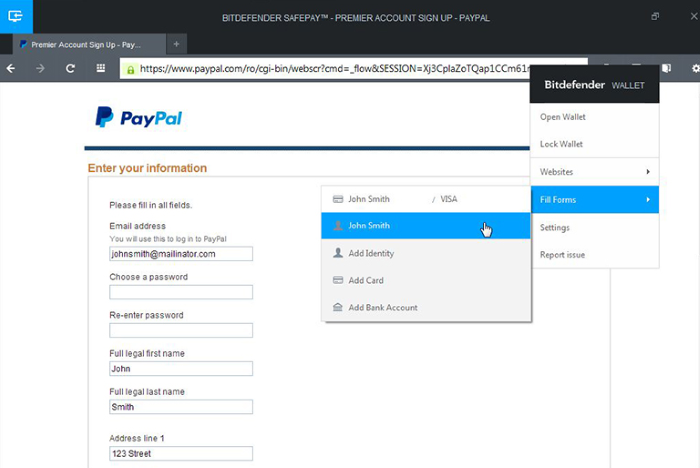 Now, as the cybersecurity-professionals at Bitdefender are extremely dedicated to making all the online daily lives of their Antivirus users both better and safer when it comes to their Cybersecurity, every October of every year, the company also celebrates something that they call "Cybersecurity Awareness Month".
And since we're on the topic of "Managing your Passwords", this is actually the latest topic discussed at Bitdefender's latest blog post article, which is where you'll find everything you need to know about Cybersecurity, Password Security, and even about all the steps that are necessary to create a strong password.
Other Security & Privacy Features
While the previously mentioned features are some of the best security tools that the Bitdefender Antivirus has to offer, this awesome antivirus security software also comes with some other security tools, including:
Integrated Firewall
Email Spam Filter
Anti-Theft Tools
Parental Controls
Different Scanning Modes – Game Mode, Movie Mode, Work Mode
Bitdefender Instagram Filter
Lastly, as their latest addition to their cybersecurity suite, and in order to help you stay up to date with the best security practices online, Bitdefender also has a brand-new custom filter called the Bitdefender Instagram Filter, which features some adorable digital characters that remind you about the best security practices to have online, with new characters being released every few days.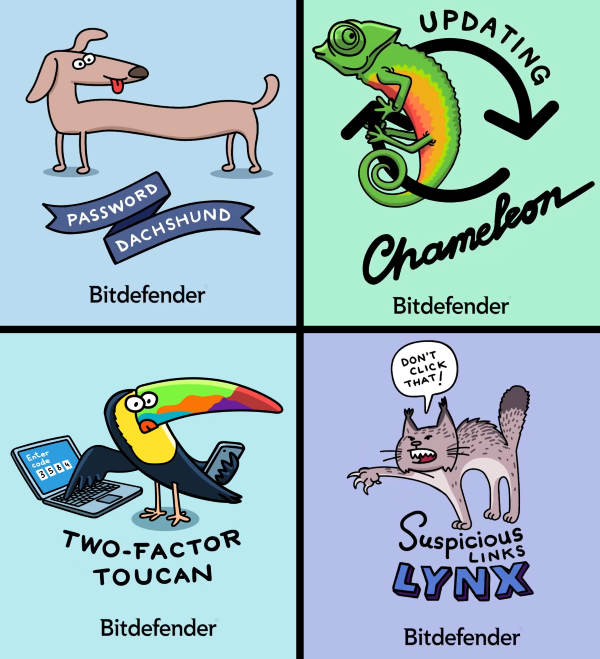 These adorable digital characters include:
The Password Dachshund – to remind you of the importance of long and unique passwords.
The Updating Chameleon – to remind you to always keep your apps and devices updated.
The Two-Factor Toucan – to remind you of the importance of enabling two-factor authentication on all your accounts.
The Suspicious Lynx – to remind you to think twice before clicking a link.
Give the Bitdefender Instagram Filter a check and consider trying it out at https://www.instagram.com/bitdefender/.