Dogs have a natural need for chewing, as that's what helps them to keep their teeth and gums clean and their jaws strong. A dog's chewing not only stimulates saliva enzymes, which helps to prevent plaque buildup on teeth and gum disease, but also aids in digestion, as it helps their stomach to produce more digestive enzymes. As such, it's very important and highly recommended for dog owners to offer their pups a natural and safer chewing alternative in comparison to some of the more dangerous objects that their pups might choose to nibble on, such as sticks or even rocks. Firstly, sticks can end up breaking in your dog's mouth, potentially causing wooden splinters to get stuck at the base of their gums, which not only could require professional extraction by a veterinarian, but in worst case scenario, may consequently cause one tooth (or multiple) to rot. Moreover, not offering your dog a natural chewing alternative might even get your dog to develop a habit of chewing and ultimately eating rocks, which is a medical condition known as "Pica", which means the ingestion of inedible items. Last but not least, chewing also helps dogs to alleviate boredom, as it provides them with both physical and mental enrichment.  As such, having your dog chewing on a natural chewing treat can also make them less inclined to excessively scratch or lick their paws. With that said, for any dog owners looking for some tasty chewy-treats for their four-legged friends, the Best Bully Sticks Collagen Sticks and Best Bully Sticks Shaped Chews are guaranteed to leave your pup(s) drooling.
The Best Bully Sticks products consist of high-quality, single-ingredient bully sticks, dog treats, and dog chews that are all a great natural alternative to other doggy treats for pups to chew on.
In other words, all of Best Bully Sticks' products make for top healthy and fabulous dog chewing treats. Not only can these chewy-treats provide a satisfying challenge fog dogs with a moderate chewing style, but they're also guaranteed to keep dogs entertained for hours on end.
Now, let's talk a little more about the Best Bully Sticks Collagen Sticks and see exactly how they're made and also discuss all the nutritional benefits and health benefits that they have to offer your pup(s).
INGREDIENTS USED
For the ingredients used in the Best Bully Sticks Collagen Sticks, these top-notch long-lasting chew sticks are carefully baked only using high-quality ingredients, which mainly consist of 75% of all-natural bovine collagen (meaning free-range grass-fed beef) for their Protein-source, along with 15% Moisture, 3% Fiber, and 1% Fat.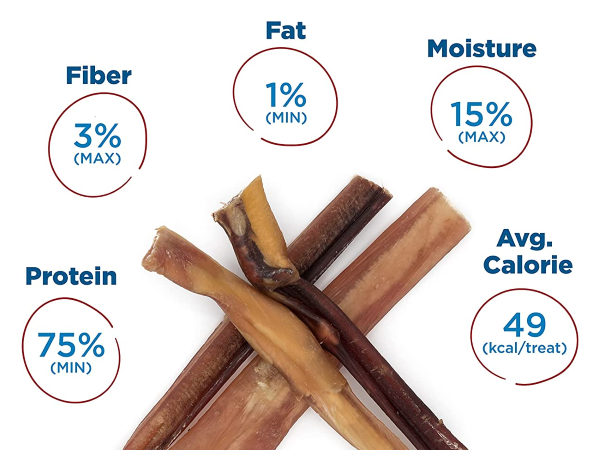 Best of all, there are no hormones, no additives, and no chemicals used to make these Collagen Sticks, and they're also 100% free of allergen ingredients, thus making these doggy bully sticks 100% natural, and when it comes to your pup's taste, absolutely delicious!
It's also worth noting that each treat can provide your dog's with around 49 kilocalories (Kcal), which is great to add to their daily nutrition and daily calorie-intake.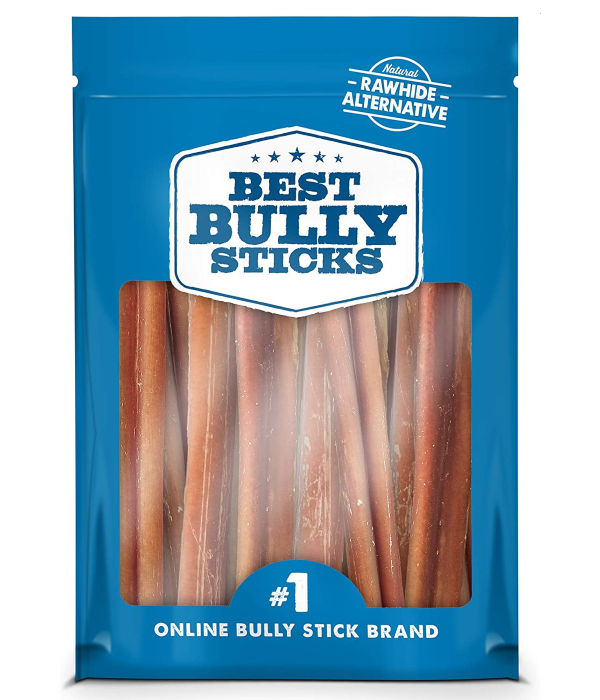 Since their main ingredient consists of around 75% all-natural bovine collagen, that basically means that these doggie chew sticks are very rich in protein, thus making them perfect for strong chewers and an excellent alternative to chemically treated rawhide (which can promote bacteria growth and in worst cases, can even present a choking hazard).
AVAILABLE FLAVORS & SIZING OPTIONS
When it comes to the available flavors, these doggie chewing sticks come wrapped with beef, chicken, pork, peanut butter, and cheese.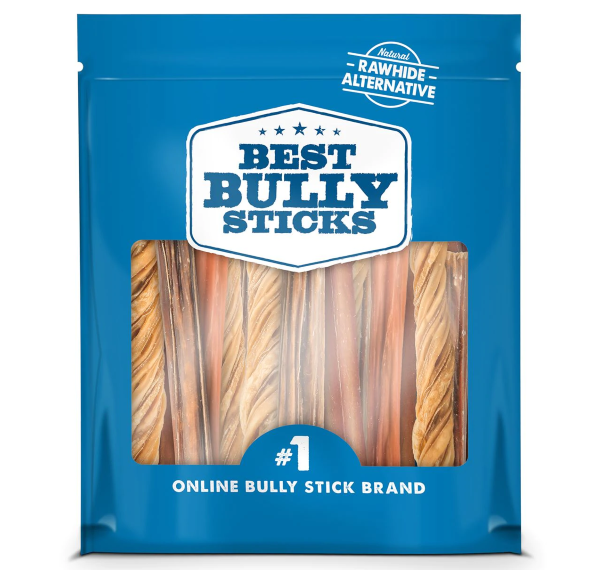 Moreover, they're also all available in a range of different sizes, starting from just 6-inches all the way up to 12-inches, which ultimately makes these dog chewable sticks suitable for small dogs and big chewers alike.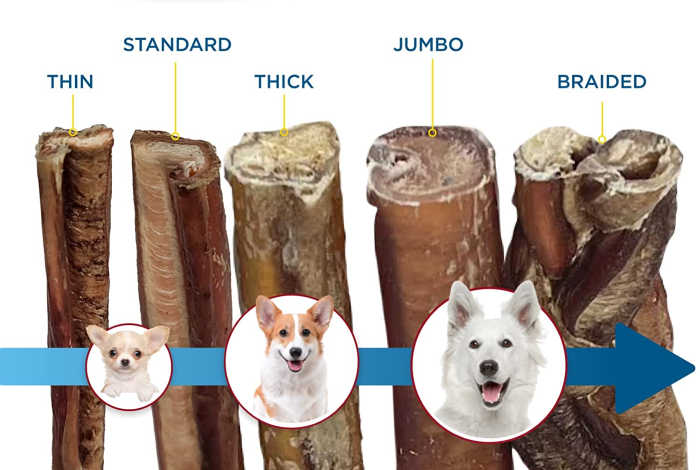 MAIN HEALTH BENEFITS
Then, when it comes to their nutritional benefits and health benefits, these chewy-treats are great for dental hygiene and for mental stimulation, and as such, can help dogs to better deal with anxiety and any excess energy.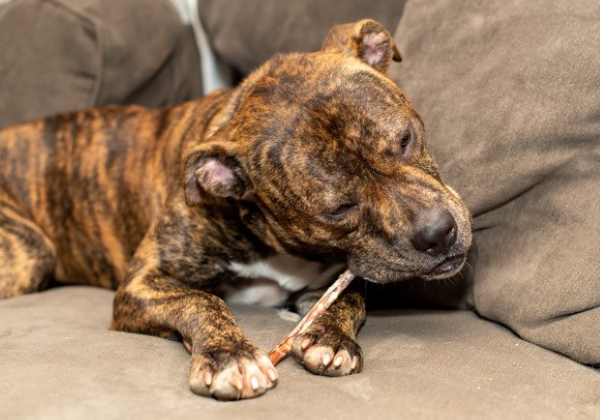 Moreover, their bovine collagen also helps to promote coat health, supports mobility and can even aid dogs in age-related joint pain.
PRICING & AVAILABILITY
If you're interested in buying some of the Best Bully Sticks Collagen Sticks, know that prices start at just $7.99 (for smaller packages), and can go up to $64.9 (for jumbo-option sizes, or even bigger packages such as the company's several Variety Packs).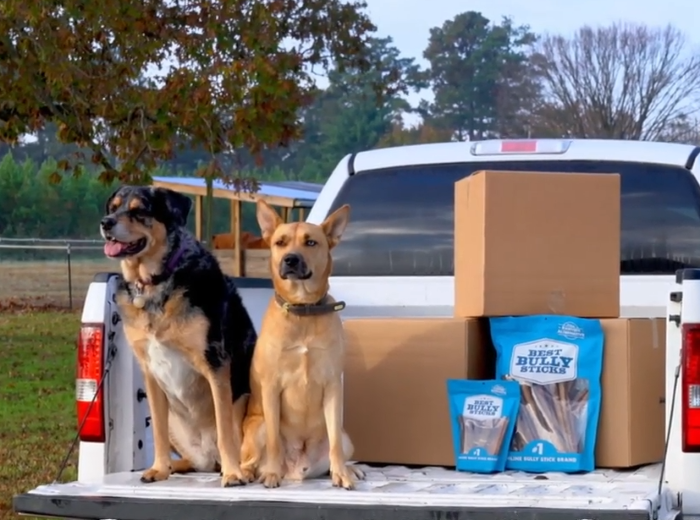 You can order any of their Collagen Sticks doggy-treats directly from Best Bully Sticks' official shopping page, and you can also find them available on Best Bully Sticks' Amazon Store Page.
Lastly, it's also worth mentioning that the company also sells other mouth-watering chewing treats such as Pig Ears and Cow Ears, as well as Bones and also Antlers, which are all also naturally-sourced from livestock directly from responsible and truly dedicated suppliers. You can check all of their other products at Best Bully Sticks' main shopping page.