Massages can help reduce stress, muscle soreness, and heart rate, but they can become expensive. For this reason, brands worldwide have developed mini-massage guns for quick and effective muscle relaxation.
The only problem with this is which should you buy? It's a challenging discussion and something not many have spoken about comprehensively. However, this is all going to change today.
Below, we'll be detailing what we believe is the best massage gun available on the market. To discover what this is, we highly recommend that you read the following:
What is the best portable massage gun available?
Recently, portable massage guns have become a global phenomenon, resulting in the market getting valued at $509 million in 2022. While this is excellent for the industry, many massage guns have entered the market.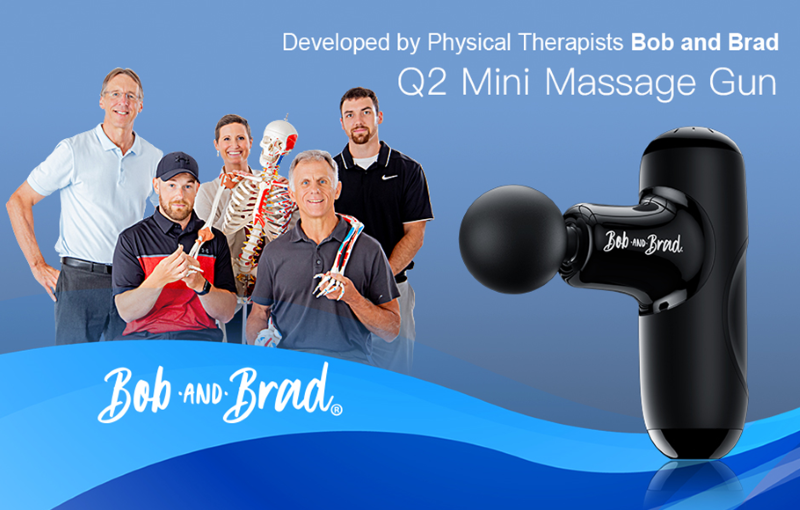 On Amazon alone, the keyword "portable massage gun" presents over 600+ unique listings. Because so many brands are hopping onto this opportunity, it's challenging to determine the best available. However, we've found one mini-massage gun that's excelled our expectations.
The gun we're referring to is called the BOB AND BRAD Q2, developed by professionals and is continuously mentioned as one of the best massage guns. To learn more about this exciting piece of sports equipment, you'll want to become knowledgeable on the comprehensive review below.
Why is the BOB AND BRAD Q2 Massage Gun so good?
With the portable massage gun market comfortably growing at a CAGR rate of 7.4% from 2022 to 2032, it's understandably becoming a competitive market with many brands. As a result, there are some excellent and not-so-wonderful massage guns.
Without question, it's a shame. However, it happens to all industries or products that thrive. But luckily, this Q2 massage gun from BOB AND BRAD has made us feel a lot more comfortable with the market.
To determine whether BOB AND BRAD's Q2 Massage Gun is as good as we're saying, we recommend reading the below. Here we'll explain why it's such an incredible product based on various elements.
Built by Professionals
Let's start by giving you the back story of BOB AND BRAD's creation of massage guns. Both Bob and Brad are physical therapists who understand the importance of developing a well-rounded massage gun.
Bob Schrupp is a 30-person physical therapy center based in Minnesota, while Brad Heineck is a certified strengthening and conditioning specialist. With the help of the agency and Brad, everyone complied their industry-specified knowledge, leading to the creation of the Q2 massage gun. But why does this even matter?
There are far too many non-physical therapists creating massage guns in this competitive industry who don't understand recovery's importance. Instead of this, they've developed a massage gun that's been built to benefit the end consumer's muscle recovery.
Therefore, they offer five unique heads for the following body parts:
Ball Head – suitable for large muscle groups
Bullet Head – used for joints, deep tissues, and trigger points
Fork Head – perfect for the neck, spine, and Achilles tendon
Flat Head – for all body parts
Air Cushion Head – suitable for sensitive muscle relaxation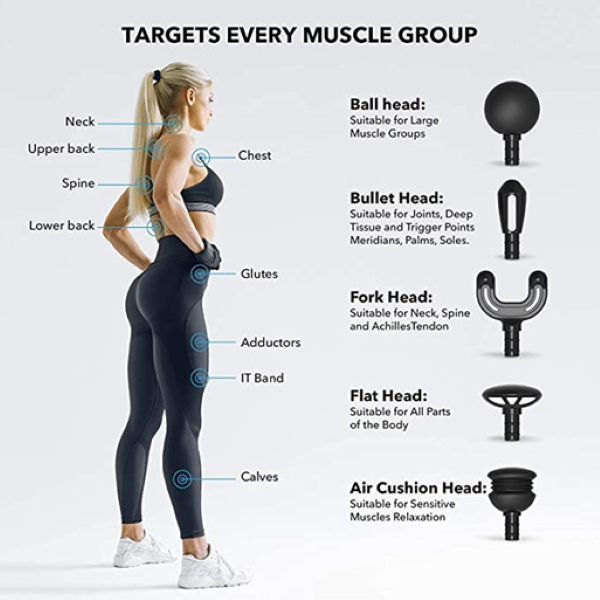 These rubber heads complement each other perfectly by offering muscle recovery around the entire body. One that stands out from the rest is the air cushion head, as it's not seen in most kits.
Additionally, BOB AND BRAD genuinely want to help people struggling with muscle-related problems. With their YouTube channel generating millions of views and subscribers, it's clear to see the enthusiasm shown by the brand towards helping others.
Immense Portability
Muscle recovery is needed everywhere, not only at your home. BOB AND BRAD understand this, so they focused on creating a mini massage gun – the Q2.
Despite this being one of the best massage guns available, it's immensely portable without losing key features. The Q2 is pocket-sized, only being 3.42 x 5.7 inches in size and weighing 1.3 lbs.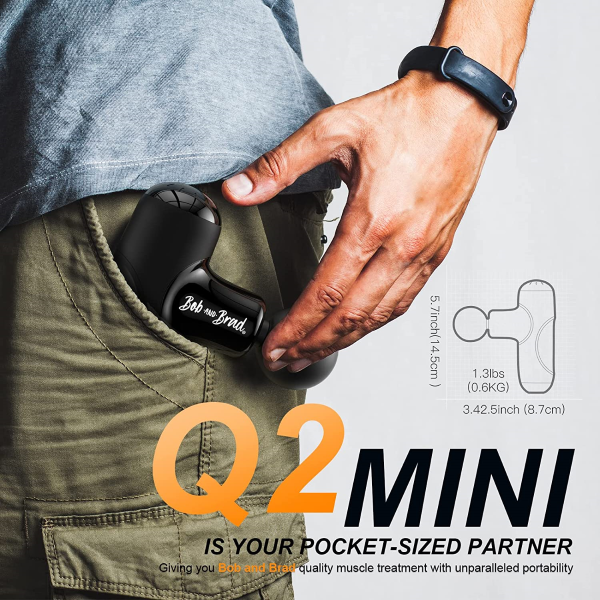 From the device being tiny, it's possible to take this anywhere. As it fits in your pocket, you can take this muscle recovery tool to the gym, a sports event, or even on holiday – practically wherever you like.
However, they haven't forgotten about the other consumers that don't want to carry this device in their pockets. For those that don't, they've kindly supplied a lightweight and spacious case.
You can fit the device and the five different attachments in this well-designed and durable case, allowing you to carry a massage gun ready for all applications.
But because the device is considered a mini massage gun, don't miscomprehend its sheer power and versatility. The Q2 doesn't get mentioned on the best massage gun list for no reason; here's more about its immense power.
Extraordinary Power
With massage guns, power plays a massive role in their overall greatness. The Q2 has excellent power generated from their new proprietary brushless motor.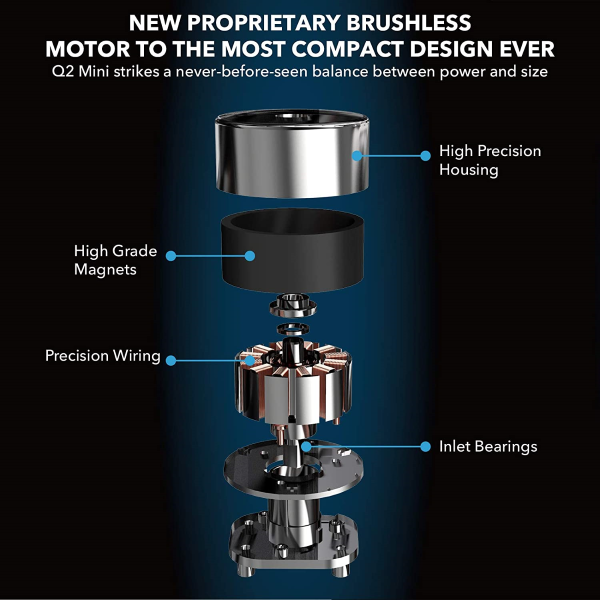 By including this compact motor on the device, users can reach speeds of 3000rpm and a vibration amplitude of 7mm. When each of these is combined, the consumer will feel deep muscle relief even in those hard-to-reach areas.
Unlike many devices available on the market, this mini-massage gun has five different adjustable speeds;
1,800rpm (muscle recovery)
2,100rpm (muscle relief)
2,400rpm (encourage blood flow)
2,700rpm (lactic acid decomposition)
3,000rpm (deep tissue massage)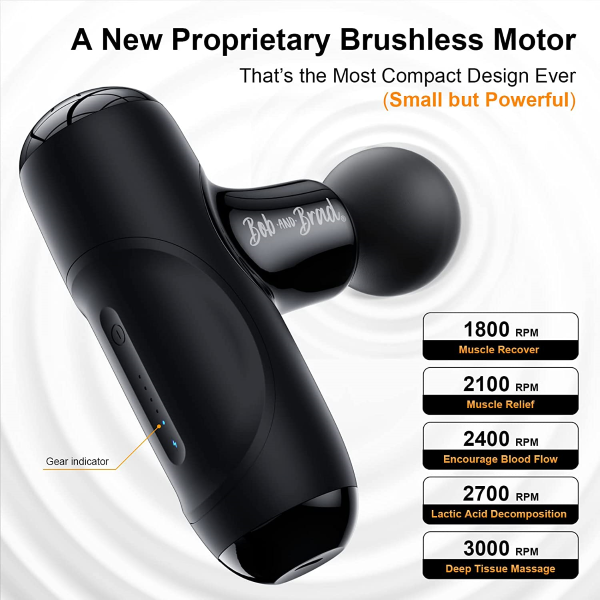 Therefore, you're not stuck with a single rpm. Now, you can control the rpm speed and apply the muscle group with the correct massaging approach.
Selecting these speeds is easily displayed and controlled via an interface. A simple click of a button will light up a gear icon to showcase which speed the device has selected.
Including all this greatness, it's also rechargeable. This doesn't only make the device more cost-effective but also convenient. To charge this, it'll come with a standard USB-C cable which will need plugging into a regular phone or a 5V/2A adapter.
So, despite the device being small and lightweight, the power is incredible. From this alone, you can clearly see a lot of thought has been considered during the creation of this device.
Noise-reduction Focused
Muscle relaxation is meant to be peaceful, but many devices fail to offer this. BOB AND BRAD are continuously looking to enhance their products, which is why they've included the latest noise reduction technology.
With this, users can enjoy ultra-quiet muscle relaxation at sounds less than 55dB, far below the market average for these devices. Therefore, consumers can obtain the mini massage gun benefits without loud noises or disturbing somebody.
Although it might not sound important for many, noise reduction is important. By including this, it supports enjoyment and overall customer satisfaction.
Comfortability
Including the above, a comfortable device is significant. The best massage gun should have a comfortable attachment and a grip for your hand.
For the attachments, each is designed to offer a different massage sensation. Therefore, some are hard, soft, and in between, allowing you to select a head that'll pinpoint a muscle group the way you want to comfortably.
By having this, they've boosted consumer satisfaction massively, allowing users to massage muscles at the intensity they want. However, they weren't finished there.
Including the head, they wanted to make the handle remarkably comfortable to relieve the pressure felt by the vibrations in your hand.
With the silicone grip, you can effortlessly maneuver the device to different muscle groups with limited fatigue in your hand. This doesn't only boost comfort but also longevity regarding the usage.
Speaking about the longevity of usage, they've also added a ventilation slot heat sink to improve the overall comfortability of the product. With many devices, this isn't included, but it's vital.
Because of the high rpm, heat can generate. Instead of leaving it inside the device and warming your hand, the heat sink extracts this. Therefore, it doesn't get hot, nor do you get sweaty when using the device.
BOB AND BRAD have genuinely thought about consumers' usability here, offering the most comfortable massage gun on the market.
Highly Recommended
The last reason that makes the Q2 massage gun from BOB AND BRAD so remarkable is that many people highly recommend it. The device has almost received 4,000 five-star reviews on only their Amazon listing.
Please remember, this doesn't account for the website, retail, or other channel sales; this is only Amazon. Therefore, it's clearly an excellent product that thousands of other people enjoy.
Therefore, combining this with our own experiences (mentioned above), we can confidently suggest that the Q2 is undeniably one of the best massage guns available.
CONCLUSION
After reading the above, you should have a comprehensive understanding of the Q2 Massage Gun. Without question, it's a market leader and will continue to be in the future. The new and improved brushless technology to the compact design has ticked all the much-needed boxes.
Now everything can enjoy deep tissue massages cost-effectively and professionally, wherever they go. For these reasons, the Q2 is undoubtedly the best massage gun on the market. If you'd like more information about this project, check out their Amazon listing.