Shopping for home appliances and electronics can be stressful, as there are a host of factors to consider, with things like the range on offer, size and shape, and budget restrictions all playing a role in what you are able to buy. As budget can be the biggest restriction when it comes to getting the appliance you really want, let's take a look at how you can save up to 50% by shopping smart.
Define your Needs
The first thing you'll want to do is some research into the appliance you are hoping to buy. After all, when you need new electronics, it can be important to check specs, user/peer reviews, and make market comparisons before you make a selection. While this may seem obvious, impulse buying does happen – and you could end up at a loss in both functionality and your wallet.
Top 5 ways to save up to 50%
Once you've made an informed decision and are ready to buy, it's time to shop around. As this is the best way to stick to a budget, here are 5 ways to save up to 50%, whether you're buying a new fridge freezer or something smaller like a waffle iron.
1. Wait for the best time to buy
It's no secret that most electrical stores, and even supermarkets, tend to release their best deals during holiday seasons. One of the most famous is Black Friday, where 50% deals and higher are extremely popular. Events like Christmas, the 4th of July, and Memorial Day are just three examples of celebratory proceedings that see stores dropping prices significantly.
2. Scour online and in-store deals
Not everyone wants to wait around for the holidays to arrive, so the best solution is to do some research online. With electrical stores vying for consumer attention, they often run weekly deals, month-long discounts, and sometimes other incentives (like no interest on white goods for the first year on finance), so it can be well worth it to do some significant investigation. One of the best stores for these kinds of deals is Conn's HomePlus, so don't hesitate to check it out.
3. Don't limit your search
Don't forget that an array of supermarkets sell electrical goods such as small kitchen appliances including blenders, sandwich makers, and hotplates, home tech such as Bluetooth speakers, and general electronics for the home like kettles and vacuum cleaners. With stores like Lidl featuring new deals weekly and bi-weekly, you're sure to find what you are looking for with little fuss.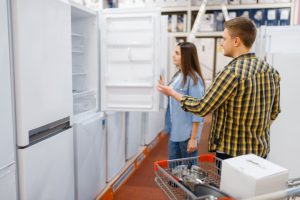 4. Shop Local
While opting to buy from a local store won't save you as much as 50%, you can still keep your outgoings low when doing just that. Firstly, it'll cost you less in travel if you don't have far to go to check out your potential purchase (you're likely to want to see it before you make a commitment), but you could also save on delivery charges.
5. Small savings add up
Don't forget that when making latest technology home appliance and electronics investments, every little saving will help. Looking online for store coupons, taking advantage of higher-purchase deals to spread costs, and even making multiple purchases at once for a discount can be a fantastic idea.