Shouldn't quality of sound match the superior image of your HDTV screen? Klipsch accomplishes that with the CS-700, a compact 2.1 home theater system with a wireless subwoofer and Dolby Virtual Speaker technology.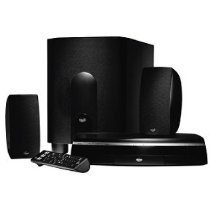 The system's wireless subwoofer and easy set up makes it one of the most flexible on the market. The CS-700 features exclusive KlipschCast wireless technology. Therefore, not only does it wirelessly transmit CD-quality audio to its local 200-watt subwoofer (with 8″ bass driver), but also to other KlipschCast products such as the award-winning Klipsch (optional) RoomGroove iPod speaker.
RoomGroove requires no wiring beyond a power cord, has a retractable iPod dock, and it wirelessly streams music, TV or movie sound all over the house.
The CS-700 home theater's A/V center has an up-converting DVD player that is capable of delivering a 1080i resolution via its HDMI output, so the signal matches the amazing resolution capability of an HD television. It also features an AM/FM tuner and three auxiliary inputs, allowing users to connect other audio devices to the unit. A universal IR remote control directs all system functions, as well as those of the TV and other components.
This unit kicks butt, and its compact enough to reside anywhere. True to its claim, it delivers unprecidented sound and video not common among other wireless systems. The price is right as well. This could literally replace any fancy componenet system you currently have. ($999, www.klipsch.com)