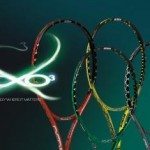 Prince, manufacturer of top-of-the-line tennis rackets, has introduced a whole new frame line called the EXO3.  Essentially Prince has combined brainy engineeering and physics to create a frame that absorbs more energy from an incoming tennis ball, and subsequently redistribute that energy back to the ball for killer hitting power. Another way of saying that: You can hit the ball hard with less effort.
Energy BridgeTM technology suspends the string bed, expands the sweet spot and delivers a bunch of playing benefits. In fact, 77% of the strings never come into contact with the frame allowing the strings to move more freely, unlike traditionally constructed racquets which restrict them.  Energy ChannelTM , a sculpted groove within the frame that enhances the
dynamic benefits of the Energy BridgeTM, provides added stability, boosts ball
control and increases spin.
There are 4 models and 6 frames in Prince`s new EXO3 line to address all levels of competitors, from the frequent player to the advanced competitor. The Prince EXO3 series lineup  (www.princetennis.com) :
* Prince EXO3 Silver 118
* Prince EXO3 Red 105
* Prince EXO3 Graphite 100
* Prince EXO3 Graphite 93
* Prince EXO3 Rebel 95
* Prince EXO3 Rebel Team 95