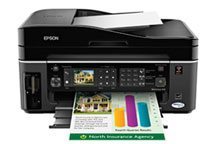 The Epson WorkForce((R)) 610 all-in-one ink jet has laser quality black print speeds up to two times faster than competing models priced under $200 according to research conducted in May 2009 by Torrey Pines Research, an independent product design firm that specializes in benchmark testing for digital printers.(1) This research supports speed results determined using the new ISO/IEC 24734 industry speed standard created to provide an unbiased comparison of specifications across manufacturers to help individuals, small business owners and corporate buyers make smarter purchasing decisions.
"Waiting for a printer to print is like waiting for paint to dry," said Rodrigo Catalan, product manager, Consumer Ink Jets, Epson. "Fortunately for those tired of waiting, Epson offers the WorkForce 610, the fastest ink jet printer less than $200. Our speed leadership is reinforced by the ISO/IEC 24734 standard, and we're extremely excited that our flagship model for business delivers the fastest ISO/IEC 24734 speeds available. However not all printer manufacturers have embraced the ISO/IEC 24734 standard, so we enlisted the help of Torrey Pines Research to test competitive printer models to ensure end-users had a true market comparison. The results were conclusive – the WorkForce 610 is the fastest in its class."
Based on the new ISO/IEC 24734 metrics, Epson's WorkForce 610 delivers laser-quality black at 15 ppm and color at 9.3 ppm( )in default, normal printing mode.(2) Several of Epson's flagship WorkForce( )and Epson Stylus((R)) NX series all-in-ones also deliver print laser quality black speeds up to twice as fast as competitive models, based on this new measurement. The ISO (International Organization for Standardization) specification provides the actual print files including a mix of Word((R)), Excel((R)) and PDF documents to represent what consumers typically print. In addition, ISO guidelines require that tests are conducted using the "out of the box" printer settings to better represent real-life printing scenarios or what is most commonly used by consumers.
The new ISO/IEC 24734 speed measurement is a helpful comparison for consumers; however, it only requires manufacturers to share color ISO/IEC 24734 speed if a device prints in color, while the black ISO/IEC 24734 speed is optional. Ensuring that customers have all relevant information at the time of purchase, Epson goes beyond the standard by providing both color and black speeds for applicable products. This information helps consumers determine if a product provides the performance required for their printing needs.
More information about ISO/IEC 24734 standards is available at www.iso.org. More information regarding Epson print speed measurements and complete ISO reports for recently announced models, including the WorkForce 1100, WorkForce 310 and Epson Stylus NX515 are available at www.epson.com/printspeed.
The Epson 610 is definitely a WorkForce, or should I say work horse. It shot out black prints like a pitching machine…with good quality I might add.  I also enjoyed the onboard keypad for fax dialing, the LCD control panel, and the Wi-Fi/ethernet networking capability. Really, for a mulitifunctional product (MFP), and a price of $199 (minus $70 instant rebate, bringing it to about $130), you can't beat it.  The high-capacity ink cartridges it uses also go a long way, longer than the old HP cartridges. And the document feeder is very reliable.  I didn't experience a single jam.
The 610 also duplex prints (both sides), and the print is smudgeproof. Somehow Epson has figured out how to seal their ink into the paper so it doesn't fade and is actually water resistant. And lastly, this product is GREEN…that is, it uses 70% less power than the competition. So for the money, and actually the performance, the Epson WorkForce 610 is a big-time winner. (www.espon.com)