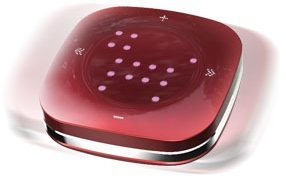 The Korean MP3 player maker SAFA has always been keen on uniqueness. The SAFA XING LED looks like a departure from the original XING, where the rectangular shape has now become squarish and has grown larger. On the face of the XING LED are LED pinholes or dots which lets you play either of two games: dice or rock-paper-scissors using the onboard G-sensor. The LED pinhole lights can also be customized for your own special icon.
The XING LED MP3 player measures 40 x 40 x 12mm, plays 12 hours of music, 27-pixel resolution, a 250mAh Li-plymer rechargeable battery, and is equipped with 27 LED dots. No price yet has been announced.
I remember the first Safa player. I'm convinced this company's product direction wants to gain popularity through iconism rather than high-functioning products. Like Webkinz or Digital Pet, there's no ingenuity here. Rather it's simplicity is it's cult appeal, and the business model builds other social networking accessories and web-fun around it. I love this concept and this product. It's the true definiition of viral marketing. I expect the SAFA XING LED MP3 to be a hit, and I can't imaging pricing breaking even a 5-year-old's bank.