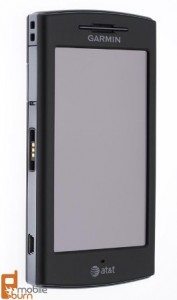 The Garmin Nuvifone G60, introduced well over a year and a half ago at the 2008 Mobile World Congress event in Barcelona, has just now landed in AT&T stores across the USA. The form factor is that of a mostly rectangular block, and there are no hardware keys at all on the front of the device. The 3.55-inch 272 x 480 pixel resistive touchscreen dominates the design, and makes the phone look very much like one of Garmin's dedicated car navigation systems, which is nice since most who will buy this are doing so for that purpose.
Most of the G60 is covered by a soft-touch, grippy black coating. The volume control and camera shutter button on the right edge work well, while the left edge is home to miniUSB and car kit connectors, as well as the covered microSDHC card slot.
I like the asthetics and feel of the large touchscreen display.  It is resistive so it requires some minimal amount of pressure,  The car mount kit that comes with the Garmin nuvifone G60 is top notch – it is practically the same mount that comes with the regular Garmin GPS devices. A miniUSB port on the car adapter allows the phone to be charged while mounted, though no car charger is included.
Overall, the design of the Garmin G60 Nuvifone can perhaps be best summed up as solid, but uninspired. It gets the job done, and looks perfectly at home in a car, but could use both a bit more style and a few more hardware buttons as well. At least its 112.5mm x 58mm x 15mm (4.4in x 2.3in x .6in) dimensions and 138.1g (4.9oz) weight are in step with other large touchscreen equipped devices on the market.
If you're going to buy a GPS device, why not combine your phone with it. If that's your mentality, get a Garmin Nuvifone G60. The Garmin M20 is also available now, and some countries are sporting Windows Mobile 6.5 in the newer M20s being sold. $299, www.garmin.com.