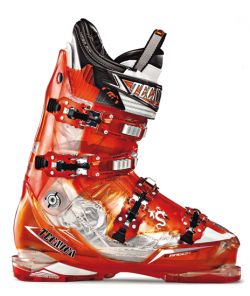 Borrowing from the tradition of racing ski boots, Tecnica manufactured the Men s Dragon 120 HiPerFit Boot for expert and pros skiing in all weathers.Featuring triple density plastic shell construction to give you hard and soft responsive zones and four ultra-thin carbon steel buckles that provide five times the strength of magnesium and an extremely low profile.
The included ultraflex booster strap has a built in flex and rebound feature and adds progressive flex, shock absorption and rebound energy to the Dragon 120. Tecnica also added a grippy, bi-injected A.V.S. sole design
The Dragon Last Cuff Height is modified from pro racing designs. The forward lean is slightly more upright and the width at the forefoot is 100mm for all day skiing comfort while still offering very high skiing performance characteristics. The height of the cuff offers a more secure feel, better flex resistance and greater performance.
Other features include 3 Position Catches, Carbon Steel Buckles/Toe Buckles, Cuff Alignment, UltraFlex Powerstrap (height adj.), Liner Construction, Hinged Instep Catch, AVS W/ Grip Sole, Flex Adjustment, Velcro Spoiler and the Dragon Last/Cuff Height.
I skied with these, and the Tecnica Dragon 120 HiPerFit ski boot definitely seems to have some "artificial intelligence" to it: flexible when you need to flex, and stiff when you need it stiff. These "smart" boots, as I like to refer to them, mold to my ankles and skis by the simple roll of the ankle, almost like a new found appendage.
The Tecnica Dragon 120 HiPerFit is geared towards expert skiers and racers, and yet they don't feel like it. They offer far more freedom and give than the stiff and rigid racing boots I've worn in the past. If you're going to lay down some serious cash, $700-$800 for ski boots, the Tecnica Dragon 120s are worth the investment, and will perform at whatever level you ski. www.tecnicausa.com.