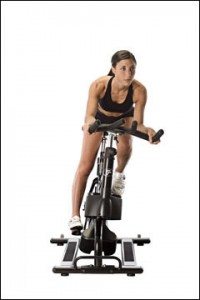 RealRyder® International, developers of the first unstationary bike, announces the RealRyder® ABF8, an indoor cycling bike that can tilt, turn and bank like a road bike. The RealRyder Indoor Bike uses patent-pending CoreBalance technology in a unique, articulating frame which allows the user to ride fluidly in three dimensions. The result is a 5-in-1 workout for the whole body – not simply legs and cardio, but also upper body, core muscle groups and balance. 
"The RealRyder Indoor Cycle is adding a new excitement and buzz to fitness clubs around the world," said Colin Irving, competitive cyclist and Co-Founder of RealRyder International. "Now anyone can get the experience and total body benefits of riding a bike outside, indoors! Since the RealRyder leans 45 degrees to the left and right simulating a real road bike, it engages and challenges all core muscle groups." 
The RealRyder ABF8 experience can benefit both rider and club owner with better workouts and added reliability. The RealRyder Indoor Bike's three-dimensional movement requires the activation of more muscle groups, including upper body and the core. An added bonus to providing a full-body, high calorie workout is the dynamic range of motion that also helps improve the rider's balance. With smarter engineering and extra heavy-duty components on the RealRyder ABF8, users are less injury-prone which decreases the liability of club owners. 
[adsense]
One unique feature that really separates the RealRyder Indoor Cycle training program from the pack is a heavy-duty steel frame with a 2-stage rust prevention treatment that provides long-term maintenance-free performance and facilitates controlled realistic movement. A dual-density, premium saddle with anatomic cutout provides the rider with both stability and cushioning while a versatile pedal design fits the most common cycling shoe cleat system and accommodates any standard athletic shoes. Custom designed, ergonomic, sweat-resistant handlebars provide comfort, durability and the widest range of hand positions available for reduced fatigue and stress on hands and wrists. A culmination of the above features ensures riders achieve the perfect position on the bike. 
 I really liked the feel of the RealRyder ABF8 when I rode one at a health club I visited to see one of these things.  The RealRyder ABF8 takes some getting used to, and then it takes some more getting used to- to the muscle burn you just experienced. I was whipped. I learned later that this bike burns 100 more calories per 45-minutes when incorporating turns, which I was doing. So obviously, I was getting more of a workout. Mentally, it was more fun. No more just sitting on that SPIN bike and peddling until you were nauseated with boredom.  Finally, because it feels more like a real bike, you're able to have some fun with the different movements and training exercises.
 It's worth noting that physical therapists love the RealRyder for rehabbing injuries due to its natural movement. Seniors use it to safely improve balance while getting an excellent workout. And this thing is just beautiful to look at.  It looks like a special weapon developed by the ARMY.
You're most likely to find the RealRyder ABF8 in health clubs, but the company does sell them for the home user for $1995. With it you get a 10-year warranty on the frame, 3-year warranty on the parts, and 2 integrated water bottle holders. You're going to need the water too, because this thing kicks your behind.
For more information on the RealRyder® ABF8, please visit www.realryder.com.