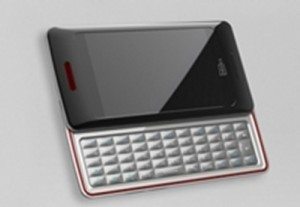 Korean's VoIP Manufacturer, Inbrics, has announced that it will be debuting a pretty snazzy Android Phone, the Android MID, which sports an iPhone appearance with an added benefit, a hard QUERTY keyboard.
Information is sketchy, and only a few have every heard of the company. I researched them, and apparently they're a behind-the-scenes phenomenon in the VoIP market.
The tech specs of the MID were released and are as follows: The handheld uses a current Cortex-A8 ARM platform running at 800 MHz, has an AMOLED touch display, integrated Wi-Fi, GPS and a slide-out QWERTY keyboard. Inbrics should be sharing more at the Consumer Electronics Show this coming January.
The form factor also looks more like a Motorola Droid. Many insider techys consider Android to be an ideal OS for a MID, and a few MIDs running Android have been announced, most notably by PC manufacturing giant Dell.  Look for more information about the new MID by Inbrics in the next few weeks. (www.inbrics.com).