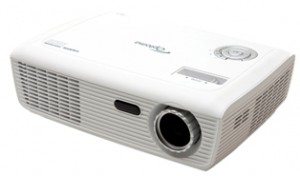 Delivering HD and 3D together in a single home entertainment projector, Optoma Technology, Inc introduces the HD66, Optoma's first 3D Ready HD home theater projector, that delivers subtle details with striking clarity in 720p and targets consumers looking for the latest in gaming and entertainment technologies. The Optoma HD66 will have an extremely affordable price of $699.00.
"3D brings a new dimension to both the gaming and movie experiences," said Jon Grodem, Optoma's director of product and marketing. "While gaming is poised to lead the charge in 3D content in the home, movies will follow soon. And the 3D Ready HD66 brings it all home in one HD projector at an affordable price."
Powered by Texas Instruments' 0.65 DMD DLP chipset with BrilliantColor™ technology, the HD66 builds on Optoma's strong performer, the HD65, and delivers a brightness rating of 2500 ANSI lumens and a robust 4000:1 contrast ratio, enabling users to project a clear, bright image in most ambient light conditions.
The Optoma HD66 3D projector offers a broad selection of I/O connections, including HDMI, VGA-In, S-Video, Composite Video, Stereo Audio-In, and RS-232.  It is PC and MAC compatible, supports computer resolutions up to 1920 x 1080 pixels (HD), and can also accept common global video inputs and video formats up to 1080p (HDTV, EDTV, SDTV, NTSC, PAL, SECAM).
As with all 3D displays, a 3D source, 3D content and 3D glasses are required for 3D viewing, and in addition to delivering 3D in 720p HD (1280 x 720), the HD66 can also project 3D content in XGA (1024 x 768) and SVGA (800 x 600) resolution.
The Optoma HD66 offers tremendous installation versatility and can be used for either front or rear projection.  It can be ceiling or tabletop mounted and will project images from 23" to 300" diagonal.  A two-watt speaker provides audio, and user-friendly controls allow selection of operating menus in 23 languages.
The Optoma HD66 weighs five pounds and comes with a remote control, interconnect cables, and other accessories. (www.optomausa.com).