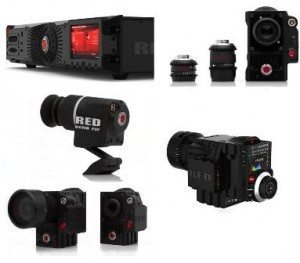 RED announced updated information on several upcoming products including the Ray Pro, Scarlet 2/3″, Redmote Pro, Redcine-X, and new lenses.
ill be able to take advantage of a Development of the RED Ray Pro is ahead of schedule, but without a price tag yet. The rack-mount device is capable of decoding .R3D RAW files with resolutions of up to 5K running at 30fps, along with 4:4:4 distribution-format files up to 4K. The system also handles up to 12 channels of 24-bit audio. Four DVI-D and HD-SDI 3G outputs allow users to distribute video into four 1080p quadrants for each connection type, while a single HDMI port provides preview output. A touchscreen on the front panel offers a UI for controlling playback. Several additional slots and connectors are available for connecting storage via eSATA, USB, FireWire and Compact Flash.
The company has provided additional specs on the upcoming RED Scarlet 2/3″ camera, confirming earlier promises of 1080p/60fps video recording and a data rate increase to REDCODE 100. The system is entirely interchangeable with EPIC, while utilizing the same FLUT color, gamma and light features. Users wfive-axis sensor plate, three-axis motion sensor, GPS receiver, Wi-Fi control, 3K RAW recording at 120fps, and more.
RED's upcoming lenses include a prime 18mm Pro, along with mini primes in 6mm, 8mm, 16mm, 25mm and 50mm sizes. The engineers added an internal heater to the Bomb electronic viewfinder, allowing it to be used in extremely cold environments that would cause problems for most other EVFs. The new Redmote Pro interface module features built-in wireless follow focus and several other upgrades compared to the basic model.
A new version of the RED Redcine-X is scheduled for release very soon with a long list of updates. The software features improvements to the user interface, width/height options, caching, OpenGL, frame color, export options, zoom/crop controls, and more.
The RED Ray Pro is expected to ship sometime in January or February of 2010, with the consumer edition arriving later in the spring or summer. The Scarlet 8x Fixed carries a price of $4,750 for a full kit, while the brain can be purchased alone for $2,750. The Bomb EVF can be added to any system for $3,200. RED warns that its specs and prices are "subject to change as usual."