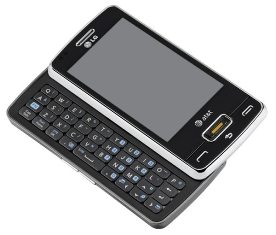 Not a lot of pre-fanfare with this new guy from LG.  With the Motorola Droid, its advertising was like the "Second Coming".  With the new LG eXpo, which will be sold through AT&T, there have been little to know hints that this thing is coming statewide, AND IT HAS A FRIEKING PROJECTOR BUILT INTO IT THAT DISPLAYS A 40″ IMAGE!!!!!!
The new LG eXpo, which is aimed at the business market, will feature an optional DLP projector that is attached to the back of the phone. The short-throw image is rated at a maximum 40-inch.  If you think about it, this could be your next spare big screen, projector TV. Whether it has a TV output is yet to be announced. If it doesn't, I'm sure some adaptor would render this a working feature.
This side slider will feature a 3.2 inch, 800×480 touchscreen LCD display, 1 GHz processor, quad-band GSM, tri-Band UMTS/HSDPA, 5 megapixel autofocus camera with flash, slide out QWERTY keyboard, built in A-GPS, Bluetooth 2.1 + EDR, Wi-Fi, a microSD card slot and a 1500 mAh battery.
The LG eXpo is powered by Windows Mobile 6.5 and includes both a fingerprint sensor and an optional integrated pico projector capable of displaying a 40-inch image. AT&T is expected to start selling the LG eXpo through business channels starting on December 7th.
So, am I missing something?  These specs are huge!….better than the iPhone, better than the DROID…better than anything I've seen to date.  It's super fast, it rocks as a point-and-shoot camera, it's world-band and it has a projector feature, which unless I'm not up on current events, which I am, would be the first of its kind sold in the US.
I'm very interested in getting my hands on this one. Talk about an all-in-one.