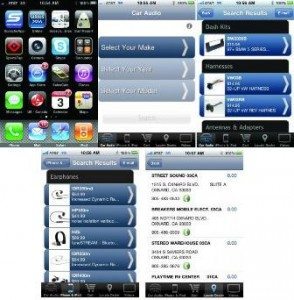 Scosche Industries, maker of iPod, iPhone and mobile electronics aftermarket accessories, announces the launch of the free Scosche Application for iPhone.  The free Scosche App is the first application that allows you to find aftermarket accessories specifically designed for your vehicle.
With the Scosche application, you can find accessories, email results to friends, easily purchase an accessory directly from the app, and locate dealers in the area… all from your iPhone or iPod touch.
With the Scosche iPhone App, you can access the complete Scosche "what fits my vehicle" application guide currently available on the Scosche website.  This unique guide enables dealers, installers and do-it-yourself consumers to easily identify all accessories for a seamless aftermarket installation including: dash kits, harnesses, antennas, antenna adapters, interfaces and speaker sizes.  This APP will allow anyone performing an aftermarket installation to find and purchase the necessary accessory directly from their iPhone or iPod touch without having to leave the install bay.
Scosche's popular iPod and iPhone accessories can also be easily found through the Scosche App in the iPod/iPhone section.  You simply select a device and all Scosche accessories will be listed including earphones, chargers, cases, cables and adapters. Scosche iPod and iPhone products can be easily purchased through the app.
"We continually strive to develop the most innovative accessories for the automotive aftermarket and consumer electronics industry, and the Scosche App is our latest development," said Kas Alves, executive vice president, Scosche Industries.  "With the new free App, Scosche continues to provide dealers and consumers the necessary tools to make an aftermarket installation simple and purchasing effortless."
The Scosche App will also include a "Dealer Locater" feature that will list the dealers nearest you.  Qualified Scosche dealers and installers will be located and listed, then seamlessly mapped through Google maps. The Scosche App will work with the iPhone and iPod touch.  The App is now available for free at the iTunes App store. (www.scosche.com)