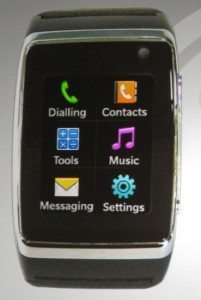 If you're a tech reader, you've watched wristwatch cell phone prototypes come and go. When some large manufacturer gets a whim to actually come to market with one, they pull out at the last second.  Sure if you went to China, you might see several users talking to their wrists, but no one in America has had the guts to offer one through a major carrier.
LG has been thinking about pulling the trigger on a mainstream wristwatch phone for a couple of years, and now they're serious with their LG GD910 model, which is a little more than a prototype. It's more like a final draft of an essay to be turned into to the proffessor. We know that Orange Corp, Europe's premier cell carrier, will have exclusive rights to the device before it makes it state-side.
Made of high quality metal casing and hold tempered glass with a touch sensitive 1.43″ color LCD touchscreen display screen with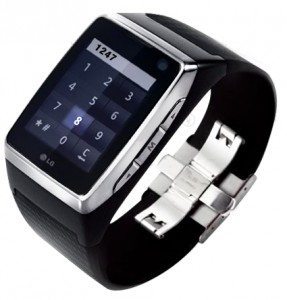 flash interface, the LG GD910 is slated to debut at the Consumer Electronics Show in Las Vegas in January….again. I saw the cell watch concept at the LG booth at CES last year, and it looks pretty much the same.  Perhaps they're showcasing it again to give the impression that they're really serious about one of the major US carriers picking it up.
The tiny LG GD910 touch screen is 13.9mm thick, making it appear even more stylish.
This gazette is water resistant so as to make it safe and study for use. This tiny device also has an MP3 Player, Bluetooth, speakerphone and HSDPA supportso that it can enjoy 3.5G downloads.
Video calling is supported through a camera on the front, and the LG GD910 also has speech dialling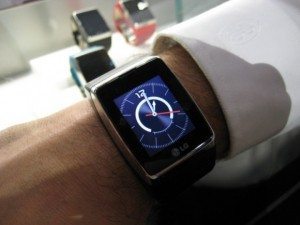 and a text-to-speech function to read back text on the tiny display.  The LG GD910 is supported by three side-mounted buttons and a speaker phone for voice and music.
Connecting to the net is not a problem either, as it possesses a GSM Quad band Network feature. And with a 7.2 Mbps 3G HSDPA compatibility, the transfer of the data should be fairly fast….of course speed will depend on what processor they will be stuffing into this miniature.
LG hasn't given full details of the phone, but it will be interesting to see just how much it weighs and what the battery life is like when full details are known in a few weeks time. (www.lg.com)