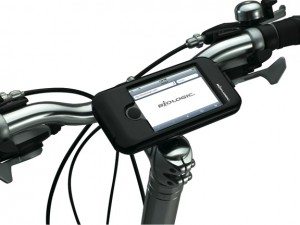 Dahon, makers of a killer folding bike, has come out with a weird concept -an iPhone case that mounts on a bike and charges your iPhone through power-generated peddling. What? Okay, at first the idea of using your iPhone while biking makes about as much sense as gabbing away on your phone while behind an auto's steering wheel. Actually, it sounds more dangerous. But if risk is your middle name and you need your touch-screen on your handlebars, Dahon has just the ticket.
The company's BioLogic iPhone bike case is both waterproof (includes touch-sensitive membrane) and shock-proof. The case also pivots 360-degrees, permitting an on-bike experience in either landscape or portrait mode.
The BioLogic Bike Mount for iPhone lets you attach your iPhone or iPod Touch to your bike's handlebars so you can track your GPS position, your speed, or distance travelled, while you ride. The Bike Mount is a weatherproof case with a welded touch sensitive membrane so your iPhone or iPod Touch is completely protected from the weather but fully functional. The inside of the case is lined with silicon for shock resistance.
The Bike Mount pivots so you can use your iPhone or iPod Touch in portrait or landscape mode. A membrane protected opening for the camera lens lets you take video or pictures while you ride. Fully compatible with the BioLogic ReeCharge System, which provides juice for your gadget via the bike's energy it generates from peddling.
The BioLogic ReeCharge Battery System is the first to convert energy from dynamo-generator wheel hubs into the steady current that gadgets need to safely charge. A chip modulates the electricity to fill the battery, which can juice a small MP3 player about half way in an hour.
The BioLogic iPhone Bike Mount with BioLogic's ReeCharge System is available in January for around $160, (www.dahon.com)