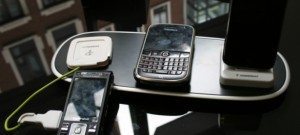 Wireless gadget charging company Powermat, unleashes the first generation of its PowerMat product on the market, targeted at iPhone and BlackBerry users.
Why them? Because the company has built a case for iPods and a battery cover for BlackBerrys that let you easily charge the devices without much hassle. Other products are possible to charge, though they need to be connected in a slightly more complex way.
The Powermat sits silently when there's nothing on it, consuming milliwatts of power. However, when you place a compatible gadget on it, an RFID chip detects its presence and begins the charging process. Three different devices can be charged at any one time.
The standard Powermat can also be replaced by a travel version, which folds down into a smaller space for ease of transport. It comes with a plug that can be switched to whatever country you're in, and the company says that a "flat plug" will accompany its next generation of its products, making it even more portable.
As mentioned, the Powermat offers two basic systems. The Powermat Home and Office mat is a sleek mat that sits unobtrusively on a desk or table waiting for something, or more accurately up to four somethings (if you include the built-in USB port), to charge.
The Powermat Portable Mat is about the same size (although not as sleek). It too can charge up to four devices at a time. Unlike it sibling however, it can fold into three sections for easy transport in the included case.
Both mats come with a well-designed Powermat Power Adapter that has built-in cord control. Both also include a Powermat Powercube Universal Receiver, eight assorted tips and a bin for storing them. With these tips you can charges hundreds of different devices.
Finally, it is worth noting that both mats also include a wired USB connection for charging devices that require a full-size USB. It isn't a wireless solution, but it reflects the depth of thought that went into designing the entire system.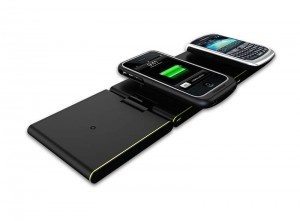 To use the Powermat, you simply take a device that is "wearing" a receiver and place it on the Powermat. That's it! Sound and light indicate that a connection has been made and that the device is charging. A second sound indicates when the device is removed from the mat. Once on the mat, the device will charge as fast or faster than the stock power adaptor.
The Powermat system is impressive. It is well designed, well built and does what it promises. You can get the Home and Office Mat for about $130 through Amazon,  $120 for the Portable Mat. And while a $29.99 Universal Powercube is included with each, receivers for the iPhone ($49.99), iPod touch (($39.99) and Blackberry ($29.99) are not.
So is cutting the cord/s worth the price and added bulk the device receivers add? That is going to be a matter of personal taste. What is clear, however, is that Powermat has brought one innovative technology to the wider market, and they have done so with a first generation product that is impressive.
The future might see Powermats embedded directly into walls, tabletops and other surfaces, meaning your desk could soon become an invisible connectivity point for wireless energy. So for a company that is somewhat of a start-up, they could hold the patent and intellectual property rights to a concept that could turn into a giant. (www.powermat.com)