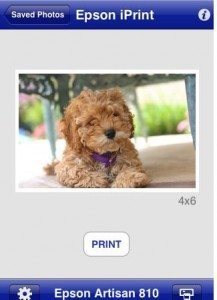 Epson has announced its free, iPrint photo printing app for iPhone and iPod touch, available on the App Store. The app lets users print wirelessly on Epson network capable printers including the Artisan® 810, Artisan 710 and WorkForce® 610, to name a few. The Epson iPrint App is a great enhancement for printing any photo from an iPhone or iPod touch.
"With the holidays quickly approaching, many special moments will be captured on an iPhone and Epson is providing users with an easy way to print high-quality photos of these special memories onto Epson printers using the Epson iPrint App," said Steve Semos, planning and development for Consumer Ink Jets, Epson America Inc. "In addition, the Epson iPrint App gives iPhone and iPod touch users great flexibility by printing on a variety of photo paper sizes and on letter-size plain paper."
This is one handy little app. Imagine losing all of those camera/printer bundle offers you're going to be tempted to buy around the holidays, not to mention the convenience of having a fairly capable camera on the iPhone that has the ability to immediately produce hard-copy photos on a line of Epson printers that have many more capabilities than just photo printing.
With WiFi onboard, both on the iPhone and the Epson Artisan Printer line, you can now print wirelessly without a dedicated printer router.
The Epson iPrint App is available for free from the App Store on iPhone and iPod touch or at www.itunes.com/appstore/.  For more information about Epson iPrint and compatible Epson printers, visit Apple App Store and search for Epson iPrint.