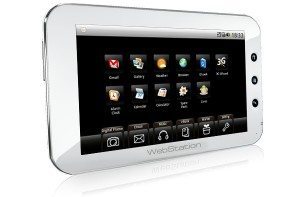 Camangi announced a pretty decent tablet PC offering, the Camangi WebStation, a 7-inch glass screened (like the iPhone) touch screen tablet featuring the Android 1.5 OS. It has Wifi b/g, a GPS module, 2MP camera, .3MP webcam, MicroSD card reader and a battery that lasts 3-4 hours. It also stuffs a a 624MHz Marvell PXA303 processor into its tiny body, and houses 3G connectivity in the form of a USB dongle only.
Debuting in the next couple of weeks for $399, it looks like Camangi is planning their own Android apps sharing market place for 5-9 inch Android devices.
Camangi went live with the launch of Camangi-WebStation.com this week. In addition to links to their Android apps marketplace page, CamangiMarket.com, they released full details on their 7-inch Android running WebStation tablet PC.
Specific to the screen, it's a resistive touch screen encased in glass, measures 4.72″ high by 7.87″ wide by .57″ deep and weighs a fairly light 13.75 ounces. It will be available in three colors: pearl white, piano black and light pink (although black and pink versions won't be available at launch).
In addition to the video, audio and image viewing capability, the Camangi WebStation has an integrated eBook viewer that can read ePub and TXT files. This is an Android device so all that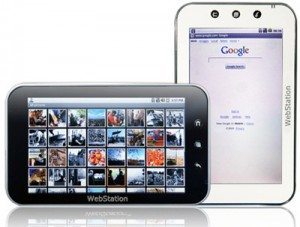 really means is it saves you from having to download an eReader app, but it's still nice for it to be included. The WebStation comes preloaded with English, Japanese, French, Spanish, German and simplified language support.
Screen resolution is 800×480, 128MB RAM and 256MB of flash- with Micro SD slot upgradable to 16GB. Camangi seems to have their game plan nailed down and it's a pretty good one. Offering an Android app marketplace for the WebStation is a huge step in the right direction and a major reason first devices in a marketplace survive and thrive (like the Kindle). (www.camangi-webstation.com)