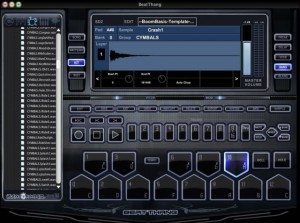 Beat Kangz Electronics, innovators in music production systems, create easy-to-use hardware & software that helps musicians of all types bring professional music production and beats to their audience. Beat Thang and the new Beat Thang Virtual come equipped with a unique set of features designed to help aspiring artists and seasoned professionals with thousands of sounds, samplers, sequencers, digital FX and waveforming.
Beat Thang Virtual software provides a desktop beat making machine, with brand new, high quality drums, synths, strings, guitars, and more. The Beat Thang Virtual software includes over 3,000 professional sounds, with very short load times.
Beat Thang Virtual also allows you to load your own sound library. A revolutionary Kit & Instrument creator allows the user to access and edit drum kits and instruments, even while the beat is playing. Beat Thang Virtual lets you sample your own sounds using a computer mic, line input, or audio playing on the computer, and sample sounds from the Internet. For easy quick editing, the high quality sampler and waveform editor allows you to zoom in on your sample for accurate chopping and looping.
Export songs, beats or tracks as .wav files or in real-time for a DJ style mix. You can process your beats through Beat Thang Virtual's unique set of digital FX. Add 24bit reverb, delay, flanger, phaser, pitch shift, old record effects and much more. Beat Thang Virtual runs on your Mac or PC.
Some of the industries heaviest hitters have begun to use Beat Thang Virtual to churn out their chart topping hits. Grammy Award-winning producer Rockwilder, known for his work with industry pros like Jay Z, Busta Rhymes, Destiny's Child, Christina Aguilera, 50 Cent, and Erykah Badu says, "For the price of the Beat Thang and all that it has to offer, I feel it can be a tool to empower artists and producers to make a mark in the music industry without spending thousands of dollars to do it. I'm damn near doing all of Method Man's new record with Beat Thang Virtual."
Anything you edit, record or produce on Virtual can be transferred to the Thang, and vice versa. What is the "Thang"?  It's the "hardware" to the software. The Beat Thang Production system, it has all the features of the Virtual software compacted into a rugged all metal chassis. With 6 hours of portable play time, you can sample, remix, and perform from anywhere at anytime. Two headphone jacks make it ideal for beat sessions for two, The Beat Thang Music Production System includes all the features of Beat Thang Virtual plus 256 MB Ram, two Headphone jacks, two High Speed SD card slots (up to 32 gigs), USB in and out, Pitch & Modulation wheels, All metal housing for added durability, a Lithium ion battery with 6 hours of portable playing time, a 3.5 inch color video LCD screen, and an Illuminated control panel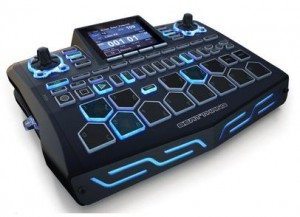 If you purchase Beat Thang Virtual today you will also receive a 1 year exclusive membership to Rocbattle.com, a $59.95 value for absolutely free. Also learn the secrets of selling your beats with the "Sell More Beats" 10 hour video course, that details the keys of how to make money selling your beats on the internet, save money producing your beats, and how to find thousands of beat buyers and keep them coming back for more. The video package, valued at $97.00, is absolutely free with your purchase of Beat Thang Virtual.
In addition to using Beat Thang Virtual to produce beats for today's superstar artist, Rockwilder in partnership with Beat Kangz is on the search for the next Superstar Producer and Artist. Purchase a Beat Thang or Beat Thang Virtual and automatically be entered into the Kang of All Battles. One producer and one artist bangin' out the hottest beats will win over $30,000 in cash & prizes including:
•    $10,000 cash each
•    Full Page ad promotion in XXL
•    All expense paid trip to Nashville, TN to meet industry heavy weights like Rockwilder (50 Cent, JAY-Z, Method Man), producer Bob Ezrin (JAY-Z, Nine Inch Nails, U2), and the Beat Kangz themselves
•    Winning track on an upcoming Beat Kangz mixtape
•    A song produced by Rockwilder (Winning Artist)
•    Two tickets to BET Hip Hop Honors
•    Playa Thang iPhone App loaded with your songs
•    Your Own Thang – Custom shop personalized Beat Thang hardware device
•    Photo shoot and image consulting provided by Eye Jammy Records
•    Graphic design package provided by Left Thought Design
•    Check out the complete prize list here: Beat Kangz Prizes
Beat Thang Production System will be available early 2010 for $999; Beat Thang Virtual is currently available for $149. Beat Thang Virtual can be purchased at www.BeatKangz.com and various retailers throughout the U.S.