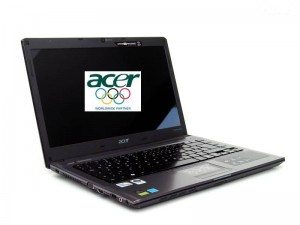 The computing equipment used to support the Olympic games have always been chosen for their stellar performance and reliability, the same qualities that drive the world's leading athletes to the top of their game.
As a Worldwide TOP Partner in the upcoming 2010 Olympic Winter Games in Vancouver, Acer is proud to be providing more than 6,500 pieces of computing equipment and more than 100 engineers and technicians to support the management of what is probably the most complex sporting event in the world.
In addition, Acer is commemorating its partnership in the Olympic Games with a range of special edition products, which are distinguished by the Acer Olympic Games composite logo, showing the Acer brand name and the Olympic rings together.   These special-edition products were designed to showcase excellence in engineering and design.
During the games, a large number of critical applications will be running on Acer equipment, supporting the delivery of results and updates to the press and fans. Acer notebooks, desktops, monitors and servers will support the deployment of sporting events at 9 competition and 6 non-competition venues over a 16-day period. Many of these systems will have to be duplicated in different cities and all venues will be controlled remotely.
Equipment will be subjected to severe weather conditions, enormous stress and will run continuously for 24 hours a day. This is why products destined for the Olympic Games were carefully chosen to deliver top performance and extreme reliability for seamless, error-free operation at the Games.
Among the computers supporting the Olympic Games IT infrastructure will be Acer Veriton 1000 and Acer TravelMate 6592. With their unmistakable reliability, manageability and high performance, the world's greatest sporting events will be served by the world's best-engineered notebooks.
Sporting a glossy silver finish and diamond-cut Olympic Games composite logo (showing the Acer brand name and the Olympic rings together), the Acer Aspire 4810T notebook, the Aspire 1810T notebook, and the special edition Acer G5 series of displays will be among the technology Acer is contributing to our world games. www.acer.com