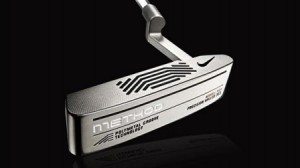 When the new Nike Method Putter ($250; February 2010) hits the streets, it will have had quite a debut under its belt already— including two majors won by the pros who already carry the Method in their bag.  Nike released the Method to the pros a while back.
Used by both Lucas Glover and Stewart Cink to win the 2009 U.S. Open and the British Open Championship, respectively, the Method features new polymetal groove technology that dampens vibrations for a softer feel and increases stability by moving 30 grams of internal weight from the face to the perimeter of the club. The Method will be available in five different models — four blades and one mallet.
Paul Casey has two wins in Europe and one on the USPGA with the Nike Method. The hook, so to speak, for the Nike Method putter is in its clubface, were golfers will see the "polymetal groove technology," a combination of steel and polymer.
Nike Golf technicians say that most steel-faced putters start the ball with a little backspin, causing bouncing or skipping right after impact. The Nike Method, the company says, produces forward spin right off the "polymetal grooves" of the clubface, minimizing skipping and producing a truer roll.
[adsense]
The company also says the forward spin produced is faster than the spin produced off steel clubfaces or faces with polymer inserts. The clubface is also designed to dampen vibrations without lessening the sound of impact, so auditory feedback remains steady.
I tried the Method, and can safely say, it's not just marketing hype.  I too have noticed traditional putters manufacturing some skip, and the Method truly improves this frustrating phenomenon.  Not only does it reduce backspin, it actually creates more top-spin.  You can see it in the ball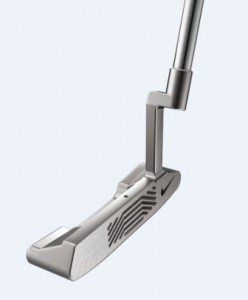 speed.
And finally, my third notice is its dampening qualities. It's important that the ball contact with the putter has some integrity. It's much like a sweet-spot on a tennis racket.  When you hit the sweet-spot, you can hear a solid ball connect, and as a consequence, you get solid contact which drastically improves velocity and direction. The Nike Method Putter does the same thing, providing you with solid contact and subsequent control.
They say that the putting game makes or breaks a player.  Historically, putter technology has helped improve games, but never before has a putter come to market that re-invents stroke, velicity and control, all in one stick.
The Nike Method putter debuted at retail in limited, special editions in November with a pretty pricey tag. Nike made a 100 and engraved each one with the limited edition number inscribed on the putter head. The full rollout comes in February 2010, and the production model will be identical in specs to the limited edition. Five models – four blades and one mallet – will be available at launch, all with an MSRP of $249.99. (www.nikegolf.com)