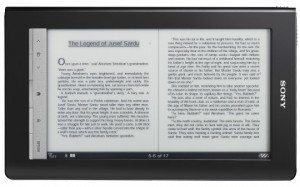 It's taken a while, but Sony's Reader Daily Edition ebook device has finally begun shipping.  Announced back in August, the Daily Edition has a 7-inch E Ink touchscreen and packs integrated 3G using AT&T's network for mobile ebook downloads.  According to what Sony have told us, pre-orders placed as of December 20th will be shipping out within the next 24-48 hours, hopefully in time for holiday gift-giving.
Like Barnes & Noble and Amazon, Sony are offering ebook titles through their own wireless store, in this case the simply named Reader Store.  Sony have also partnered with various libraries to offer Reader Daily Edition users access to loaned library titles, which can be checked out for 29 days before automatically deleting themselves.
The Sony Reader Daily Edition is available now, priced at $399.99.  That includes on-device 3G access with no monthly subscription, 1.6GB of onboard storage and not one but two memory card slots.  It supports EPUB, ACS4, PDF, DOC and other formats, together with AAC and MP3 audio files, and the touchscreen can be used for navigation as well as making handwritten annotations.
Via :  Slash Gear