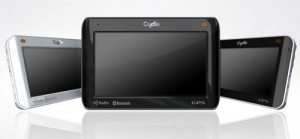 Having announced a PND with integrated HD Radio last January, Cydle is following up this coming CES with a new version that throws "HD Traffic" status updates into the mixture.  The Cydle T43H is one of a number of new portable devices the company are planning, including the Cydle M7 MID and two PND/PMP combo devices, the T70 and T50.
The Cydle T43H has a 4.3-inch touchscreen, internal HD Radio/HD Traffic antenna and external aerial connector, PMP functionality and an SD card slot (up to 8GB cards supported).  It's already on sale, in fact, priced at $299 with no subscription fees.
As for the Cydle M7 MID, that has 8GB of onboard storage and an HDMI output, and is intended to be used as both a PMP and an internet device.  The company aren't clear on what connectivity is integrated – we're guessing WiFi and probably Bluetooth, too – but there's a screen cover that doubles as a desk stand, and it works in portrait and landscape orientations.  It should ship in Q2 2010, priced at $199.
Finally, the Cydle T70 and T50 are both PMPs – with 7-inch and 5-inch touchscreen displays, respectively – and have GPS as standard; the company will also offer optional HD Radio, Live HD Traffic update, Bluetooth, WiFi and mobile TV.  It'll also be possible to specify them with Cydle's "Black Box" system, which buffers video footage from the last 15 seconds of driving should an accident trigger a g-sensor; it's also available as a standalone product, the Cydle BX1, and as the T70BX.  No word on pricing for any of these new products, however.(Via: Slash Gear)