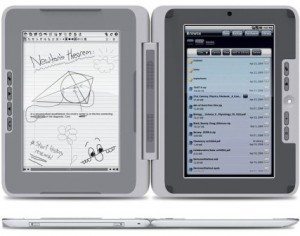 The enTourage eDGe is the world's first dual-screen device that combines a notepad, netbook, e-reader, and video/audio recorder and player in one Linux with Google® Android®
OS device. This gadget kind of sprung up out of the blue, touting some major features that make the enTourage a step or two ahead of Nook, Kindle and the like.
The enTourage eDGe does a lot of different things, web surf, read an e-book, get email, watch movies or listen to music from anywhere.  The onboard media player is quite robust, with a host of features that rival any other player on the market, PC or mobile.
The enTourage eDGe is an e-reader first, with all of the e-reading features you'd come to expect when investing in one of these…..and more. It boasts a glare-free screen, zooming features, and offers the ability for a person to read in sunlight. It also has a USB flash drive and SD card slot. Files from the eDGe can easily be moved back and forth from a MAC, Windows or Linux-based PC.
[adsense]
One of the best features of the enTourage edge is the e-Ink technology that allows people to take notes on the book they are reading. The device also has a journal page that can be opened and used by hand or with the help of a virtual keyboard. The company created this particular feature on the device for students.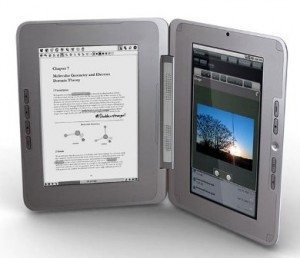 The designers of the enTourage edge wanted to create a gadget that would replace notebooks and textbooks that are typically carried by students. The enTourage eDGe is small, but it's much larger than the traditional e-book reader. It weighs less than three pounds and has a 10-inch screen.
The large touch-screen has its advantages because it reduces the amount of times a person needs to turn the page while reading books. The enTourage eDGe™ color touchscreen is a whole netbook, ready to play movies or MP3s, organize your books, notes, and pictures, or let you instant message your friends. The screen is 1024 x 600 pixels, or 10.1 inches measured diagonally. You can view images from the e-book you're reading on the color display.
You can open a virtual keyboard and type instant messages or emails. The netbook includes an audio recorder to capture lectures for later playback or sharing. It also has a video camera to record still images or movies as MP4s or 3GP files. You can plug in headphones or a microphone or use the built in speaker and recorder.
[adsense]

The netbook functionality comes with web browsing, audio/video record and playback, an email function and contacts list, a calculator, an alarm clock, and a library function to manage your books and files. The enTourage eDGe™ uses the Google® Android® operating system, so you can add other applications you need.
The enTourage eDGe™ has built in WiFi® and future support for 3G using an EVDO or HSDPA mobile modem. You can quickly download e-books, send an email, browse the web, or combine your notetaking, emailing, and browsing, all from one device. The enTourage eDGe™ also includes BlueTooth® capability to add an external keyboard.
You can use the netbook in portrait or landscape mode, but you can also flip everything around 180 degrees. When you do that, the e-reader, where you keep your journals or take notes on books, will be on the right side, and the netbook will be on the left.
The enTourage eDGe™ was designed to let you go all day without recharging the battery. The lithium ion battery can last up to 16 hours of reading without recharging. One of the big advantages of the enTourage eDGe™ is that the battery can be replaced if it's ever necessary.
enTourage already has 1000s of e-books and e-textbooks available on their website. The device will be available in black, blue, red or white and will begin shipping out to consumers in February 2010. (Available for pre-order for $490, www.entourageedge.com).