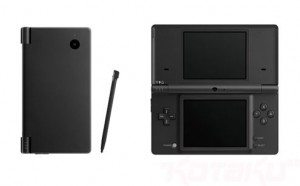 Japanese electronic giant Nintendo has recently introduced the third and latest model in its series of DS gaming consoles.
The Nintendo DSi has multiple media solutions which has revolutionized the whole concept of gaming console.
Featuring two VGA 0.3-megapixel cameras, this handheld gaming device can take pictures (which may not be as impressive with its low pixel quality). The first camera is located inside the console and the other one is placed on the outside case.
The console, which comes at a starting price of $178, can also serve as photo albums with some editing tools provided which allow users to change the pictures by drawing graphics on these.
Compared to its predecessor Nintendo DS Lite, this compact gaming console has a slightly larger screen which comes in 3.25-inch display. But when it comes to physical design, the two models seem to have much resemblance.
In terms of performance, the newest model has been designed to provide faster processing compared to Nintendo DS and Nintendo DS Lite. With a CPU which supports 16MB RAM, the console can perform four times faster than its two predecessors.
For storing images and compatible software, the console has SD card slot. In terms of internal memory, the model has 256MB flash memory.
Other features are rechargeable battery, AAC audio support, enhanced speaker system, and upgradeable firmware.
This gaming device has two downsides: incompatibility to its predecessors' flash carts and reduced battery life compared to the two DS models.
In a press conference, Nintendo president Satoru Iwata said that his company is planning to introduce more color models alongside with the present selection of white and black, adding that this gaming console will be made available overseas in the first quarter of next year.
According a report, the company's net profit has increased 9.4 percent resulting to 144.8 billion yen in just six months, a very impressive performance in the midst of global economic slowdown.
Via:  Gadgets Fan