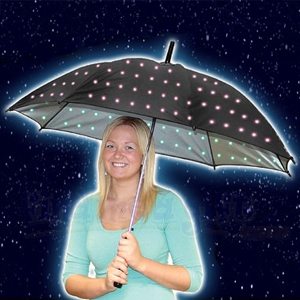 You have been wowed by our famous Starlight and Spectrum Star Umbrella's, now witness the glory of the double sided Twilight Star Umbrella!   Before, only passers by could get the benefit of your beautiful twinkling umbrella, with the double sided version you can too!  It doesn't have to be all doom and gloom when it rains.  Just a simple click of the switch can turn your grey sky into a colourful spectacle to amaze everyone around…as well as yourself.
About the Double Sided Colour Changing Star Umbrella
* The Double Sided Colour Changing Star Umbrella displays a fantastic light show on both sides that phase through a spectrum of bright and beautiful colours!
* This is a large, automatic pop up umbrella and measures approx 90 cm in length
* Our Colour Changing Star Umbrella requires 3 x AAA Batteries (not Included) which can be found above.
* A fantastic gift for ages 13 to 130!
This amazing umbrella really is a step above the rest.  If you were amazed by our original Colour Changing Star Umbrella's, then you will love our double sided version!  A great excuse for jumping some midnight puddles, the Double Sided Colour Changing Star Umbrella will bring the magic of the night time stars about a foot above your head.
via: Find-me