The Snug Rug is essentially a tailored blanket, with two integrated sleeves as well as a handy pouch pocket for essentials like the remote control, reading glasses, packet of chocolate biscuits, you can see where we're going with this. We can't think of any activity that involves sitting reasonably still that wouldn't be far nicer wrapped up in Snug Rug.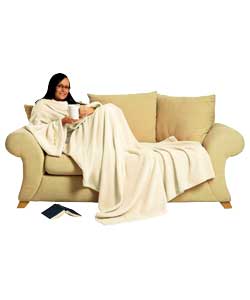 Available in two weights: choose either the Snug Rug Deluxe made from luxury, heavyweight coral fleece or the Snug Rug Lite made from a slightly lighter (but still wonderfully soft!) polar fleece. Both weights are available in 5 fantastic colours: Cream, Olive, Pink, Red and Navy.
Ideal for watching TV, reading, listening to music, an absolute essential for long car journeys and an instant upgrade on any flight, we suspect Snug Rugs will soon be spotted everywhere, so get in first!
Made of warm, comfy Coral Fleece (Deluxe) and Polar Fleece (Lite).
Dimensions: 84 x 60 inches.Available in Cream, Olive, Pink, Red or Navy
via: genie.com