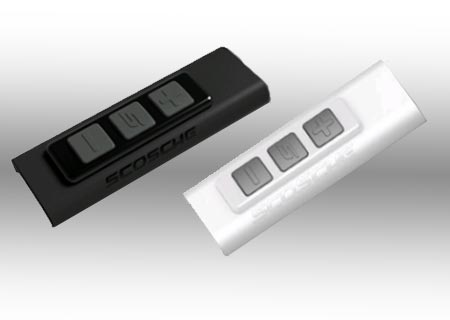 Scosche announces its 2010 iPod/iPhone accessory lineup to Listen, Power, Protect, and Connect.
Listen – Scosche will unveil the newest addition to its Listen line at CES 2010, the IDR655m earphones with tapLINE II Remote and Mic.  The new and improved noise isolating IDR655m earphones feature 11mm drivers to deliver great sound, and has conveniently placed the IDR655m's tapLINE II control surface where the earphone wires split, making switching tracks or adjusting the volume easy. The earphones also feature an integrated microphone for handsfree conversations, voice command and recording memos.  Scosche includes small, medium, and large single and dual flanged silicone inserts for noise isolation and comfort.
Power – Scosche plans to upgrade its Power line with a new, smaller version of the highly popular reviveLITE.  The new and improved reviveLITE II will offer an additional USB charging port, which allows you to charge other USB powered devices while charging your iPod or iPhone.  Like the original model, the reviveLITE II conveniently charges your iPod or iPhone without cables. It also features an LED nightlight.
Protect – The CES 2009 Innovations Award winning tapSTICK will now be offered in a clear shatterproof polycarbonate case. The tapSTICK returns play/pause, volume and track control to the body of the Gen 3 shuffle with an easy to use three button design.  You can pair the new clear tapSTICK with Scosche's IDR355m earphones, which feature 6 interchangeable color caps that match the various Gen 3 iPod shuffles.

Connect – Scosche will also unveil its new flipSYNC keychain charge and sync cable for the iPod and iPhone.  The flipSYNC, about the size of a car alarm remote control, provides iPod/iPhone with a convenient syncing cable when on the go, and fits comfortably on any keychain.  Scosche plans to launch another flipSYNC model in early 2010 with mini & micro USB connections for the Blackberry and other smart phones. (www.scosche.com).