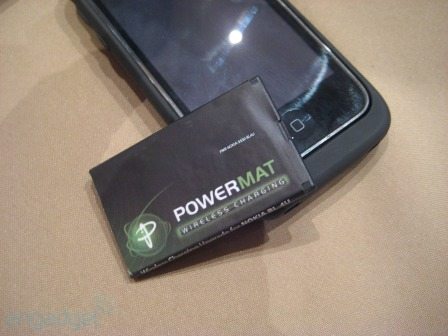 Powermat showed us where the future is headed in terms of battery capabilities and new ways to charge them. You're familiar with how Powermat works: you slip on Powermat's case onto your iPhone or BlackBerry, or attach the corresponding plug to your device of choice, and place it on the mat for wireless charging. The problem with the current line-up is that the "mats" themselves can be a little bulky and can take up a lot of real estate on a counter or desk. In June 2010, Powermat is revamping designs for more portability.
Building upon the massive success of its initial product launch, Powermat`will unveil a wide range of new and innovative charging solutions available for the early part of the 2010 summer.
Although a late entry into the wireless charging category, Powermat quickly established its leadership by not only being first to gain national distribution with leading retailers in the U.S. market, but more importantly by experiencing considerable success and sell-through at store level.  Since its launch in mid-October of 2009, Powermat has sold in excess of 750,000 Powermat products, with stores experiencing severe out-of-stock shortages late in the season.[adsense]
The company's newest line of wireless chargers and products expands upon its success by offering consumers additional options in both the number of devices they can wirelessly charge as well as the number of ways they can charge them.
"It's all about freedom and convenience," said Ron Ferber, President of Powermat.  "While our initial line delivered on our promise to eliminate the hassle of plugging and unplugging – allowing consumers to plug in their Powermat and simply Drop and Charge – the assortment was limited to a handful of popular devices and charging environments.  For 2010 we've taken our product line to a whole new level through the successful miniaturization of our technology to the ASIC level.
With this and other incredible advances we've increased the selection of devices that we're able to wirelessly charge to include virtually every brand of handset or handheld device.  At the same time we're offering a full range of new mats that allow consumers to charge in every possible environment, no matter where they may be.
Our next generation of products takes Powermat to an unsurpassed level.  In fact our technology is so mature that we are already working with many top tier OEM brands that will be launching Powermat-enabled models in 2010."[adsense]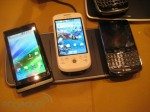 The Powermat Powerpak™ receiver provides seamless integration into virtually any phone, by allowing you to upgrade to wireless charging with no change to your existing phone ergonomics and design. More than 10 models from HTC, Blackberry, Nokia, LG, Samsung, Motorola and Sony Ericsson will debut at CES, but the technology can be applied to virtually any phone – ensuring access to the freedom and convenience of Powermat wireless charging to consumers worldwide.
Powermat also expands its support of the iPhone 3G/3GS by introducing 2 new models; a silicone case receiver, one of the most often requested models by consumers, and an extended battery case receiver which combines the dual benefits of extended battery life and wireless charging.
Powermat will also be launching a sleek new line of single, double and triple position mats for home and office use – Powermat 1X, Powermat 2X & Powermat 3X.  These new models offer a wider range of price points to a broader range of consumers; whether you're a consumer who's "dialed down" your handheld devices to one Smartphone, a consumer who needs to charge multiple family devices or the consumer who needs a secondary charging station.  Powermat will also offer Prepack Bundles, whereby a charging mat is bundled together with a receiver; such as the Powermat 1X single position mat with iPhone Receiver Case, or Powermat 2X double position mat with Powercube.
[adsense]
Powermat eliminates the frustration of running out of power while on the go.  Embedded into both the single and double position portable mats – Powermat Portable 1X and Powermat Portable 2X – is a high capacity battery, which allows users to charge their devices without the need to plug their mats into an outlet.  Both portable mats also fold into a sleek carrying case for easy portability and each comes complete with a set of International plugs.
According to Gartner, netbooks are driving the growth of laptop sales, with an expected 41.4% growth margin to 41 million in 2010 (Gartner, November 24, 2009). Powermat is introducing the Powermat 3X Netbook, a complete charging solution that simultaneously charges both a netbook and 2 additional low power devices such as phones, music players, Bluetooth headset, eBooks and more. Netbooks are also beloved for their portability and the Powermat Netbook mat folds into a carrying case to maintain that convenience.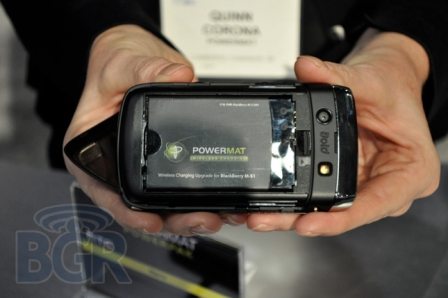 Powermat extends its reach to motorists by introducing the Powermat Car Charger, which eliminates the constant plugging and unplugging every time you get a call.  The Powermat Car Charger wirelessly charges hundreds of devices while travelling on the road with a simple Drop & Charge™.
Powermat technology has been miniaturized to a level where it can be embedded into virtually any device, as well as walls and table top surfaces.  Powermat technology is fast, efficient and safe. (www.powermat.com) (images courtesy of boygeniusreport and engadget)