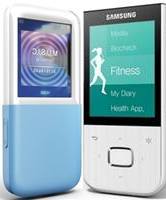 The market leader and award-wining innovator in consumer electronic, Samsung has unveiled its two new MP3 players, the IceTouch (YP-H1) and MyFit (YP-W1). These two players have been designed for media savvy and those who concerned with managing their personal well-being.
The new 16GB IceTouch is featured with the world's first 2-inch, full-color and transparent Active Matrix Organic Light Emitting Mode (AMOLED) touchscreen display. It functions as a DVD-quality video player, studio quality audio player, an ultra-portable photo album, an FM radio and even as a portable storage device.
MyFit has "wellness-promoting technology", which features the ability to monitor your stress levels, fat calorie intake and burn, and exercise effectiveness.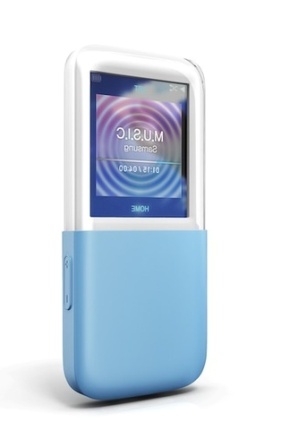 The new IceTouch is also equipped with a high-performance CPU and Samsung's own "TouchWiz Sweep" interface, which is designed to provide a comfortable grip and give users "new options" for interacting with their player. In addition, it also featured with new 5.1-channel sound enhancement technology and support for the MP3, WMA, OGG, FLAC, AAC, M4A, WAV and MP3HD audio codecs, as well as video playback for MPEG4, WMV, H.264, Xvid and Divx files.
The new MyFit is integrated with wellness management tools including stress, body fat levels and customized workout guides which help the users achieve wellness while enjoying their favorite music tracks. Besides helping to make consumers healthier, MyFit is also featured with a FM radio tunner and Samsung DNSe 3.0 sound enhancement technology which helps to overcome the inefficiencies and limitations of compressed audio files, and generate a more realistic stereo sound. In addition, it supports media playback includes high quality compressed and losses audio formats such as MP3, WMA, OGG, AAC, MPEG4 and WMV video formats.
Both players are expected to be available for consumer markets in first half of 2010 with 8GB and 16GB capacities. (www.samsung.com) (videos courtesy of operationna and generation mp3yt)
IceTouch

MyFit