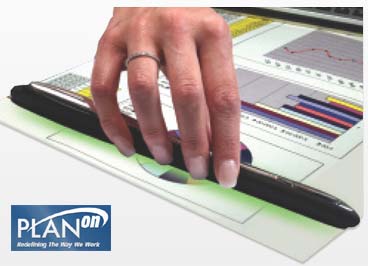 PlanOn has redefined the meaning of a mobile office. PlanOn's DocuPen is a bluetooth-enabled scanner which scans full-sized documents wirelessly in seconds—anywhere!  To complement DocuPen perfectly is PrintStik, the pocket sized printer, which is also Bluetooth enabled.
The 9" DocuPen has mini rollers which make it really simple to accurately scan a document, with no warping. Simply start at the top of the page, and slowly scroll seconds to scan a document.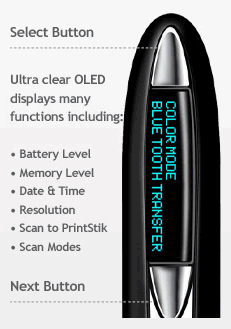 Depending on the model it will take 2 to 6 seconds. The PlanOn DocuPen stores the document for retrieval at any point in time. The color models all come with a microSD expansion slot for expandable memory. DocuPen allows you to wirelessly print to PrintStik over Bluetooth. This can be set up to immediately print following a scan. DocuPens range in resolution from 400 to 1200 DPI. They all come with a lithium ion rechargeable battery.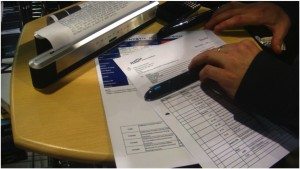 The PlanOn DocuPen comes in several models, the most recent impressive X-series sporting a 200MHz processor and 64MB of memory. 64MB Fast SDRAM onboard memory is a full eight times greater than Planon System Solutions' former best model, the RC850. Working in conjunction with a 200MHZ processor, the X-Series' 64MB memory provides superior speed and functionality.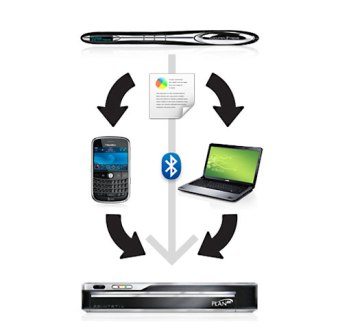 Bluetooth Connectivity enables all three new PlanOn DocuPen X-Series scanners to connect wirelessly to smartphones, laptops, netbooks and PCs for editing, storage and/or email attachment.
A brighter OLED Screen Display makes it easier to navigate the pens' functions. The DocuPen X-Series' Lithium-Polymer battery is both lighter, and may last longer, than previous Lithium-Ion scanner batteries.
[adsense]
The X-series X05 and X10 can scan in monochrome and 24-bit color modes; the X50 has extra features including higher resolution and grey scale modes. They have an OLED display and supports Bluetooth connectivity for connecting to smartphone, notebook/netbook wirelessly.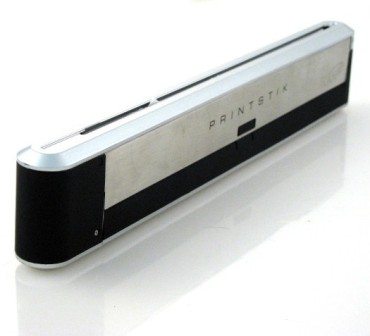 Prices for the DocuPens include: X05-$369.99, X10- $389.99 and X50- $439.99.
The PlanOn Printstik mobile printer is not your average printer. Touted as the world's smallest printer, the Printstik is the ideal companion to your DocuPen, making your mobile work station complete. Weighing just one pound, this super-small printer connects to your laptop via USB, and spits out approximately 30 pages per charge with a resolution of 200 by 100 dpi, 200 by 200 dpi and 200 by 400 dpi.
This PrintStik not only connects to your laptop but also connects to your Blackberry and WinMobile smart phones (more platforms coming soon) via wireless Bluetooth technology. The trend to mobile solutions is growing with laptops getting smaller and cell phones turning into computers.
The PrintStik is remarkably small, only about 1"x2"x11" with 20 pages of paper inside making it easy to carry in a coat pocket, laptop or netbook bag, or purse. The PrintStik is rechargeable and does not use ink or toner, which both are expensive and potentially messy when travelling. Planon incorporates thermal printing.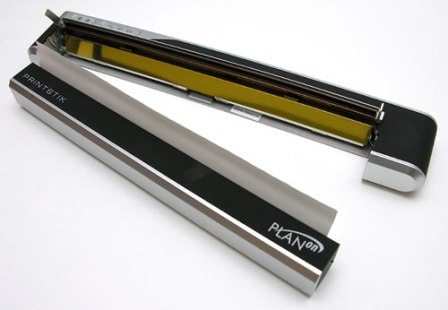 PlanOn's Mobile Enhanced driver includes a print server service for your BlackBerry to now print full size Web Pages, most any Attachment, as well as emails, maps, pictures, address book fast and easy, as well with Win Mobile.
Prices for the PlanOn PrintStik include: PS900- $199, PS905ME- $299, PS910ME- $309 and PS950ME- $349. (http://planon.com)
Planon Office in a Box

Planon PrintStik

Planon DocuPen