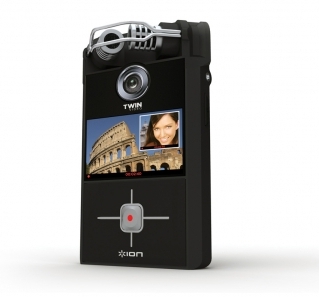 Ion has announced its new Twin Video, a pocket video cam with something we've not seen before. The Twin Video features front and back cameras so you can simultaneously record your subject, and your reaction to it.
The Twin Video is designed to let you easily shoot interviews or create dual-POV movies for YouTube, Facebook, and video blogs. In-camera controls allow you to be creative on the fly by swapping video feeds or switching between picture-in-picture and split screen modes.
Ion says that the Twin Video is the world's first video recorder with front and back lenses, although the arrangement is similar to some cell phones with video calling capability. You control the front and rear cameras independently even while you are recording. You can select which video feed is being recorded, show both video feeds on a split screen, or inlay one feed over another using picture-in-picture. The Twin Video also features dual onboard microphones for recording stereo sound. The unit records onto standard SD or SDHC memory cards.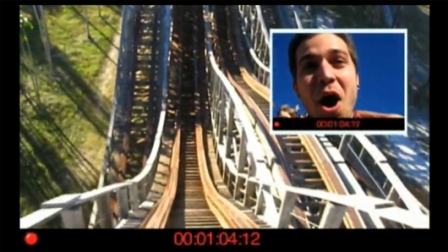 The Ion Twin Video also includes a Duo-Stand combination handle and table stand to make it easy to hold the camera and keep it steady. The unit operates on either its internal rechargeable battery, or plugged into a wall outlet. The Twin Video connects using USB to Mac or PC computers for video transfer.
Further specs are coming, but Ion says the Twin Video will be available in the second quarter of 2010. No pricing information has been announced. (http://ionaudio.com)