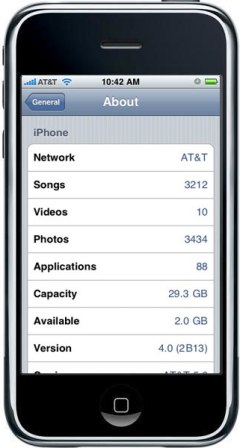 In lue of the "Special Media Event" Apple is holding January 26th, presumably to announce something big, perhaps the "iTablet" and the new iPhone firmware, details of the new iPhone 4.0 OS were leaked recently with a few details of what we could be seeing as soon as next week. New features could include multi-touch gestures OS-wide, which adds to the rumour of the iTablet or iSlate using the same OS when launched.
Multitasking has also been mentioned in the leaked information that allows applications to be run in the background. Previously, Apple has suggested that this feature will make the iPhone crash, however many "jailbreakers" are already achieving this feature with success.  We might see a limited version of this feature, perhaps "text" being able to be run in the background. Offering multi-tasking also might stop some of the "jailbreaking" that undercuts the integrity of apps, and in many cases, compromises the system's reliability.
Changes to the UI on the graphics side have also been mentioned in the iPhone OS 4.0 rumor, which are supposedly going to make using the device a lot easier and more efficient. "Themes" to the icons might be offered, allowing you to use your own photo or icon in place of the traditional iPhone apps icons.  "Themes" would also allow you to customize your home page and each app page.
Although nothing was specifically mentioned on how it works, perhaps a new home screen could be seen in the iPhone 4.0 OS, giving a view of all your pertinent calendar, messaging, email, to-dos, missed-calls etc, all stuffed into the home screen. You'd also be able to access all this stuff from the home screen, without closing out applications and re-opening other apps.
"Expose'", an interface that allows all your app pages to be viewed in one screen via thumbnail images of each app page, may also make it to the updated iPhone 4.0 OS.
A speech dictate app may also be offered in the app store, which would allow you to dicate text messages and notes with your voice.
[adsense]
The ability to delete pre-installed apps, like "stocks" or the "youtube" app, may be offered with the iPhone 4.0 OS update.  Many people just prefer to access these services from Safari.  This new feature would free up memory and home screen space.
The new iPhone 4.0 firmware update probably won't give access to Verizon service, but considering AT&T's exclusivity may be running out soon, we may see Verizon picking this up when the new iPhone 4G hits the market, presumably in July, when all of the other iPhone predecessors have been announced.  The latest Verizon rumor is that iPhone will not be available through Verizon until 3rd quarter of this year.
"Flash"!  Apple has been saying that they're not going to implement this due to battery issues.  We may see Apple changing there mind on this since we know it's coming to Palm's WebOS and probably Android, soon. With Flash, the software opens up a whole new world of smartphone capabilities.  You'll be able to do many things with Flash, like watch videos in your mobile web browser, and use software that used to only be reserved for desktops.  Apple may offer Flash, with the ability to turn it off if need be.
The last bit of information provided is something to do with new syncing abilities for both contacts and calendar entries. This may allow you to sync these functions on the fly, perhaps with Google calendar and other web PIMs.  WebOS and Android already allow you to do this without having to sync the handset to your computer.
The entire iPhone 4.0 Firmware OS update is coming for sure, but details are speculative as to "when and what".  Nothig is set in stone, and we're all just speculating here.  However, this we know.  When the update does come out, it will be for the 3G and 3G S iPhones only, (until iPhone 4G is announced), and should make the iPhone more like a fully fledged computer. (www.apple.com) (video courtesy of slidetodevel0p)