Canon's new PowerShot line-up starts with the SD1300 IS, a tiny compact with a 4x optical zoom on its 28mm wide angle lens and a 1/2.3in CCD 12.1 megapixel sensor. The SD1300 IS has a 230,000 dot 2.7in LCD display with an anti-reflective, scratch-resistant coating and a special night display for low light viewing and optical image stabilization. It also has a SDXC memory card slot.
The Canon SD1400 IS has a 14.1 megapixel sensor and the ability to record 720p HD video. It also has an HDMI out port, a few more shooting modes, more control over image parameters and available in several colors.
The Canon SD3500 IS sports a 3.5in 460,000 dot touchscreen LCD display, which features a user customizable menu screen and a tilt image viewer for scrolling through photos. The 3.91 x 2.20 x 0.87in compact has a 1/2.3in CCD 14.1 megapixel sensor, 5x optical zoom lens which runs in the useful 24mm to 120mm equiv range, lens shift optical image stabilization, 720p HD video, SDXC memory compatibility and HDMI out.
Finally, the Canon SX210 IS has a 1/2.3in CCD 14.1 megapixel sensor and 14x optical zoom with optical image stabilization. An upgrade to the SX200 IS, this unit features a pop-up flash that can be hidden away out of sight when not needed, SDXC memory card support, Eye-Fi wireless connectivity and a 230,000 dot 3in LCD display. There's also a dedicated video recording button for the 720p HD video and HDMI out.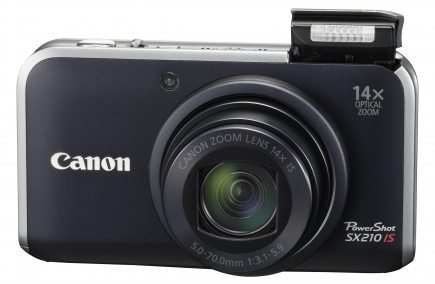 The SD1300 IS and the SD1400 IS are available now for $199.99 and $249.99 respectively. The SD3500 IS is also available now at $329.99, but the SX210 IS will not be available until some time later in March for $349.99. (www.usa.canon.com)
Published on March 3 2010