The ThinkFlood Inc RedEye Universal Remote turns your iPhone, which lacks IR technology, into an IR remote. At the core is the RedEye Wi-Fi to infrared bridge which also doubles as a universal charging dock for both the iPod touch and iPhone. This device works in conjunction with the free RedEye application to convert Wi-Fi commands sent from the iPhone/iPod into their infrared counterparts for controlling home theater components.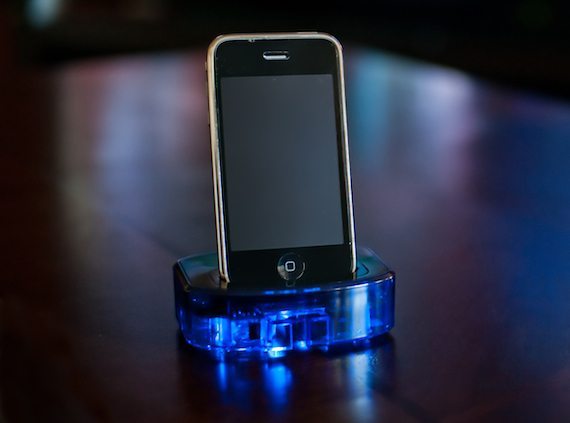 The RedEye App is free and the IR bridge must be plugged in using the included 100-240V, 50-60Hz AC power adapter. The iPhone or iPod touch communicates with the RedEye base station through the customer's wireless network to control TVs, DVRs, stereos, gaming equipment and more. Once connected, room names must be created for each separate area buyers plan on controlling.
[adsense]
While this process is somewhat menu heavy, the apps straight forward design makes it quite easy to create rooms and AV categories one by one. The app lists device manufacturers, which allows the application to look up the appropriate IR codes to associate with various command functions. Customers can download codes from RedEye's global code database, which is updated regularly.
RedEye also has a learning function, which allows users to program commands using an existing device remote."We wanted to create something more than just another remote control," said Matt Eagar, president and co-founder of ThinkFlood. "Internet connectivity and future software updates give us a lot of room to think big."
The RedEye system then allows users to program device macros to make activating common home theater activities like watching a DVD or Blu-ray a simple one button process. Most of these activity names are already programmed into the application, but the option does exist to create new ones from scratch.The RedEye interface is the magic here.
[adsense]
The application allows you to customize virtually every aspect of the remote's interface on a per activity basis. Buttons can be added and subtracted, adjusted in size and rearranged. This customization is comparable to other universal remotes that cost 3 times the price. RedEye supports multiple rooms, controllers, and users simultaneously. It controls a virtually unlimited number of devices and can store a virtually unlimited number of commands, far exceeding competitive product offerings.
RedEye offers activity-based control, meaning users can program RedEye to execute a series of commands with only one touch. Additionally, only the buttons appropriate to the activity appear on the screen. RedEye users can customize the way they control their equipment with touchscreen buttons, Apple's Multi-Touch gestures, and accelerometer controls. For example swiping two fingers down the screen can reduce volume and flicking the iPhone forward can change the channel.
RedEye is available through the ThinkFlood website. ThinkFlood's RedEye Universal Remote will work on upcoming devices such as the iPad, and is likely to be continuously improved through various software updates down the line.   (www.thinkfood.com)
Published on 4 March 2010