Today the iPad goes on sale and the first reviews are starting to flood in. So what's the early verdict on of Apple's sleek new tablet device from those who've already spent quality time on its 9.7-inch multi-touch screen?: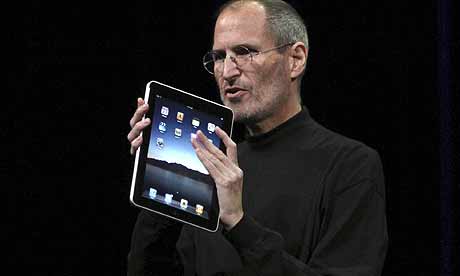 New York Times, which identifies the opinion split between "techies" and "regular people" over what the iPad has to offer. For techies its a "gigantic iPod Touch", a very heavy Kindle with only 60,000 titles available at this stage that you can't read well in direct sunlight. It's fast on the processor front but hard to type on, there's no USB ports, no camera, no multitasking and of course it can't run Flash. For regular consumers it's still a gigantic iPod Touch, but a very shiny one that changes the multi-touch experience. It's on offer without a contract and gives access to 150,000 existing iPhone apps as well as the fledgling iPad app store.
[adsense]
USA TODAY's Edward C. Baig, is aware of these deficiencies, but still thinks the iPad is a winner: "The iPad is not so much about what you can do – browse, do e-mail, play games, read e-books and more – but how you can do it." [USA TODAY]
Tim Gideon at PCMag believes the device "just makes sense," while Walter S. Mossberg goes as far as saying it has the potential to change portable computing profoundly: "My verdict is that, while it has compromises and drawbacks, the iPad can indeed replace a laptop for most data communication, content consumption and even limited content creation, a lot of the time. But it all depends on how you use your computer." [All Things Digital]
Is it just another tablet computer? If so, why all the fuss? Tablets haven't exactly conquered the portable computing landscape after all. The answer according to Andy Ihnatko is "that in fact, we haven't seen tablets before. And maybe the iPad is the only true tablet we'll get in 2010." [Chicago Sun Times]
While some see it as an "entirely new category of mobile device" [Techblog], others are no doubt still scratching their heads wondering what this thing is actually for.
Several reviewers point to the fact that it's about consuming media, not creating it. Gregor Berkowitz puts it nicely: "Online media is now a rich enough environment that there's plenty of content to browse and consume. There's also a hole that exists between the laptop and the cellphone. The gap is defined by an experience that's optimized for content consumption, rather than creation. Or, to put it another way, an experience that's built around sitting back, rather than leaning forward. [labs.moto.com]
Published on April 05, 2010